Happy Fall, Y'all!

The leaves are starting to turn, the nights are cooler, and everything has pumpkin spice in it!

Fall also signals the start of Fundraising Season.

Fundraising Season runs between now and the end of the year. It's the time when people think about helping others and what charitable gifts they want to make before the year is done.

One of the best ways to ask for (and get!) donations this time of year is with a fundraising appeal sent through regular postal mail (sometimes called direct mail).

If you're not asking for a gift between now and the end of the year, you're conspicuously absent. And you'll get left out.

You see, no one ever wakes up in the morning and says "I feel like giving some money away. Where's the phone book? I'm gonna find me a nonprofit!"

If your Fall fundraising appeal is all planned out, well done. If it's already in process or in the mail, excellent work!

If you haven't even started thinking about it yet, don't panic. You still have time, but you need to get on it now.
Before you start
Before you open up a clean Word file and start writing the letter, get your ducks in a row. It'll help you minimize your costs and maximize your return.
1. Clean up your mailing list. Don't send your appeal to people who don't want to hear from you anymore. A clean list, with the most current email and mailing addresses, will save you money and help you be more accurate in donor communications.
2. Plan it out. What story will you tell in the letter? What will you ask people to give? What difference will that money make? When will the letter need to go in the mail? Planning out your appeal can help you get it done in a short period of time.
3. Set goals for your appeal. Don't just mail out a letter and hope to raise money. Be clear about the specific results you want from your appeal. There's actually a LOT of math you can do to calculate the results you might get (I usually crunch these numbers for my clients). At a minimum, consider these goals:
The largest number of gifts possible (exactly how many would that be for your nonprofit?).
The highest possible gift from each donor (what is your typical average gift size?).
The smallest cost possible for the mailing (will you print, fold, & stuff in house or outsource it?).
The best return on investment (ROI) for the dollars you spend.
Writing the letter
Most fundraising appeals are crap. They're written by committee (deathly mistake!) or written by someone who doesn't understand the psychology behind a successful appeal. They think they can just throw some words on a page and then sit back and collect the money.

Bad news – it doesn't work that way.

A terrible appeal talks about how great the organization is, how long they've been around, and how amazing their work is.

A great appeal tugs the donor's heartstrings and moves them to reach for their wallet.

See the difference? It's about who the letter is focused on. More on that in a minute.

Here are some tips to help you write the best possible letter.

1. Be donor-focused
. Don't write an appeal that's all about you. Don't talk about how great the year was or how challenging it's been – no one wants to hear that. Instead, tell a story about someone whose life has been changed by the work your nonprofit does. It's way more interesting and engaging.
Being self-centered
is the biggest mistake you can make with your appeal.
2. Write to one person. As you write your appeal, don't think about the hundreds of people who will receive it. Instead, picture one donor in your mind, and write to that one person. Your letter will be way more conversational and interesting.
3. Start with a short, hooky first sentence and tell a story. Short and hooky will grab the reader's attention. If you start by talking about your organization or your programs, you'll lose the reader. The first sentence should grab them and pull them in. The next sentence keeps them reading, and so on.
4. Only include the essentials. It's tempting to tell EVERYTHING about your organization. After all, you want your donor to understand how it all works, right? Don't. It's overwhelming. Only share what the reader needs to know to make the decision to give. Anything else just gets in the way.
5. Have an 8-year old approve it.
Seriously. Hand your letter to a kid and see if they understand it. If they get stuck on complex sentence structure or jargon, go back and try it again. Your letter should be super simple to read and understand.
Sandy's Appeal Template
I write a LOT of letters for clients. Once I get the story and the angle in my head, I can usually whip a letter out in about 30 minutes and my clients love the results they get! In a recent Mastermind training, I rewrote an appeal for a homeless ministry, and they raised over $20,000 with it!

Here's the template I follow when I write a letter:
Grab the reader's attention with a short, compelling first line that begins to tell a story.
Continue by telling a story that demonstrates the need met by your organization. Keep the paragraphs short – maybe a sentence or two. It makes the letter easier to read.
Pivot, and talk about the gap between the number of lives currently being changed and the number still waiting.
Transition into why you need your reader's help and the urgency of the need.
Make the Ask. Ask for a specific amount of money and talk about what that money will do.
End the letter with a clear call to action ("Use the enclosed envelope to send your best gift today").
Use the signature of the top-ranking staff person.
In a short P.S., repeat the Ask.

This template works. Every. Time.


Add some sizzle
Want to make your letter irresistible? Try one of these:
Add photos of the person/animal in the story.
Add a link to a video online where the donor can see and hear more about the person/animal from the story.
Follow up the print letter with a shorter email version to remind the donor to give.
Support the story in the letter with social media posts, especially if you can link to the video.
Have your Board members add hand-written notes on the letters to people they personally know.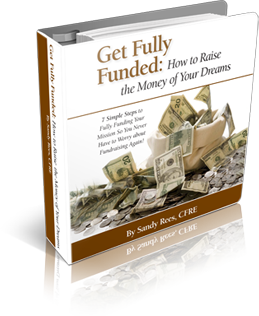 Need more help with your Fall appeal? The Get Fully Funded system has a whole section on creating a winning appeal, and includes a Direct Mail Plan Worksheet, sample themes, Sample Production Schedules, Cost and Revenue Estimation Formulas, tips for keeping your data clean, and an Appeal Proofing Checklist. Get your system at http://getfullyfunded.com/get-fully-funded-system/.