You need 2 things to succeed in 2023: a plan and support as you work the plan.
To fully fund your nonprofit's work this year, you have to go ALL IN.
You can't just dabble in fundraising, hosting a fundraiser when you need money.
You have to commit to the consistent, ongoing effort needed to raise big bucks, using tactics that WORK.
Let me simplify your life and streamline your efforts with an All Access Pass.
It's your one-stop ticket to getting the fundraising answers you need.
Just imagine – no more endless searches for ideas, no more wondering what to do next, and no more tiny fundraisers that disappoint you.
Instead, you'll have a plan, coaches, and a community of peers to support you through your best year ever!
You need to raise more money but have already tried everything you know. 
You doubt yourself when it comes to asking for money and would love examples of successful fundraising.
You're willing to do the work… if you just knew what to do and had a PLAN.
Your work is not a job – it's a calling! And you're passionate about the cause.
Be 100% committed to raising 100% of the funds you need!
Introducing the 2023 All Access Pass

Our All Access Pass is your ONE SOURCE for all things fundraising in the new year.
You'll get access to everything you need to raise more money for your cause.
Guidance to develop your best annual plan ever!

Fresh ideas and encouragement

Practical, step-by-step directions

TONS of examples!

24/7 support through a private community with coaches who care!

It's time to end the search for answers so you can focus on up leveling your capacity to raise money and make a bigger difference in the world.
Join us for a game-changing year of fundraising!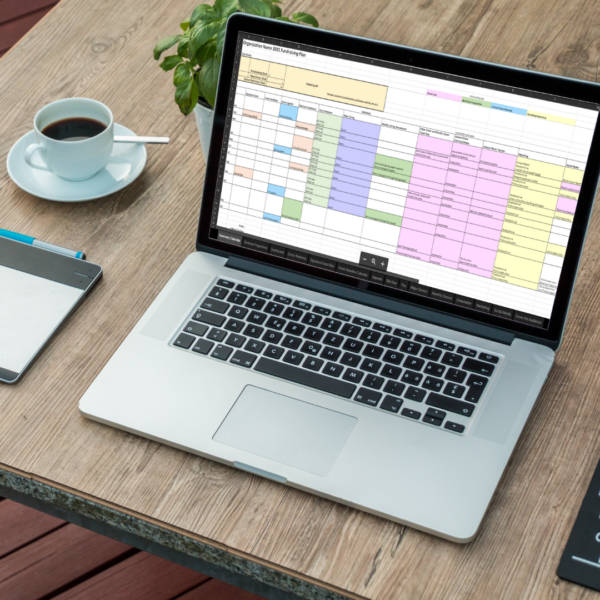 Fundraising Blueprint – January 26, 2023

Get your fundraising plan DONE in this one day virtual workshop. ($97.00 value)
During this workshop, you'll get:
Hands-on Training: During the workshop, you'll decide on the direction for your plan, and using the handouts, get started on a draft. If you fill everything out as we go, you'll be well on your way to a finished plan by the end of the workshop!
Template: No more searching for the perfect template, because you'll get mine! I'll share with you the actual fundraising plan template that I use when I'm writing plans for clients.
Sample Plan: Want to see what a finished fundraising plan looks like? Download the sample and take a look! You'll save yourself the headache of wondering if you're doing it right.
Fundraising QuickStart – April 20, 2023

Finally master the basics of fundraising with this one day virtual workshop. ($57.00 value)
During this workshop, you'll learn how to :
Grow Your Donor Base: Get practical ideas for finding ideal new donors who are ready to give.
Inspire Donors to Give: Find out what to say to grab their hearts and motivate them to donate.
Ask for Anything: Learn how to ask for exactly what your nonprofit needs, no matter the situation.
Keep Your Donors Giving: Get ideas to build loyalty and trust so donors give again and again.
Rinse and Repeat: Learn how to create systems that make fundraising easy and predictable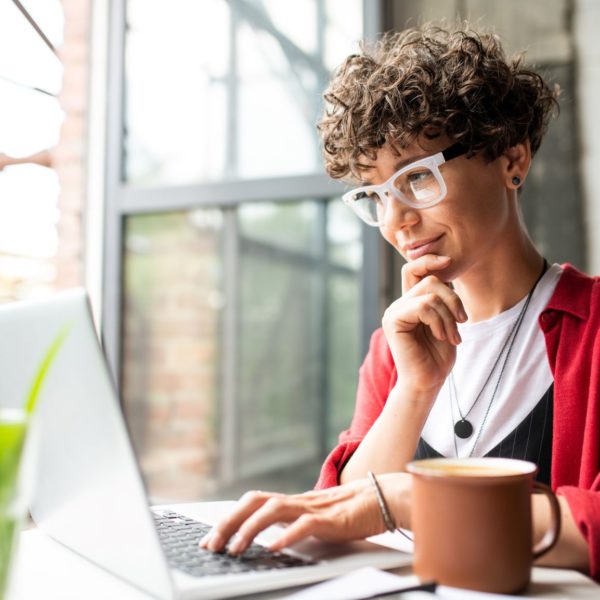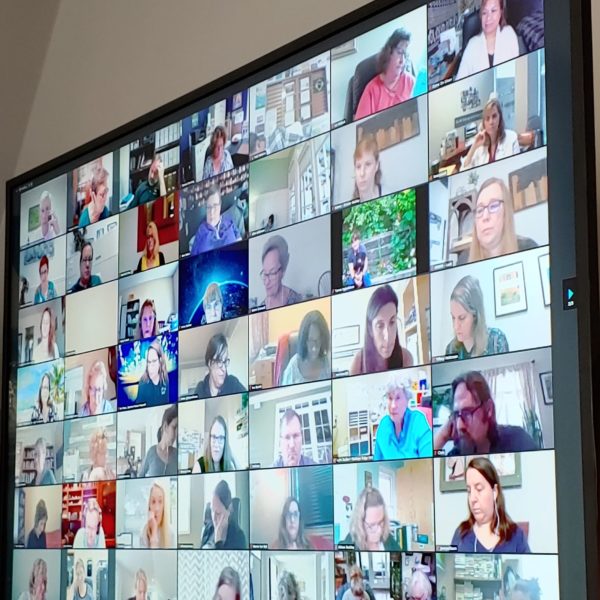 Inspired Fundraising Retreat – August 17-18, 2023

During this 2-day virtual workshop, you'll learn how to plan your BIGGEST year-end fundraising campaign ever. ($197.00 value)
You'll get:
A Proven System: Stop guessing how to raise money during the holidays! Instead, follow our formula to give your donor exactly what they want so that you get the funds you need to operate.
Fresh New Ideas: Soak up AHAs as we review real year-end fundraising examples from the past year that worked BIG TIME!! Plus, you'll get tons of checklists and worksheets from the downloadable workbook.
A chance to recharge your batteries: Rejuvenate yourself with new ideas and fresh enthusiasm to go back to work with excitement and confidence like never before! You'll want to bottle how you feel so you can access it again.
One-Year Membership in Fundraising TV

Fundraising TV is a self-paced online course designed to help new and young nonprofits create predictable fundraising results – guaranteed. ($429.00 value)
Working through the program, you'll:
Work at your own pace: Don't worry about fitting this into your schedule! Fundraising TV is built in short, bite-sized segments. Carve out 15-20 minutes each week to keep moving forward.
Access simple plans and easy blueprints: Do you feel like you're always reinventing the wheel? In this program, you'll get access to dozens of plans, blueprints, swipe files, and 24/7 community support to make your next fundraising campaign easier.
Prioritize what you SHOULD be working on: Your time is too valuable to waste it trying to figure out what you're supposed to do next. Use the Success Path to identify your next steps to becoming a fully funded nonprofit.
Fundraise with confidence: Eliminate overwhelm! In this program, you'll learn the mindset, frameworks, and strategies you need to follow in order to make your next fundraising campaign less intimidating.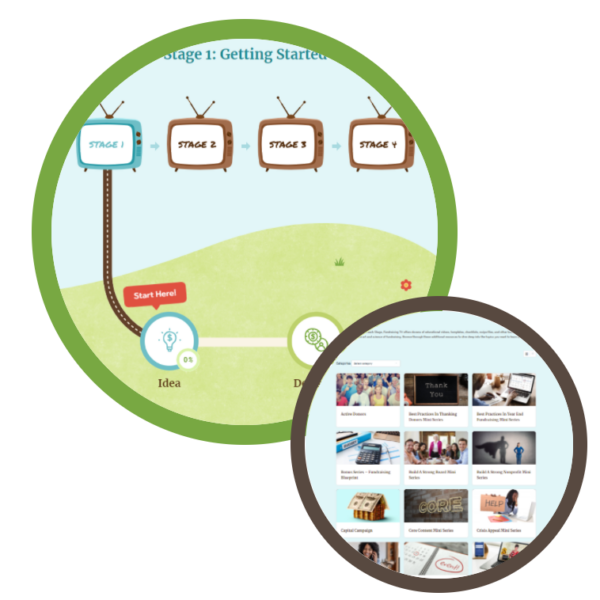 What others say after
grabbing their All Access Pass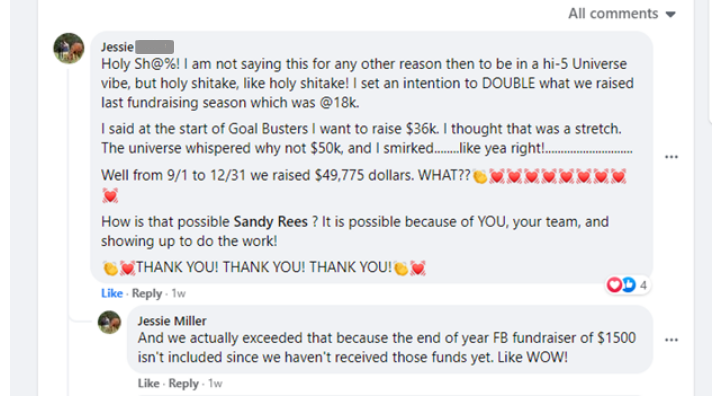 YOU'LL ALSO GET THESE BONUSES: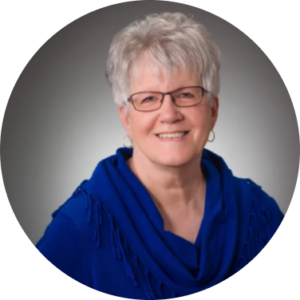 "Our goal for holiday giving in 2021 was $8,000 and we raised over $9,000.

Probably our biggest wins were the 4 matching gift donors, plus 2 other major gifts that came in. We picked up some lapsed donors and increased several annual donors. Never in my wildest dreams did I think we would make it, but a lot of prayers went up and we got the asking done!!"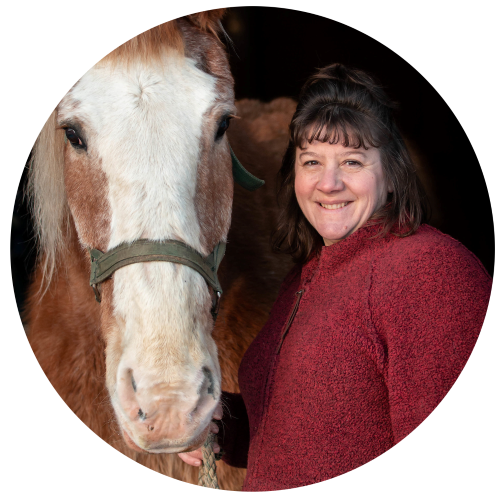 "I was lucky enough to find you in my first year of operation with my nonprofit. I learned to do things right the first time instead of wasting time and energy on mistakes.

I've gotten so many ideas that I've been able to use and translate to real dollars coming in the door. I'm looking forward to improving my Board and am actually excited about grant writing. I rely on you more than anyone else to support my organization.

This year for Giving Tuesday, we raised a grand total of $20,913! Our biggest Giving Tuesday yet! Woohooo!! Thank you Sandy Rees and team for all your hard work and guidance."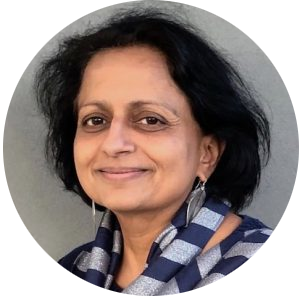 "Fall fundraising in 2019 was a complete scramble. We figured out what to do on the fly and we threw things together. Everything was really last minute. We knew we needed more money to help more young people, so we hired Sandy in August of 2020. She helped plan out our holiday fundraising so we were intentional about our communications, when they would go out, what messages we wanted to share, and be ready beforehand.

Because of that plan, we raised so much more money! In 2019, we raised $4,600 between Giving Tuesday and Year-End. In 2020, we raised $31,000 in that same time. That money will allow us to help a lot more youth in our programs in India."
Get Fully Funded All Access Pass
Go ALL IN for your nonprofit in 2023!
Early Bird Payment Plan
$
229
Per month for 3 months
Ticket to the Fundraising Blueprint on January 26, 2023
 Ticket to the Fundraising QuickStart on April 20, 2023
 Ticket to the Inspired Fundraising Retreat, August 17-18, 2023
 One year membership in Fundraising TV
BONUS: Quarterly Deep Dive Workshops  
  BONUS: in Quarterly Office Hours
 FAST ACTION BONUS: "Year-End Appeal" workshop on Dec 15
  $1,774.00 total value
Early Bird Pay in Full
 Ticket to the Fundraising Blueprint on January 26, 2023
 Ticket to the Fundraising QuickStart on April 20, 2023
 Ticket to the Inspired Fundraising Retreat, August 17-18, 2023
One year membership in Fundraising TV
BONUS: Quarterly Deep Dive Workshops
BONUS: Quarterly Office Hours
FAST ACTION BONUS: "Year-End Appeal" workshop on Dec 15
$2,271.00 total value
FREQUENTLY ASKED QUESTIONS Want to talk to us? Got a question?
Call our office at (865) 657-9915 M-F, 9 am to 5 pm or email us at support(@)getfullyfunded.com.