It's a scary time to raise money.
The world is completely different than it was just a few short weeks ago. And now,
…You've lost revenue you were counting on from fundraisers and events.
…Programs have been cut, cut back, or changed, and you're struggling to ask for money for programs that are so different.
…All your fundraising plans just went out the window, and you're wondering WHAT in the world to do now.
…You're trying to reassure your staff and volunteers that everything's going to be ok, but you're not sure you believe it yourself.
Some days you just feel helpless and lost.
You lie awake at night with a nervous stomach wondering if you'll survive this crisis financially and what will happen if you don't.
You can become a confident, skilled fundraiser who knows how to raise money, even in a crisis.
Just imagine…
Getting donations nearly every time you ask.
Feeling confident that you know when to ask and what to say.
Easily finding new donors, even in an uncertain economy.
Raising enough money to make it through the crisis!
Let's expand your knowledge, grow your skills, and master your mindset so you grow into a Confident Fundraiser!
It's hard to ask for money when so many people are struggling.
When the world is upside down, like it is right now with the coronavirus, it's easy to get paralyzed from fear, uncertainty, and doubt.
You know you need to do something to bring in money, but what? Unemployment is high. People are scared. You don't want to be insensitive.
But here's the thing: The world needs your mission now more than ever. 
That means you have to figure out how to raise money to keep your nonprofit afloat, keeping services going now and being ready when things go back to normal.
But no one told you how to raise money in a crisis.
Heck, maybe you weren't even really sure how to raise money before the crisis.
Good news, cupcake! You
CAN

do this!
You CAN raise enough money to survive (and THRIVE) during the crisis!
You just need a few things:
A clear short-term strategy so you get the BIGGEST possible return from your efforts.
Templates to keep you from staring at a blank screen.
A fundraising plan so you know what's next and can stop shooting from the hip.
Rinse-and-repeat systems that make fundraising easier.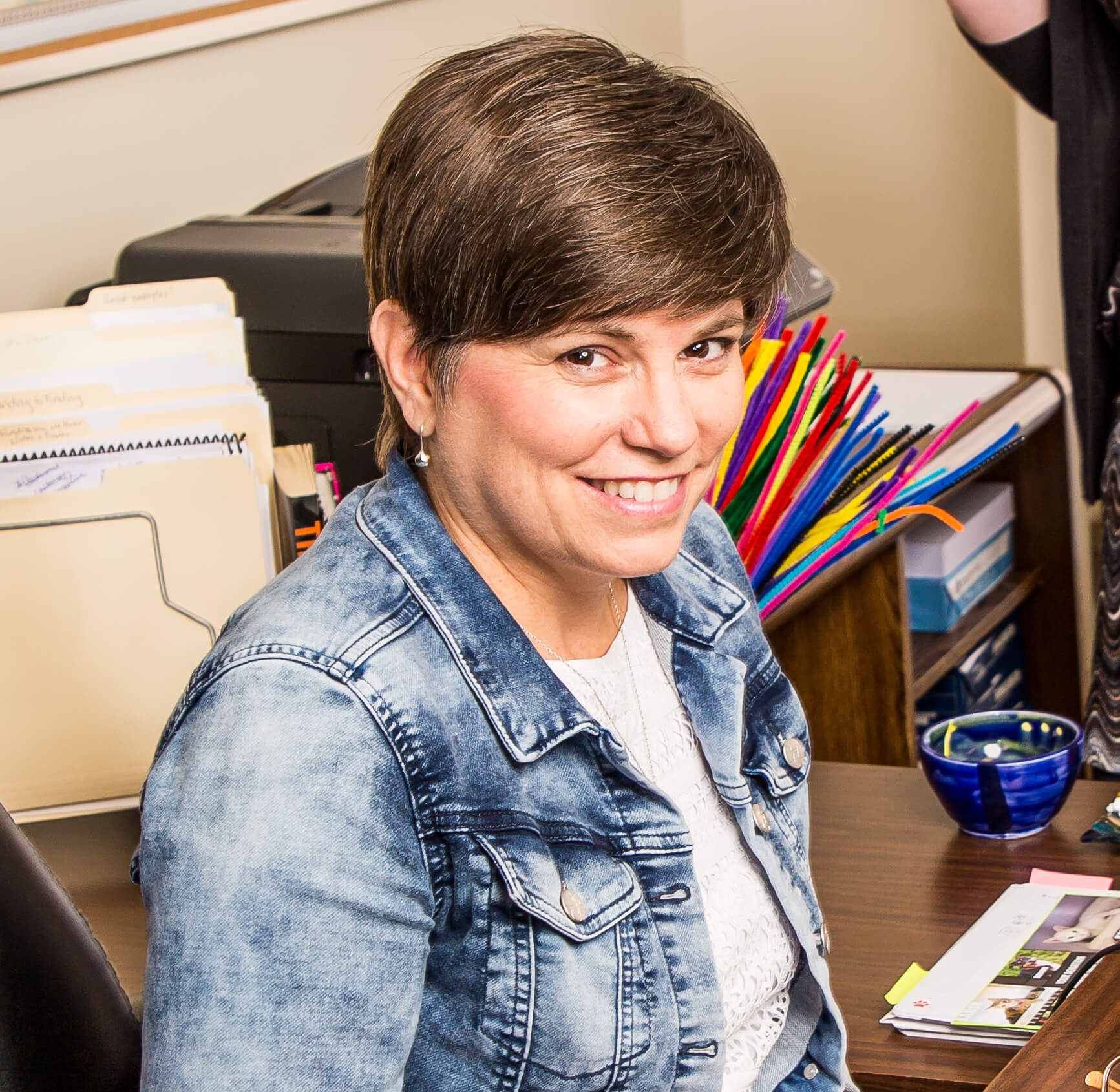 "The principles of good fundraising are the same regardless of the economy."
I'm Sandy Rees and
I've been in your shoes.
Nearly 20 years ago, I found myself in an unfamiliar role – raising money for a young nonprofit. I was inexperienced and made a lot of stuff up as I went.
But I learned from my mistakes and committed to the mission, stepping outside my comfort zone and doing the work. Within a year, I doubled the size of the donor base and grew revenue over $100,000.
Since then, I've worked with rescue missions, food banks, kids' programs, animal welfare, and more, raising millions for small nonprofits. From startups to multi-million dollar charities, I know what it takes to grow a sustainable nonprofit.
Today, I'm helping dozens of small nonprofits navigate fundraising during a pandemic. We're tuned in to donors, meeting their need for more frequent updates, and we're seeing money flow in. 
I can't STAND to see good causes struggle to raise money, because it just isn't necessary. I'm committed to making fundraising simple for you so you can build your knowledge, skill, and confidence FAST.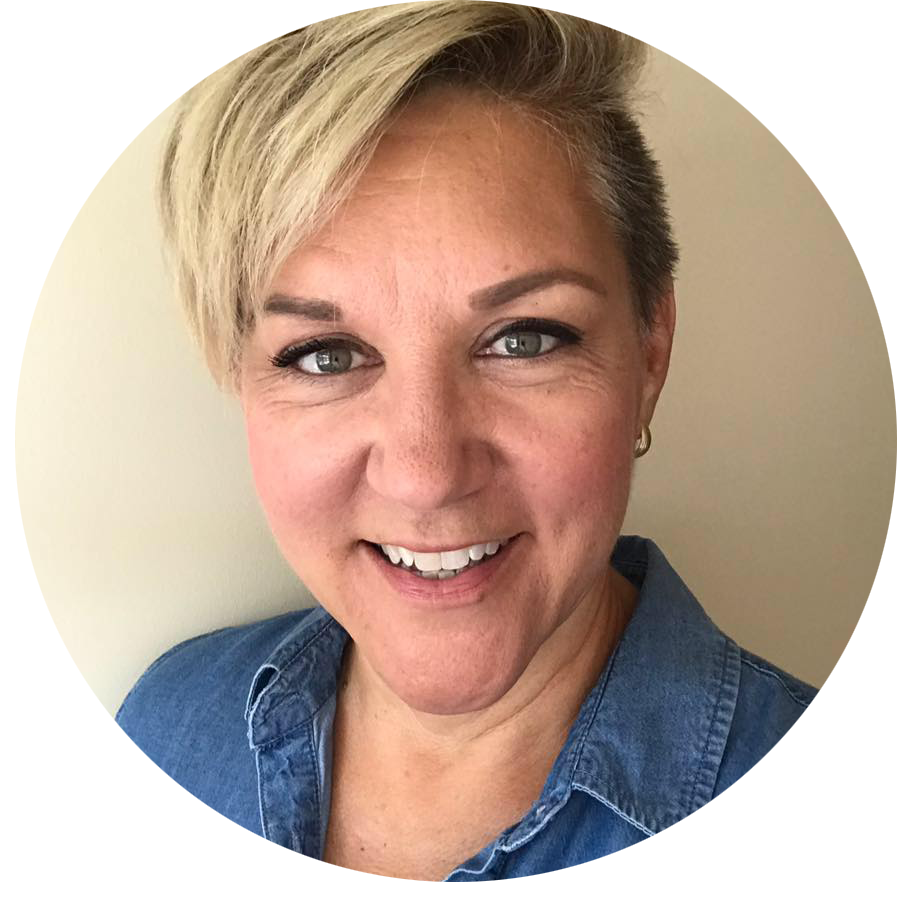 Our team raised $13,000 in the last 6 weeks of 2019 which was over 5 times what we raised last year! I now know how to tell our story without feeling salesy and that's huge for me! I'm confident now that I can have donor conversations that convert to donations. I appreciate Fundraising TV so much – the videos are short and packed with content that I can immediately use and get results with. I always know exactly what to do next and when I complete the tasks, I can see the results in the donations coming in.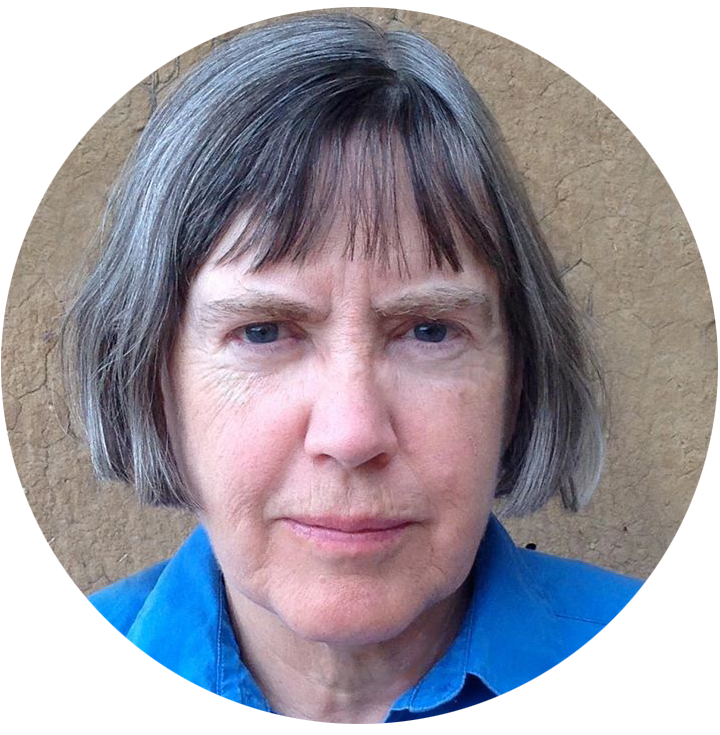 We've gotten terrific ideas we can use immediately for our animal shelter. Fundraising TV has given us a strong knowledge base to FINALLY get our fundriasing plan done!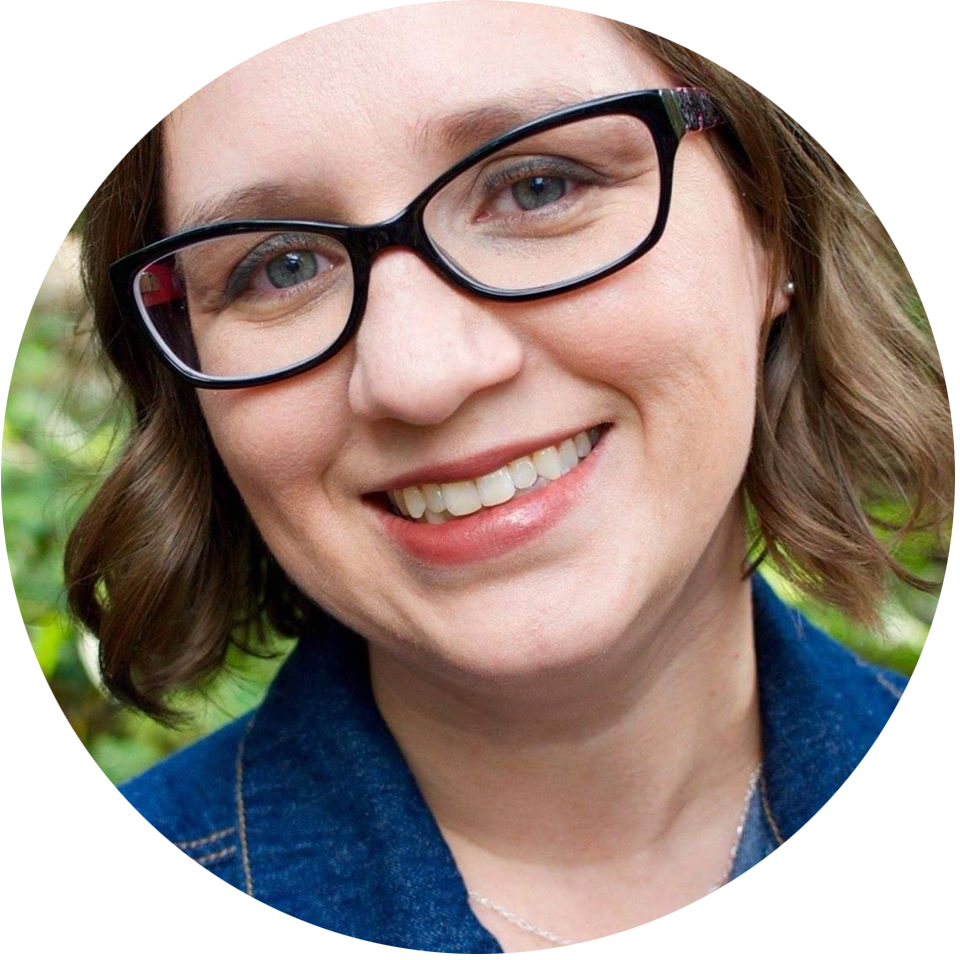 Fundraising TV paid for itself within 2 months!I Then we ended the year $30,000 over our goal!! A lot went into that but I know the specific, targeted help I got from Fundraising TV helped me focus on exactly what I should be doing and how to get it done. I love the bite-sized guidance on specific issues that show up right when I need it!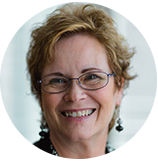 I have followed Sandy Rees' blog for last 4 years while starting a nonprofit from the ground up.  When she presented the idea of Fundraising TV, I jumped at the chance for quick and easy info on the fly and I knew she would pick topics that were relevant to small nonprofits who want to do big things.

And I have found it to be true.  I have taken the class on the Fundraising Blueprint but when fundraising TV came up with Core Number info it spurred me to get that done — and I did!  We now have a great focus for our fundraiser and know how much we need to raise to keep our programs going and growing.

I have learned about creative donor recognition, and how to diversify funding – which I used in planning with the Board.  Sandy presents info in a way that is fun, energizing and exciting.  Not only that what pops up in my inbox – but encouraging words every so often just when they are needed.  And one of the best parts of Fundraising TV – if I have a crazy question I have not been able to figure out the answer to, NOW I have a whole forum of people to ask and I get answers and perspectives!

For the low cost investment, I have received high impact benefit!
Introducing Fundraising TV
Keep your mission moving, even when the world stands still.
In Fundraising TV, you'll learn to:
Get the money you ask for, when you ask for it.
Put together a solid fundraising strategy instead of working from guesses.
Feel confident in your fundraising skills, knowledge, and abilities.
Inside Fundraising TV, you'll find training in bite-sized nuggets so you can learn fast, take action, and see results within a few short weeks (maybe sooner depending on how fast you work!).
Get what you need, when you need it – video lessons are available on demand so you can watch on YOUR schedule. Each episode is full of practical, usable ideas with no fluff or dry theory.
You'll get a new video every week answering a question you probably already have about fundraising. Because each video is only 10 minutes, it may take us years to cover everything you need to know, so you can look forward to fresh episodes for a looooong time!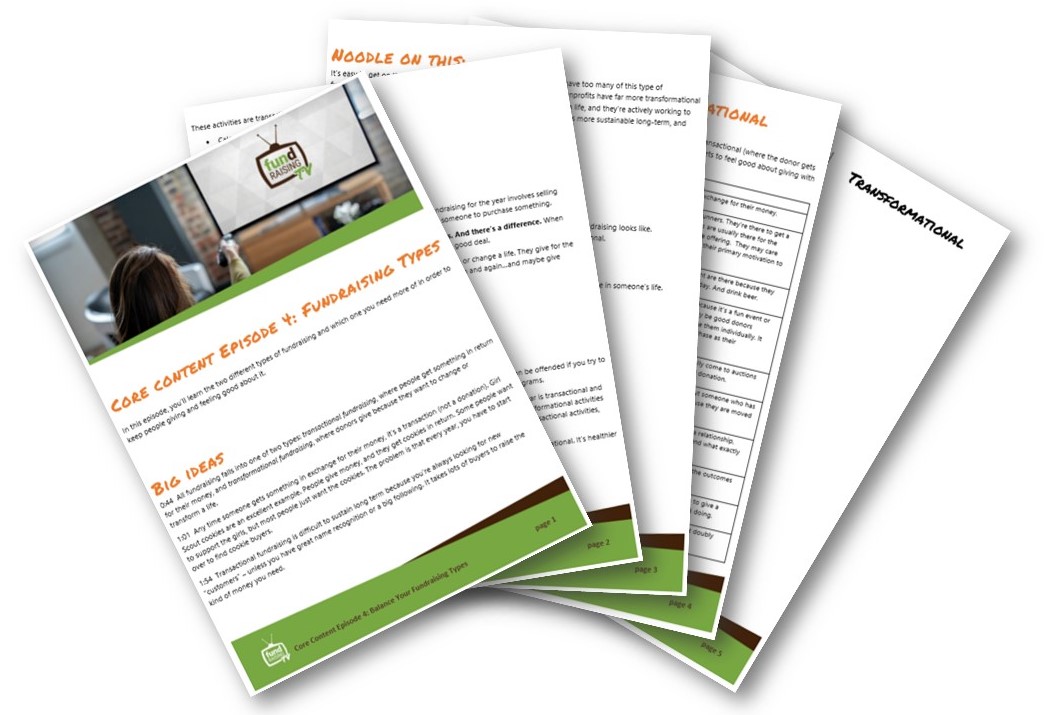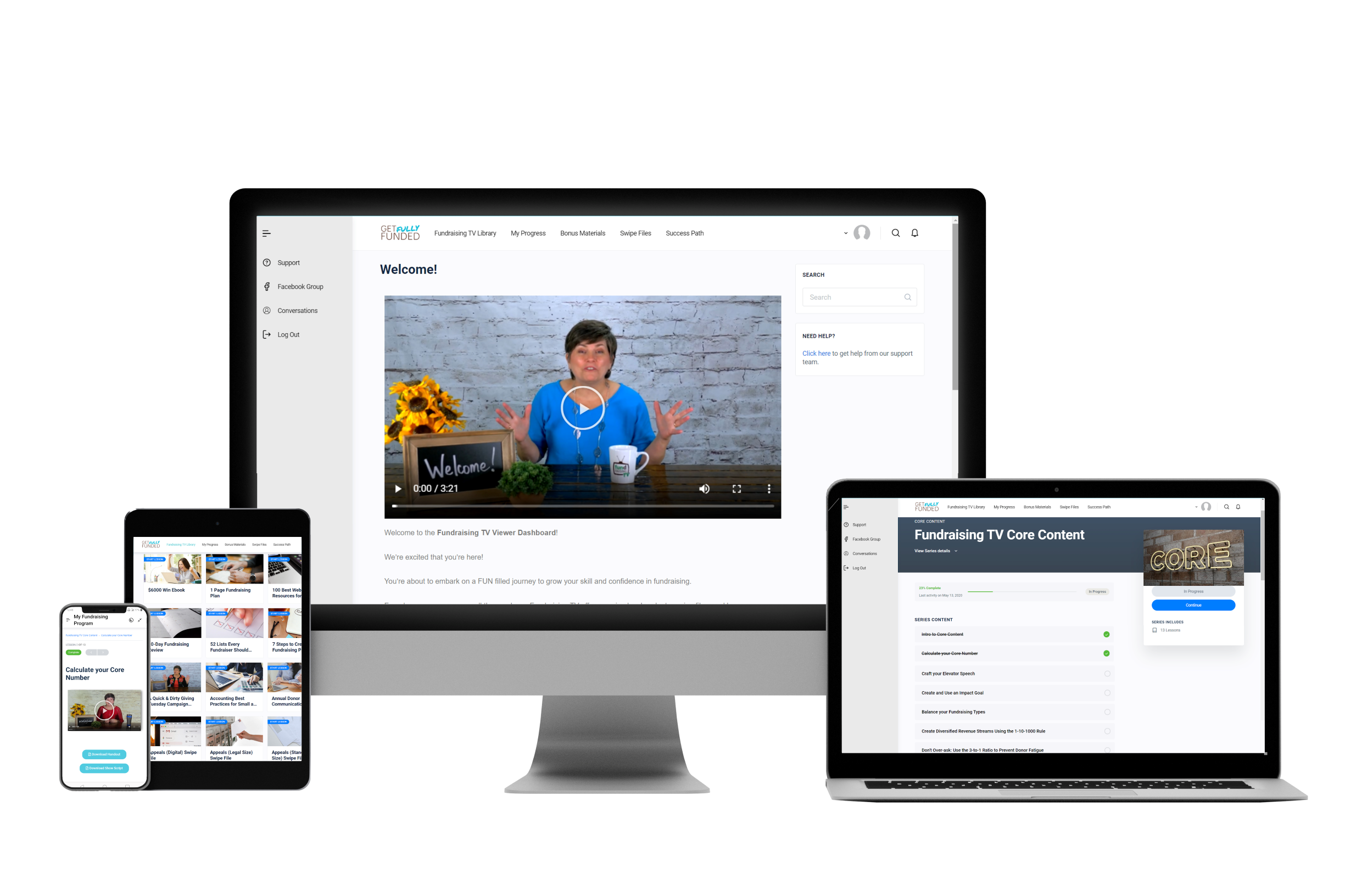 When you enroll in Fundraising TV, you'll get:
Curious?
WATCH EPISODE 1:
Calculate Your Core Number
YOU'LL ALSO GET THESE BONUSES
Candi — We just got a year-end gift from a long time donor that was 4 times larger than the biggest gift they have ever given before!
Nicole — It's all because of you! Our coolest donation was when a 30 year old missing ring was found on the beach and returned to the owner. The owner tried to repay the guy who found her missing ring and instead he had her make a donation for him. She donated $1200 to us then her husband's company ended up donating $12,000!
Karen — A long time donor doubled their monthly recurring gift this year!
Jenny — 5 days in to the month and we have raised more money this month than in any previous January!
Andee — A donor gave us an unsolicited $1,000 donation yesterday!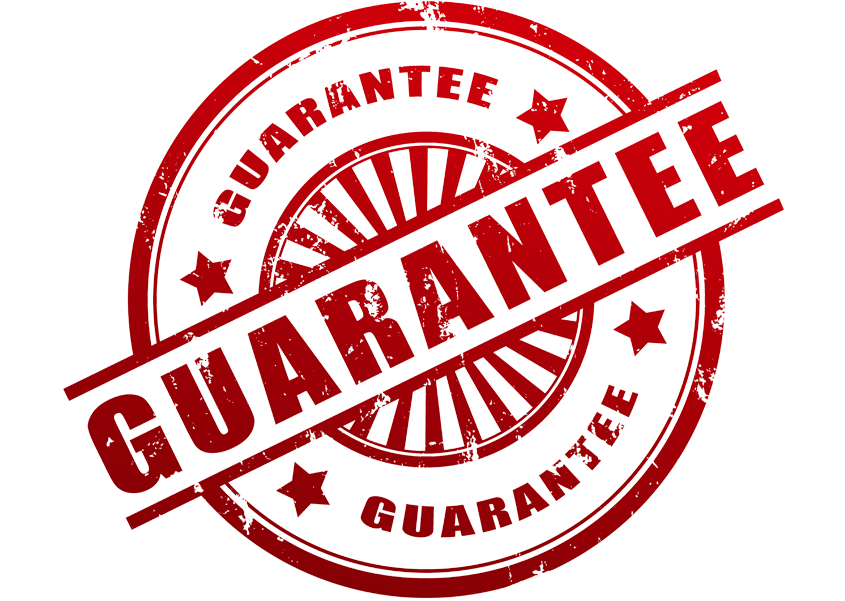 SMART
FUNDRAISING
GUARANTEE
Take 30 days to watch the next 4 videos, fill out the handouts, and get your most burning questions answered. If you still don't feel like you have the knowledge or practical action steps you need to raise more money, then email support@getfullyfunded.com for an immediate, no-questions asked refund.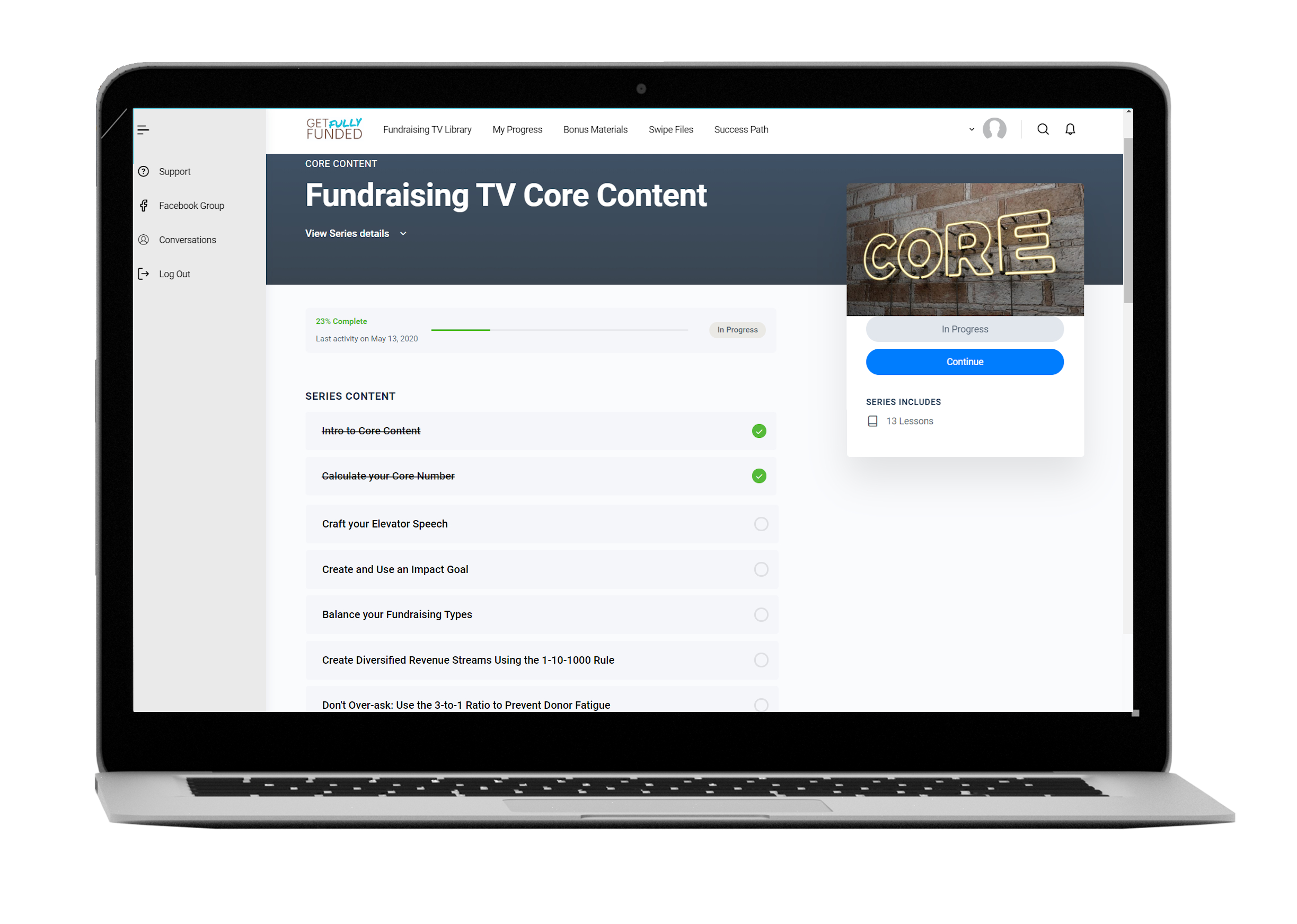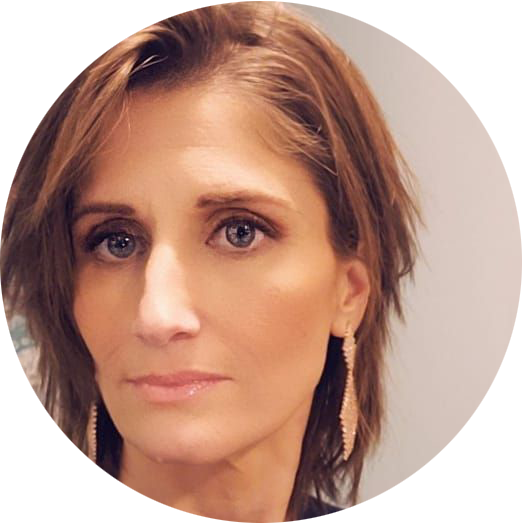 As the Lone Fundraiser for my nonprofit, I was looking for tips, helpful hints, and best practices. And did I find it! Fundraising TV has helped me get a handle on our fundraising and implement strategies to increase our fundraising efforts. The most important thing so far has been the changes we've made in donor recognition and retention. We now have a plan for that and are excited to see what happens.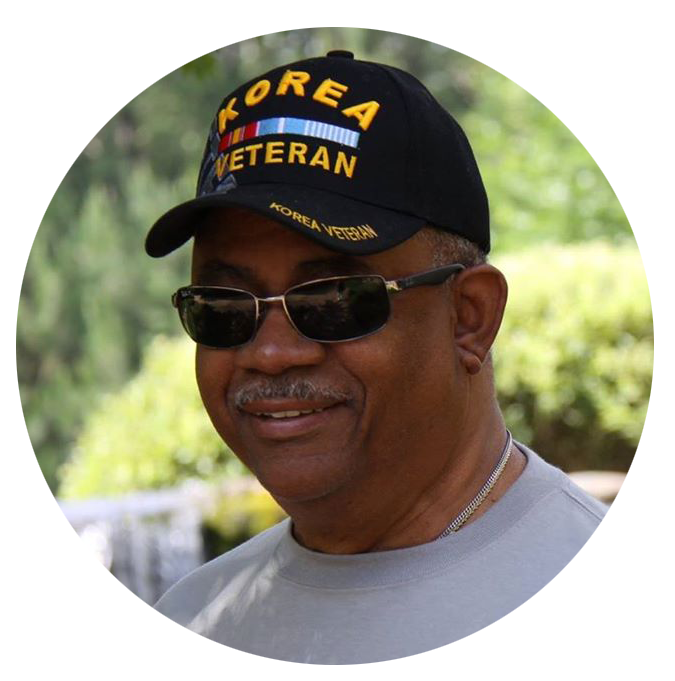 These short videos are like just-in-time shipping. I get what I need, when I need it. I can watch the content I want, get the specific info I need, and it doesn't kill my day. Fundraising is magical when you get it right and Sandy can point you in the right direction.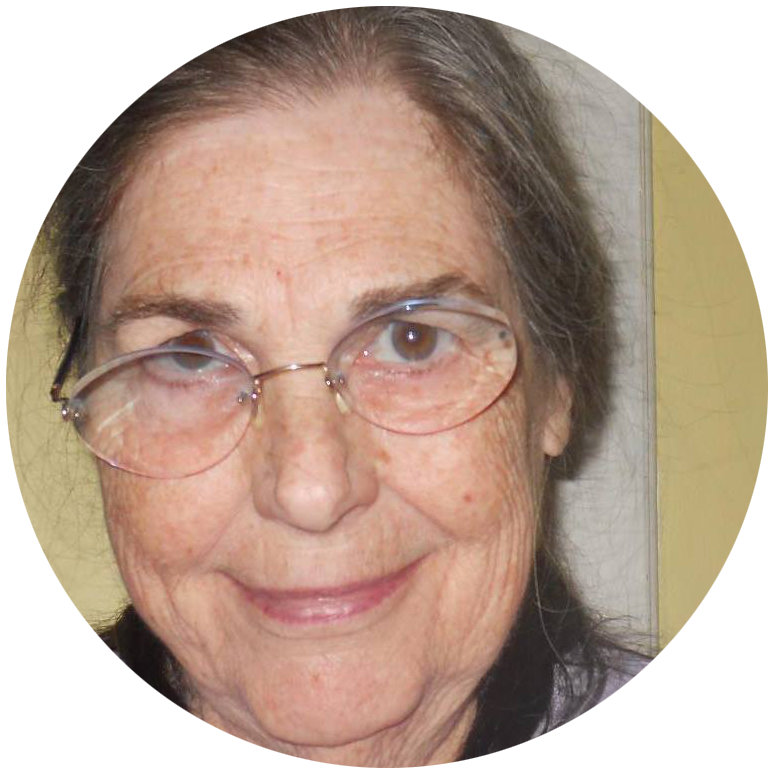 AVS is a nonprofit startup and Fundraising TV is an excellent resource for us! You've inspired and motivated me, and I can't wait to learn everything I can!

Ok, listen. There are other programs out there that teach you how to raise money. But where else can you get:
Focused lessons
on demand
(watch whenever and wherever you like, even in your jammies!)
Practical, street-smart ideas and techniques that are proven to work for small nonprofits.
A Coach that is 100% dedicated to encouraging you and supporting your journey to success.
You can probably figure some of this out yourself. But how long will that take? How many mistakes will you make? How many lives will suffer? That's the true cost. And one you can easily avoid.
So, let's draw a line in the sand – No more overwhelm. No more DIY disasters. No more nickel-and-dime fundraising.
Let's keep your mission moving and funded!
Got a question rolling around in your head? Great! I love that! It means you're taking your fundraising journey seriously.
Many of our most successful Fundraising TV subscribers had questions too before they decided to join. Click below to read answers to the most common questions asked about Fundraising TV:
Fundraising TV is awesome,
but it's not for everyone.
You live and breathe your nonprofit's mission and aren't satisfied with only changing a few lives when you know you could change SO MANY MORE.
You stepped up to become a nonprofit leader with little to no experience and now you're ready to strip away the mystery and start raising money like the pros do.
You know this work is your calling and you're on the right path, but funding it isn't as simple as you thought and you're ready for some help, especially NOW.
You've been trying to fundraise for months (or even years) but haven't brought in the kind of money you were hoping for.
You're just getting started and want to NAIL fundraising right out of the gate.
You're not 100% committed to figuring out how to fully fund your nonprofit's work.
You're not passionate about the work your nonprofit does or have no idea why someone would give to you when they could give to (fill-in-the-blank) nonprofit.
You're too busy to take action on what you learn.
Your fundraising program is sophisticated and you're just looking for a couple of new ideas.
You no longer have money worries about your nonprofit and you already have good friends/connections with other nonprofit leaders.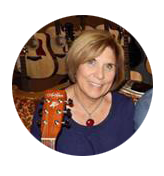 Fundraising TV has more than paid for itself. Using the suggestion about Facebook birthday fundraisers, we have raised an additional 10% so far. I love the Facebook group and being able to get feedback from people who have experience in a particular area.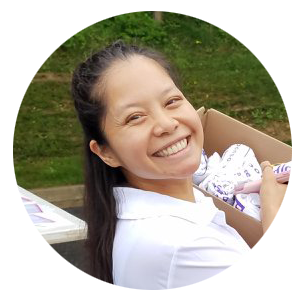 I brought in more money in the last 3 months than I did in the entire previous year! Working with Sandy and being part of Fundraising TV has taught me so much, but my biggest takeaway is valuing the donor and making everything about them. Fundraising TV is the best decision you'll ever make for your organization! Sandy is the wisest, most genuine, helpful person you'll ever know.
Fundraising TV is great and provides valuable tips for busy and overworked people. My small nonprofit applied Sandy's Giving Tuesday campaign recommendations and generated over $1,300. That's more in one day than we raise in our annual event! Now we're solidifying our infrastructure and can't wait to learn what's next.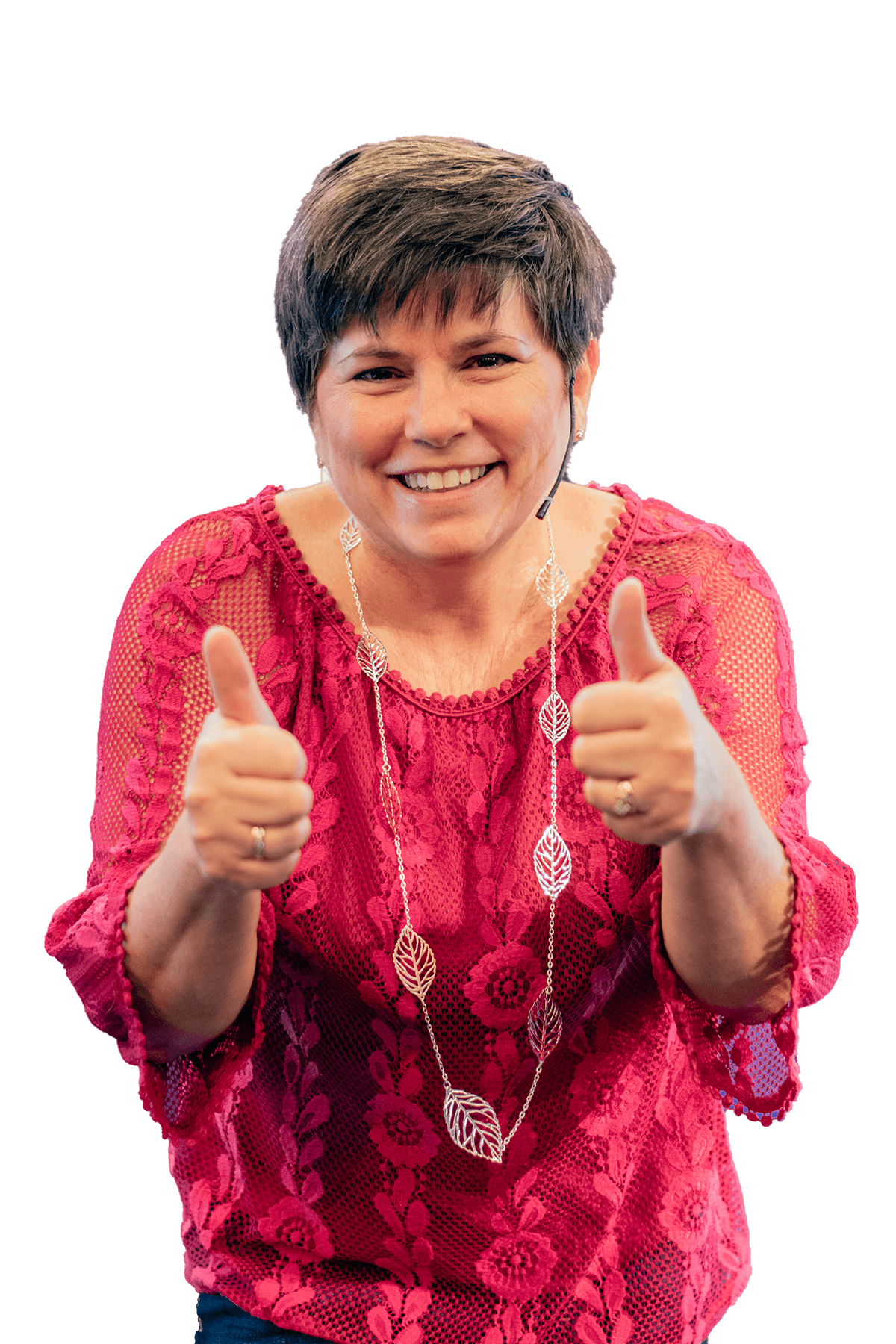 "I've dedicated my life to helping people learn how to fund their good cause."
I can't stand to see nonprofits struggle with fundraising and I don't want you to struggle, either.
I also can't stand to see people struggle trying to make a decision.
So, regardless of whether you choose to subscribe or not, you need to gather the info you need to make a decision including the benefits (what you can GAIN from the program) and the costs (what you will LOSE when you don't join).
Think about this: 7 out of 10 people will read this page and take no action. That means they will:
Leave thousands of dollars on the table because they don't know how to ask for money the RIGHT way.
Spend most of their time scrambling for enough money to pay bills because they're always working at the last minute with no plan.
Lose countless hours of sleep and experience serious stress because of the constant worry about money.
Hold their nonprofit back and keep it from growing, leaving lives on the line because they don't have enough money to survive.
If you're ready to help your nonprofit stay funded through the crisis and beyond, then join us in Fundraising TV.