Your Core Number is an expression of what it costs your nonprofit to deliver a unit of service.
Knowing and using your Core Number can make fundraising easier because you can quickly help prospects understand exactly how their donation will make a difference. (People love knowing that!)
Start by figuring out what your smallest unit of service is.
Here are some examples: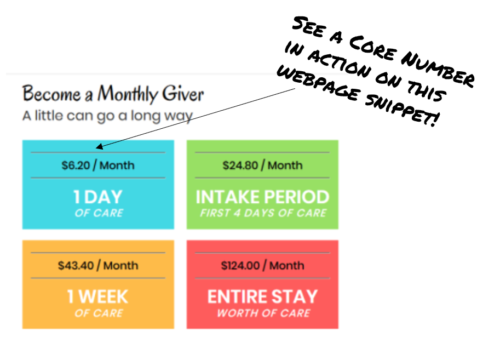 | Type of Nonprofit | Example Unit of Service |
| --- | --- |
| Animal shelter | One day/night of care for one animal |
| Homeless shelter | One bed for one night for one person |
| Food pantry | One meal for one person |
| Free medical clinic | One visit with one doctor for one patient |
| Theatre/Performing arts | One performance for one audience member |
| Tutoring program | One hour of tutoring for one student |
Identifying your unit of service isn't the easiest thing especially if your nonprofit has a variety of programs. Just keep looking for what they have in common – there has to be something they all provide like an hour of support or experience in your programs.
To calculate your Core Number, simply divide the total expenses for a year by the total units of service for that same year. Be sure to include ALL costs – not just direct costs.
Now, you can crunch the numbers yourself or use this handy Core Number Calculator to do the work for you.
If your Core Number is $20 or less, that's great! It'll be a fabulous tool for fundraising.
If not, see if there's a smaller unit of service you can use.
Want more insight into what a Core Number is? Sign up below for our free Core Number video training. In this 8-minute video, I'll walk you through some examples of Core Numbers and how to calculate yours, plus how to use your Core Number in fundraising.