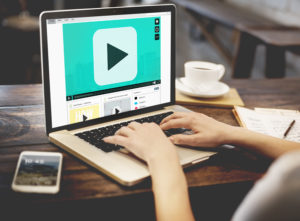 If a picture is worth 1,000 words, then fundraising videos must be worth millions.
Actually, Forrester Research says one minute of video is worth 1.8 million words.
Think about that.
Think about the impact it has on donors when they can see your nonprofit in action in video.
If you're already using fundraising videos, you know what I'm talking about.
Video is the fastest growing media and works well for fundraising, marketing, and communications. And it's only going to get bigger.
Consider this:
When it comes to likes, shares, and downloads, fundraising videos outperform other kinds of communication.
So, if you're already using video as part of your fundraising/marketing/communications strategy, great. Do more.
If you're not using fundraising videos, get started. It's not that hard and your smart phone will work just fine.
As with anything, practice makes perfect. The more you do, the better you'll get, so pick up your phone and shoot.
I shoot a lot of video and I'm comfortable in front of the camera…now. When I first started, I'd get really nervous because I wanted to get it right, not stumble over my words, and not have something stuck in my teeth.
The more video I shot, the better I got. And you can be good on camera, too.
Here are my best tips for creating great fundraising videos.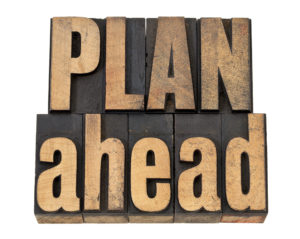 1. Plan ahead and be purposeful. Before you start shooting, think about exactly what you want to shoot. What's the purpose of the video? How will you use it? What do you want viewers to do after they watch (CTA)? Who needs to be in it? Let the answers to those questions guide your video plan.
2. Use a script. Or at least notes. Don't wing it. You don't want to ramble or stumble over your words in fundraising videos because people will stop watching. So, think about what you want to say before you push the "record" button. It's okay to have a note card. Or write your notes in large letters on a flip chart posted on the wall just behind the camera.
3. Get right to the point in the first few seconds or you risk losing people. We're all used to seeing short, snappy videos on social media. If you start your fundraising videos with a long, boring introduction, people won't stay with you.
4. Keep it short. Nearly two-thirds of consumers prefer video under 60 seconds. (Insivia)
5. Caption your videos. Did you know that 85% of videos on Facebook are watched with no sound? It's true. If you don't caption your videos, you'll lose impact with your video because some people won't bother to watch with the sound on.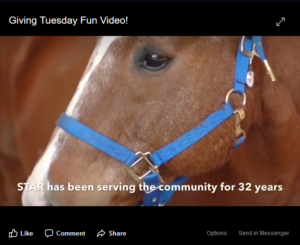 6. Evaluate the shot before you start. What will people see in the background? What do you WANT them to see in the background? Make sure you're shooting from the right spot so you get the shot you want without clutter or distractions behind you.
7. Stabilize your video. Tripods and selfie sticks are cheap and they'll hold your camera steady so it isn't shaking. Watching a shaky video isn't much fun and most people won't do it. I have a selfie stick with legs at the base so it doubles as a table-top tripod. This one is very similar to mine.
8. Shoot at eye level. Don't hold the phone lower than your face or people will be looking up your nose (doesn't sound very appealing, does it?).
9. Get the right width. When using your smart phone, hold it landscape while you shoot so your video will fill the full frame. Otherwise, it will have wide black or grayed bars on each side like this.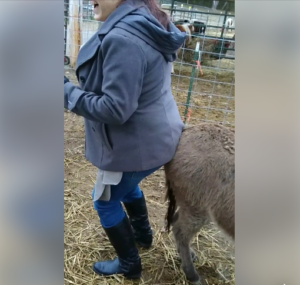 10. Light your shot well. If you're shooting inside, make sure you have enough light so that there aren't shadows on people's faces. If you're shooting outside, keep the sun behind the camera. You may have to choose the time of day when things are lit just right so there's no glare or bright light in your subject's eyes.
11. No unnecessary zooming in or panning out. It can distract from the content. Just because your camera or smart phone can do a lot of cool stuff doesn't mean it will enhance your video. Use the cool stuff sparingly.
12. Control the noise. Shoot in a quiet space and use a microphone if you can. If you're shooting with your smart phone, turn off fans, heaters, and anything that makes noise (including other phones).
13. Know when to call in the professionals. It's ok to use a smart phone to shoot video to share on social media, in email, and on your blog. Video doesn't have to be polished to be effective. However, there are times when a professionally done video is best – like on your home page or at a fundraising event. Find someone who is experienced in creating the kind of video you need so the results are what you want.
14. Clearly state your call to action. If your video is meant to motivate people to take action (volunteer, donate, call your congressman, etc.), be sure it's super clear in the video, then include a slide at the end with the call to action in words, including a website url or phone number.
15. You can't force a video to go viral. Don't try. Viral videos just kind of happen in the moment and aren't something you can create. Instead, shoot for creating something that touches the viewer's heart and inspires them to take action.
16. Use video to thank donors. Personalized videos are HOT and can knock a donor's socks off! When you call a donor by name in a video, they are stunned that you took the time to do it just for them.
17. Share video everywhere. Once you create a video for everyone, share it everywhere, especially YouTube and Facebook where it will get the most views.
If you have a good Facebook presence or are trying to build one, try Facebook Live. It's a great way to attract attention Facebook will reward you by putting your video in front of more of your followers.
Real Examples
Illuminate India made this awesome video using iMovie promoting their virtual event Curry for a Child. Watch it here.
Clubhouse Guatemala made this video using a smart phone and used it to promote their Taco Tuesday event. Watch it here.
Humane Society of Southeast Missouri regularly uses a smartphone to take people on a virtual tour of their kennels to see the available dogs. They regularly get people interested in a specific dog they saw in the video. Watch it here.
Draft Gratitude shoots really short videos using a smartphone to give Facebook followers an inside peek at the horses in their care. It's not uncommon for them to get hundreds of views on these micro videos. Watch it here.
Tools
Animoto www.animoto.com Online tool that lets you create photo montage videos using templates. It's easy to use and has a free version.
iMovie for Apple users and Movie Maker for PC users. These tools allow you to do light editing and create cool videos using smart phone videos. (Don't tell anyone, but I think iMovie is better!)
Lumen5 is a great video maker tool to easily create videos for your website, blog, or social media. It's drag-and-drop features make using it easy and fun.
I've got a couple of playlists on my YouTube channel that may give you some ideas and inspiration. One is Donor Thank You videos (you'll love some of these!) and another is Nonprofit Explainer Videos. Also check out Fun Nonprofit Videos and Donor Impact Report. You'll find them all at www.GetFullyFundedTV.com.
Trends
Here's a fun infographic that shows video trends for 2020.