Having the right tools in your fundraising toolkit makes your life easier. And your fundraising more productive!
Maybe you've heard this phrase: "When the only thing you have is a hammer, everything looks like a nail."
It's true.
Sometimes we get one tool – one skill, one talent – and out of habit, we stick with it, never thinking about other tools we might need.
If you want to raise enough money to fully fund your programs, you need to use more than one tool. And you need to use the right tools.
It takes an entrepreneurial heart to start a nonprofit, fundraising and marketing skills to grow it, and leadership skills to manage it. There are lots of things to keep an eye on to run a successful nonprofit so you can change more lives!
So, what tools do you need? Here are 8 fundraising tools that should be sharpened and ready to go in your fundraising toolkit.
1. Clear, magnetic BHAG. You need a big, hairy, audacious goal (BHAG) to attract tons of attention and support for your cause. It needs to be something that challenges status quo and stirs people's hearts. It should be easy to understand and you need to be able to articulate it clearly.
For example, if you work for a food bank, a clear, magnetic vision might be to end hunger in your community. If you work for an animal shelter, how about becoming no kill? The most important thing is that it's BIG. No one wants to support a mediocre vision.
Here's a great example from Best Friends Animal Society with their BHAG of taking the entire U. S. to no kill status by 2025: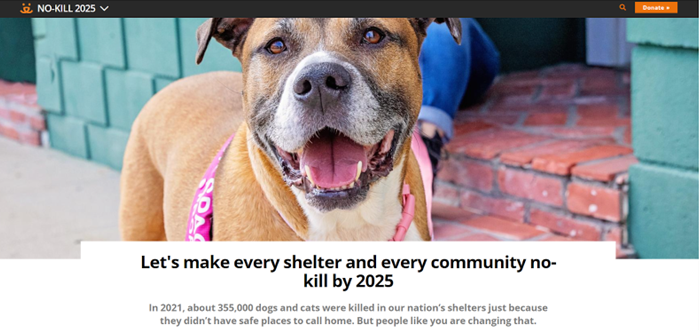 2. Hooky elevator speech. An elevator speech is meant to be something quick that you can share that tells someone what your organization is about. It's not meant to tell everything, but just enough that they start asking questions and want to know more. And it's not meant to be a memorized mission statement (most mission statements are vague meaningless crap).
For example, Habitat for Humanity might say "we make sure that everyone has a safe, decent, affordable place to live." Notice there's no jargon. It takes some work to create a hooky elevator speech and the result is well worth it.
3. Heart-warming human-interest stories. You must have stories ready to share about people whose lives have been significantly impacted by the work your nonprofit does. Donors and prospects want to know that your organization makes a difference, and the best way to show that is to tell a story. Good stories show a dramatic difference in the 'before' and 'after,' and move people to ask questions, make a donation, or get involved.
Remember, facts tell, stories sell.
Brazosport Cares Food Pantry consistently uses compelling stories to help readers understand the pain and suffering of going hungry. When donors and prospects understand what it feels like to be food insecure, it motivates them to give.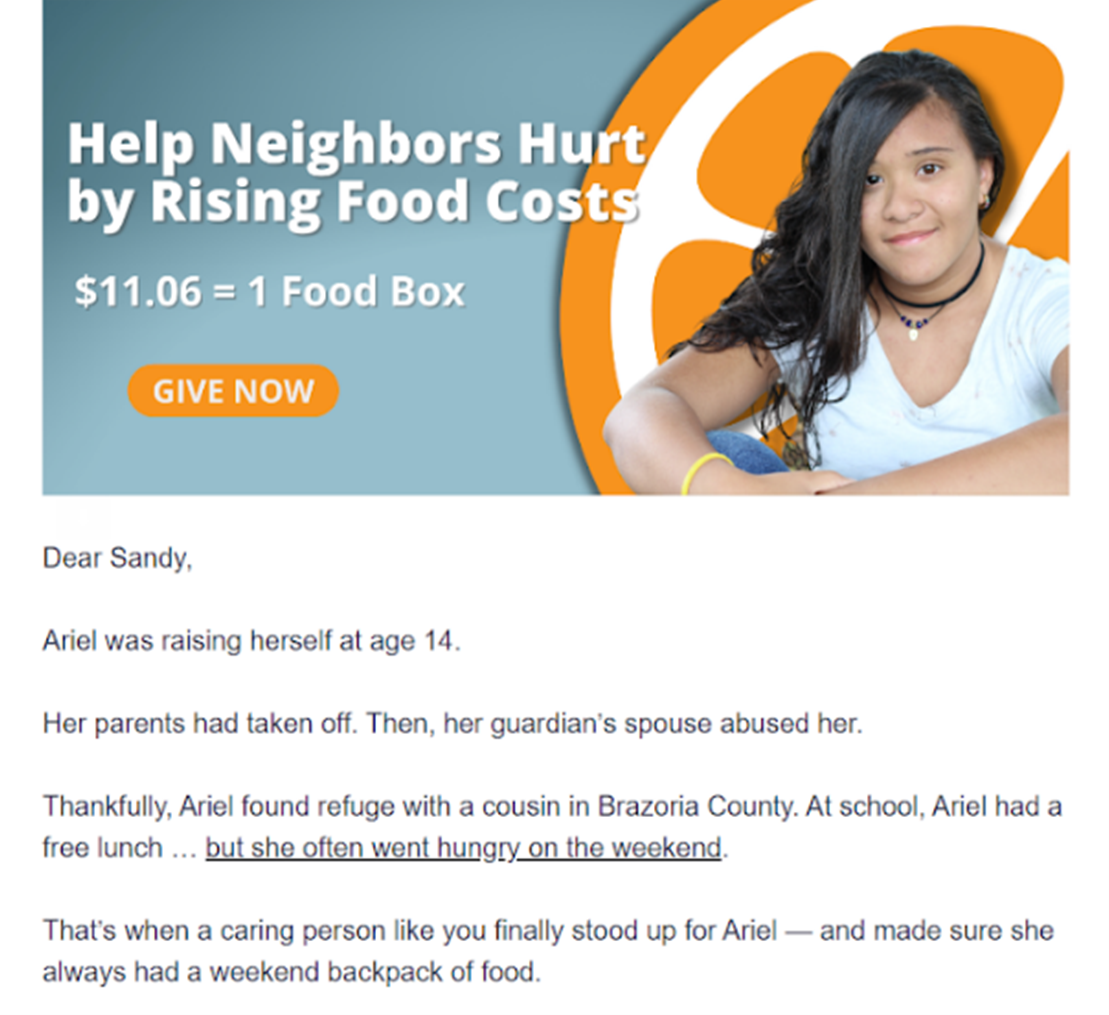 4. Visitor-friendly website. People will check you out online before they make a gift, so be ready for them. Your website needs to be warm and engaging with plenty of stories, photos, video, and blank space for the eye to rest. Long blocks of text will run people off, so avoid it at all costs! Look at your website with a newbie's eye and see what your experience would be if you knew nothing about the organization.
Here's a Donor Friendly Website Checklist to get you started with this part of your fundraising toolkit:
Can a visitor to my website tell within 3 seconds and without scrolling what my nonprofit does?
Is my nonprofit's logo clear and easy to read? Does it tell a little something about what we do?
Does my website reflect my nonprofit's Brand Standards Guidelines? Are the same fonts and colors being used on my website as in our print pieces, emails, and social media?
Does my website feature clear (not blurry), compelling, high-quality photos, images, and video?
Does my nonprofit's website look professionally done and represent us well?
Is my nonprofit's website easy to navigate? Can a visitor easily find what they're looking for?
Is the information on my nonprofit's website current? Has the blog been updated recently with a new article?
Can a visitor make a donation on my website in 2 clicks?
Does my nonprofit's website direct donors to a really nice "Thank You!" page after their donation is completed?
How does my nonprofit's website look on a phone?
5. Detailed activity calendar. It's easier to raise money when you're proactive instead of reactive. Most nonprofits have no plan for fundraising. They do whatever they've always done without putting enough thought and strategy behind it. And they tend to deal with the crisis du jour instead of working purposefully on things that will move them forward toward their goals. A calendar of fundraising activities, including grant deadlines, newsletter send-out dates, and warm touches for donors will get you on the path to raising all the money you need to fully fund your programs. And most importantly, get your plan out of your head and on paper so it can be a useful tool in your fundraising toolkit!
Download our free "1 Page Quick-And-Simple Fundraising Plan Template" to get started.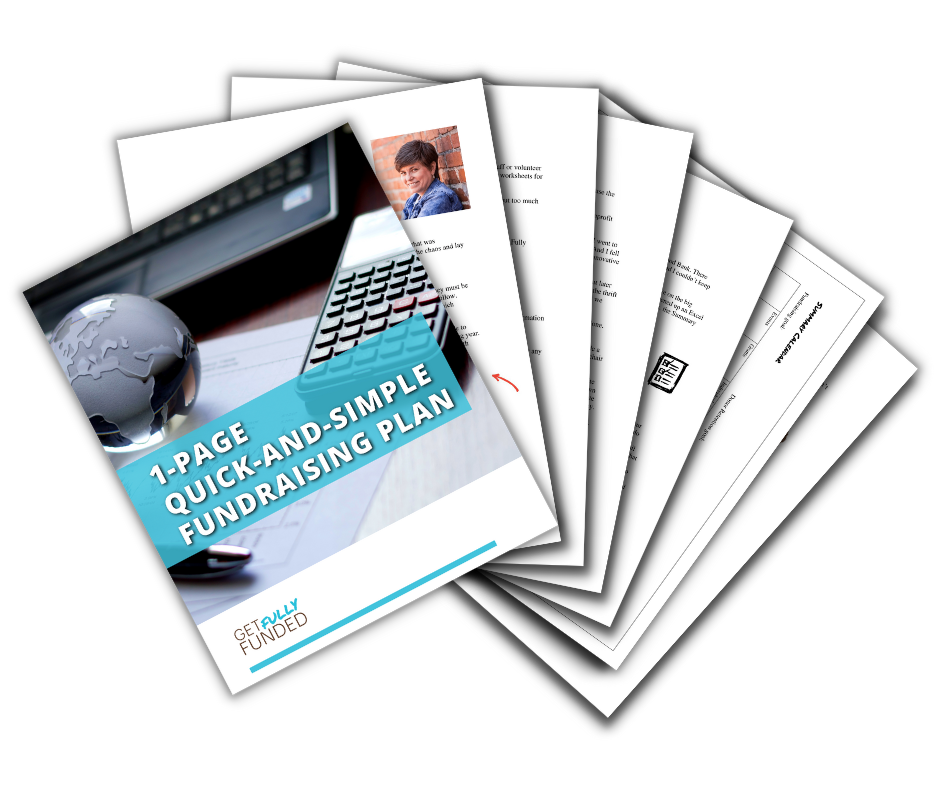 6. Detailed budget. This seems obvious, but it amazes me how many nonprofits have no operational budget. Or it doesn't have enough detail to mean anything. Not only do you need an operational budget for your entire organization, but you need one for each program or project you're raising money for so you know specific costs for each piece of your organization.
Your budget should explain your entire nonprofit in numbers. It should show the breakdown of costs, especially items you spend the most money on. It's helpful to have costs grouped together by program, staff, office/occupancy, and administrative costs. If you're just starting out, you'll need 20 or so line items. If your nonprofit is more established, 30 to 40 (or more) line items may be needed to accurately account for everything.
Look, it's tough to build trust and ask for a gift if you don't know how much something costs. People can be skeptical. A detailed budget shows donors and grant funders that you're serious, organized, and confident about your numbers. In fact, a detailed budget is one of the most important tools in your fundraising toolkit!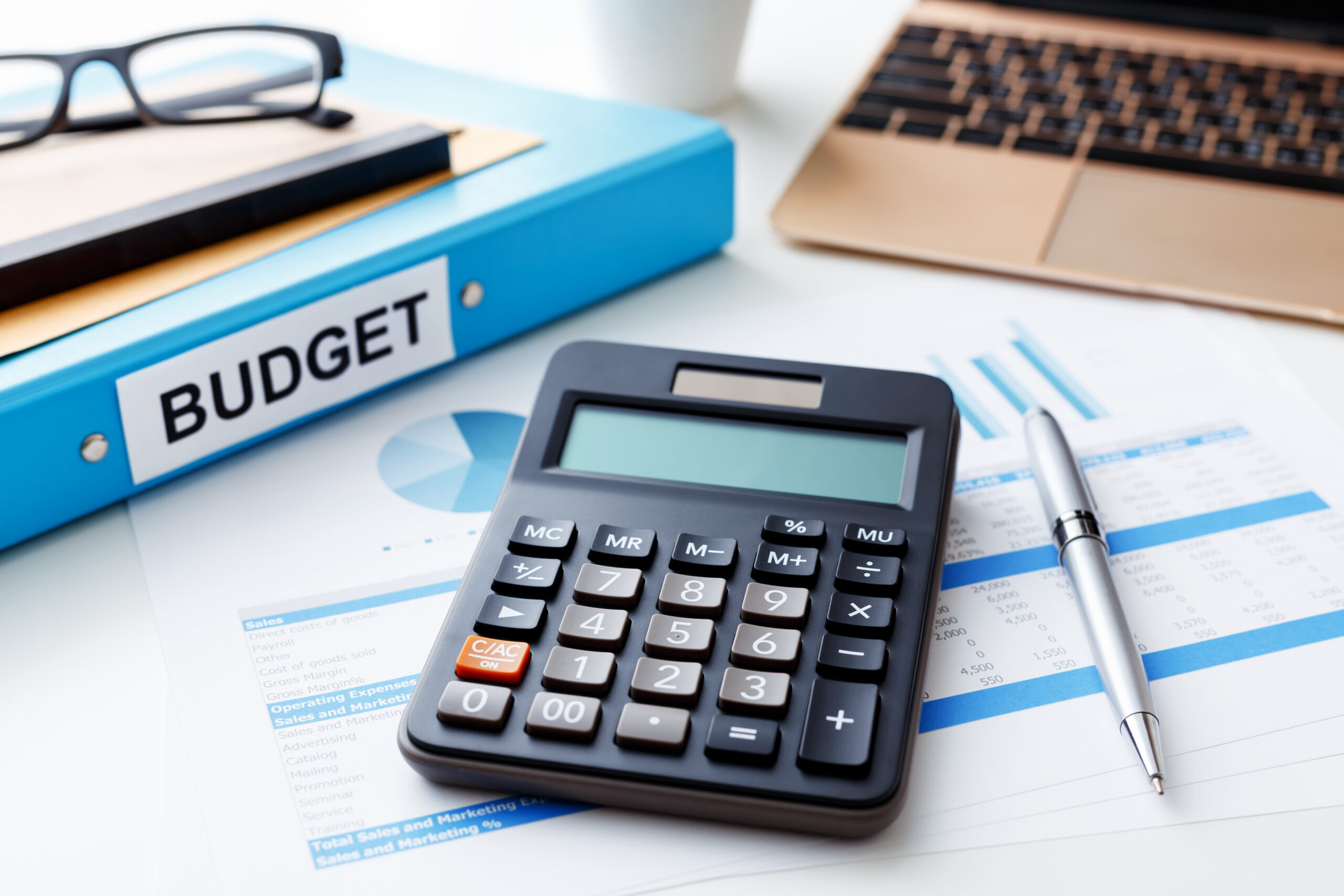 7. Impact numbers. Every nonprofit has a few key impact numbers that deliver a big impact when they're shared. They help people understand the need you're addressing. Impact numbers include the number of people you're serving or the number who need your help plus the cost to provide one unit of service.
For example, if you work for a food bank, you might share that 1 out of every 3 kids in your area is going hungry. Or that it costs you 27 cents to feed a hungry person. These specific numbers paint a picture in the minds of your donors and prospects, and show them how you're making a difference.
Unity Farm Sanctuary gives donors options and shows them how their donation will make a difference to the farm animals at their sanctuary: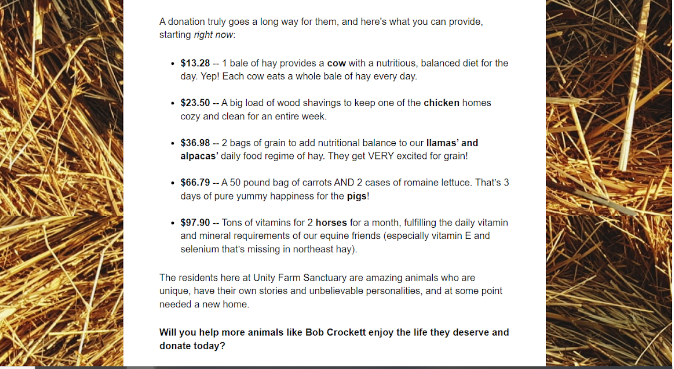 8. Donor prospect list. Here's another one that seems obvious, yet it's not common. Most people working in fundraising make the mistake of thinking that everyone in the community is a potential donor.  And it's just not true. First, not everyone gives to charity. Of those who do, they have their favorites, and they're not likely to change.
Create an Ideal Donor Profile to help you better understand who you're looking for, so you can find them easily and in large numbers. Once someone becomes a donor, remember their name. Nothing builds trust faster than believing you're important enough to be remembered. This is especially true for your major donors. If you have to, make a list of your top donors and keep it with you all the time.
The Bottom Line
Any carpenter knows that the right tool will make the job easy. And good quality tools in good condition are a joy to use. Keep your fundraising tools sharp and you'll always have plenty in your fundraising toolkit to work with, making fundraising easier.