A thank you letter is critical to your fundraising success.
Thank you.
They're two simple words, yet critically important to fundraising.
You see, thanking donors isn't just a task you need to get done so you can mark it off your list.
Neglecting to thank donors after receiving a donation is not only rude, but it sends the wrong messages to your donor – you aren't organized, you aren't trustworthy, and you don't appreciate your donors or their gifts.
Don't let that happen. Instead, thank donors well with a well-done thank you letter.
You see, the importance of thank you notes is all about keeping donors happy and keeping them giving. And you want that, right?
Thanking donors accomplishes several purposes:
It lets the donor know you received their gift.
It reassures the donor that they've given to a good cause.
It makes them feel good about their decision to give to you.
It closes the cycle of giving and prepares the donor for the next gift.
The cycle of giving
There are two parts to the Cycle of Giving.
In part 1 (on the left side of the cycle), the donor gives you money.
In part 2 (on the right side of the cycle), you thank the donor and the cycle is complete.
You must complete the cycle by thanking the donor before the cycle can begin again.
In other words, you need to thank your donor well before they'll feel like giving again. Make sense?
Again – importance of thank you notes!
A stale, boring, predictable, thank you letter doesn't cut it.
I guarantee you that your donor is starting to slip away because they don't feel appreciated. They want to give to a nonprofit that makes them feel good.
Your bad thank you letter is pushing them to leave you.
How do you prevent those donors from slipping away? Simple.
Send a thank you letter that's worth reading.
Make it a Power-Packed Thank You letter.
The Power-Packed Thank You letter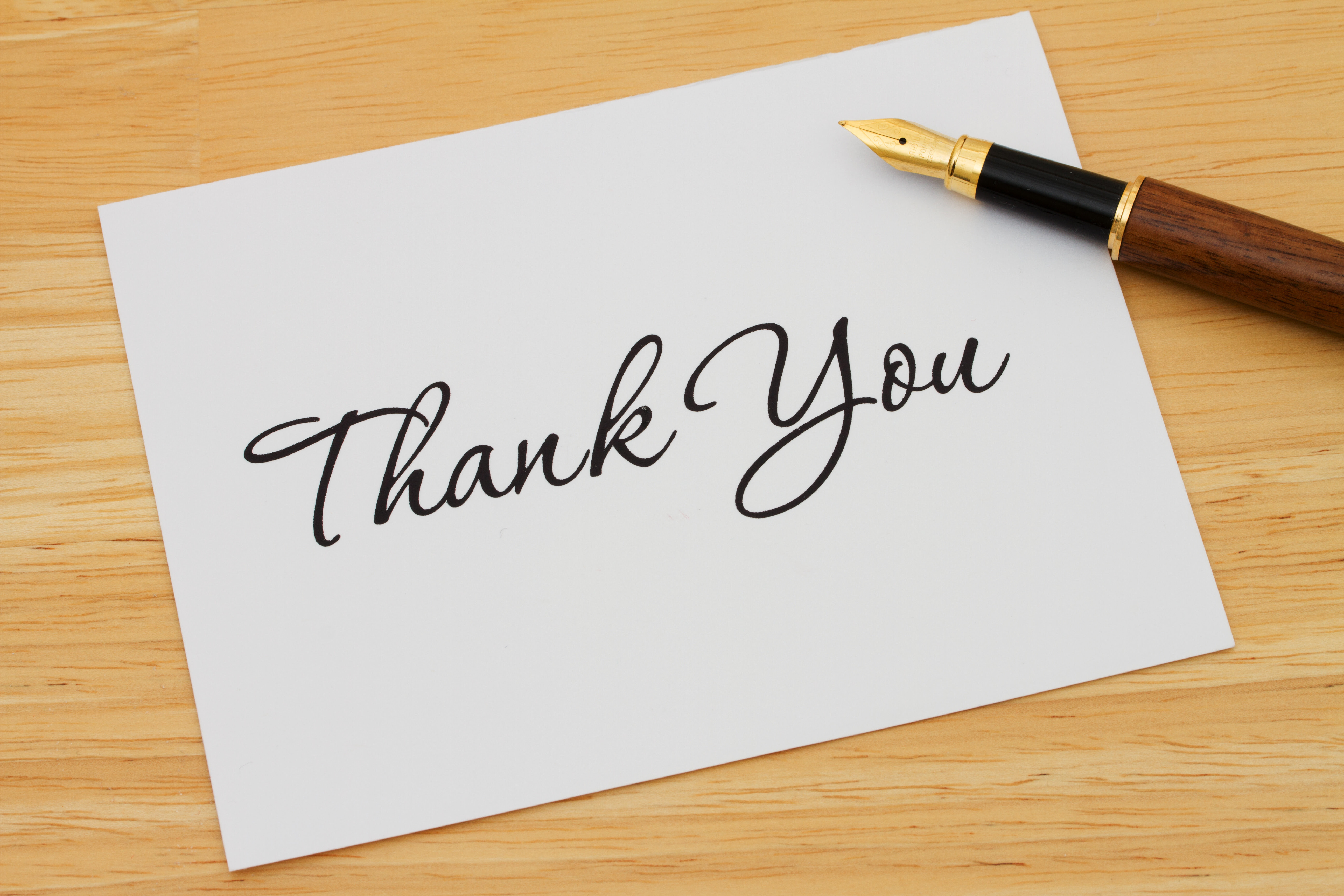 Your thank you letter needs to be warm, sincere, and quickly sent, which lets the donor know you received their gift and have set it to work.
A promptly-sent thank you note after receiving a donation builds trust with the donor, completes the cycle of giving, and starts to prepare the donor for their next gift.
So many nonprofit organizations do such a poor job of thanking their donors that it isn't difficult to stand out from the crowd!
Thank your donors swiftly and sincerely, and you'll easily set your organization apart.
Here are 5 things you should never put in a thank you letter:
1. "Dear ______"     Fill-in-the-blank thank you letters are the worst! As a donor, that tells me that you value your convenience over my feelings, which makes me never want to give to your nonprofit again. Don't be lazy. Create a professional, well-written thank you letter that is personalized with the donor's name printed right on the letter. A good donor-tracking software will make that process easy.
2. "On behalf of the Board and staff of…."      This is very old-school and way too stiff. Your thank you letter needs to be warm and sincere, not sound like it's coming from some corporation. As a donor, I typically don't read much further than the first sentence if your letter starts like this. You've sent me a message that I can quickly interpret – 'this letter is going to be boring.'
3. "Your donation will help us meet our goals…"   As a donor, I don't care about your goals. I care about the difference you're trying to make in the lives of the people/animals you serve. Every time you say "we," "us," or "our," in your thank you letter, I tune out. This language makes your letter very self-centered, and frankly, it turns me off.
4. "We have 6 programs spanning 3 counties…" Donors aren't nearly as knowledgeable about your nonprofit as you think they are. Even if you've told them 15 times about all your programs, they don't remember, and if you start referring to program names instead of your nonprofit name, you will confuse them. And a confused mind always says 'no,' meaning they will tune out and your thank you letter just lots its impact.
5. "Don't forget to get your tickets to our upcoming event…"   Don't ask for anything in your thank you letter. Remember that your letter's only purpose is to express appreciation and make the donor feel good. I know it's tempting to try to sell event tickets or ask for volunteers since you're already spending money on postage, but don't do it. Asking for something in your thank-you letter strips out the power of the appreciation and will leave the donor feeling crappy.
Okay, now that you know the 5 things NOT to include, let's look at a sample.
This is an actual letter I received from a student who wanted some feedback.  (I changed some details to protect his privacy.)
---
May 22, 2017
Main Street Community Bank
Candace Jones, Branch Manager
200 Maple Street
Anytown, USA 12345
Dear Candace,
On behalf of the Anytown Area Economic Development Corporation (AAEDC) I share our most sincere "thank you" and "appreciation" to you and The Main Street Community Bank.  Your recent investment of $1,000 has been received and is greatly appreciated.  Because of people like you and the Main Street Community Bank we can plan our future and continue to build on the foundation we have established.  Your investment will continue to improve the lives of businesses and individuals throughout the Anytown Area.  We will use your investment as efficiently and effectively as possible to meet our goals/projects for the current year.  Please know we sincerely appreciate your investment and all you and the Main Street Community Bankdo to support the entire Anytown Area.  If we can be of service to you and the Main Street Community Bank in the future please permit us to do so.
Thank you again for your commitment to the future of the Anytown Area.
Sincerely,
Robert Dean, Community Development Coordinator
AAEDC
Save the Date:
Monday, October 30, 2017 – The Mid-Year Meeting of the Anytown Area Economic Development Corporation (AAEDC) will be held at a site to be determined.  We have a complimentary meal and exceptional program for your enjoyment that evening.  You and your guest(s) are invited and expected to attend this event.  No RSVP is required.
---
There are so many things wrong with this letter…
Almost the entire text is in the first paragraph
The bank name is repeated way too many times
Quotation marks around "thank you" and "appreciation" make me wonder if the writer is sincere – why do we need quotation marks?
Most of the language is very inwardly focused – it's all about the organization, not the donor.
Invitation to an event which nearly negates the rest of the letter
Here's what I wrote back to my reader:
It's really hard to read since it's all in one paragraph. I would break that into several smaller ones.
It's awfully stiff and formal. Maybe that's your nonprofit's brand, and if so, that's fine. Otherwise, I'd suggest that you make this warmer and more personable. You're writing from one person to another, not from an institution to an institution.
I'd start with a more high-impact first line. I literally groaned when I saw the first sentence: "On behalf of…". That's very old school and people will tune out almost immediately. It doesn't convey any emotion which donors need.
Give people a reason to feel good when they read this letter.
Smart guy that he is, he reworked his letter, and sent me back this one:
---
May 22, 2017
Tri-County Welding
Dennis Johnson, Owner
1234 Columbine Avenue
Anytown, USA 12345
Dear Dennis,
Wow!  What a difference maker you are for the businesses and residents throughout the Anytown Area.
Your continued investments keep us going and excited about the future of the business environment in the Anytown Area. It is people, like you, that make the Anytown Area an attractive location to begin a business and/or grow and develop an existing business.
The $5,000 investment you have made in the AAEDC is impressive and appreciated.  Thank you for continuing to believe in our efforts.
I appreciate your "dreaming" along with the AAEDC which helps Anytown Area business owners and residents.  Your investment will enable us to continue pursuit of our projects (Career Training Center, hotel, CEO program, Community Park and Workforce Development) during the current fiscal year.
Please keep dreaming and thank you for sharing your blessings.
Respectfully,
Robert Dean, Community Development Coordinator
AAEDC
---
Much better, right? The stiff, formal language is gone, and with the letter broken into several smaller paragraphs, it's much easier to read.
There are still a few tweaks I'd make to this letter to make it better, like reframing some of the inwardly-focused language and maybe dropping the program names. But this letter is night-and-day different from the first one.
Not long after, he sent me another thank you letter, which is improved again over the previous one:
---
June 26, 2017
PixieDust Construction
Attn: Donald Jeans
600 North Street
Anytown, USA 12345Donald,
Wow!  You and PixieDust Construction are awesome.  You continue to impress me (I know that is not your intent) with your continued strong support of the Anytown Area Economic Development Corporation (AAEDC) and our efforts to assist every business in the Anytown Area.
The impact your investment has is incredible because it permits us (AAEDC) to continue our efforts to pursue improving the lifestyles of businesses and residents in the Anytown Area.  It is my hope that you realize and appreciate the positive impact/influence you and PixieDust Construction have throughout the entire Anytown Area.
It is refreshing and rewarding to work with people like you and your company.  You not only "talk the talk" you also "walk the walk".  Great examples of how local businesses can enhance the overall effectiveness of the AAEDC.
Please know you are appreciated and valued as an investor in the AAEDC and our efforts to continue to grow and develop the business "climate" throughout the Anytown Area.  Thank you for your investment and ideas which will improve the AAEDC and the lives of so many residents and businesses in the Anytown Area.  You, and PixieDust, are two of our most precious assets.
Thanks again and have a great day!  You have certainly made our day!
Respectfully,
Robert Dean, Community Development Coordinator
AAEDC
---
He also sent this note:
I wanted to thank you again for your suggestions when I sent one of my "stale" letters to you.  I have stopped with "form" letters because it is much more enjoyable to write the type of letter I have attached.  This person/company has increased their investment each of the past 3 years.  They began at $4,000 and have gone to $4,500 and this year to $5,000.  That is awesome and you are to thank for that.  I just wanted to share because it does make me feel good to be able to write this type of letter whether it is to an investor of $250 or $5,000 annually.  Have a great day!
I love it when thanking donors is fun for the letter writer AND the letter receiver!
Your turn
Go have a look at your thank you letters.
Ditch any insider language and jargon.
Make the letter warm and conversational.
Commit to getting letters into donor's hands FAST.
All these things matter, and will make your donor feel good about giving.
And that's what this is all about.