There are two parts to any donation: 1) the donor gives and 2) you receive the donation and thank the donor.
We call it the cycle of giving.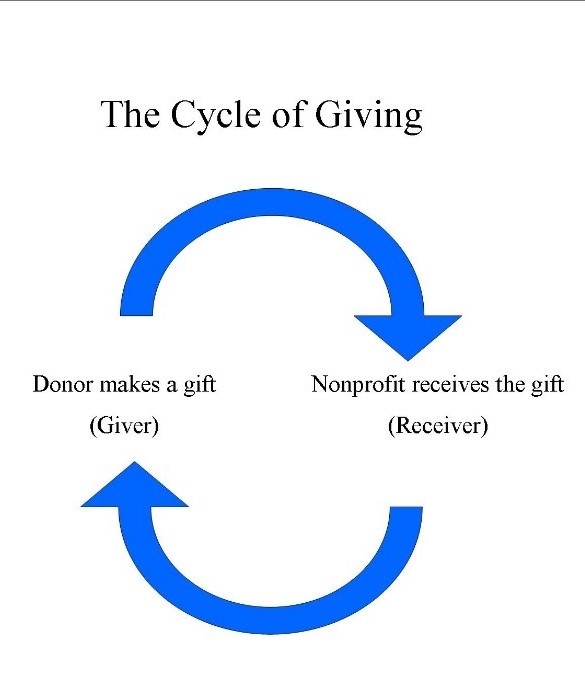 It doesn't matter if the donation is made online, through the mail, in person, or by carrier pigeon, you need to thank the donor and provide them a receipt.
Why? Because thanking the donor well not only is polite, but it lets the donor know their gift arrived safely and that you appreciate it. AND it sets the stage for the next gift.
Think of it this way:  Your donation receipt is an Ambassador from your nonprofit to your donor to thank them for their support.
So, what makes a good Ambassador?
They're friendly
They're professional
They build trust
They're helpful.
It makes sense then that your donation receipt should be the same.
Unfortunately, for most nonprofits, the donation receipt is full of default text, boring to read, and off-brand.
Think about it: if your nonprofit is a friendly, compassionate organization, it's a mismatch when the language in your donation receipt is stiff and unfriendly. I got a stiff, dull note recently from a nonprofit I support and I thought "what the heck?"
So, let's make your donation receipts so good it makes your donor say "wow!"
It's not hard to do – it just takes a little thought and a little time.
By the time you finish reading this, you'll know how to create a flawless online donation receipt to better represent your organization and meet the needs of your donor.
Why you need a flawless online donation receipt
Almost every online donation processor offers you standard text for a receipt. And there's nothing wrong with it.
But it's not the right text for your nonprofit.
Dull is not your style. THIS is not your style: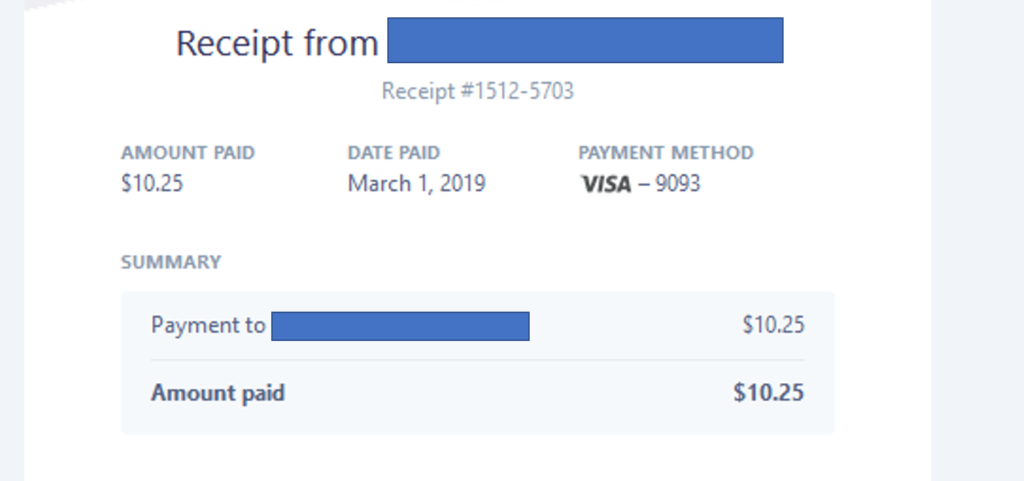 Notice there's NO thanking language. At. All.
As a donor, that feels yucky when I receive a receipt like that. It wouldn't take much to warm it up a bit.
Here's one that has some thanking language, but it's very generic. In fact, it's SO generic, I literally have no idea what nonprofit this came from.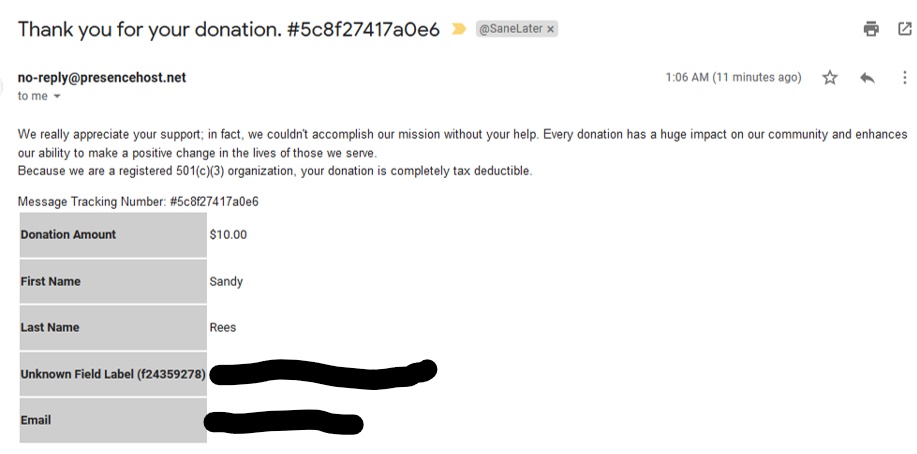 I'm not sure what's worse – the receipt number in the subject line, the "no-reply" email or the fact that the nonprofit has not identified themselves in the email. This is a HUGE missed opportunity to connect with the donor.
Now, here's a really good one: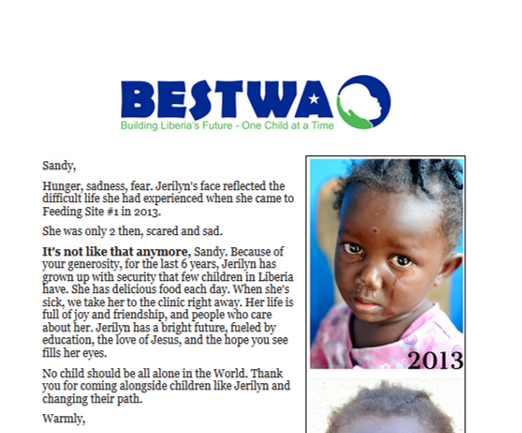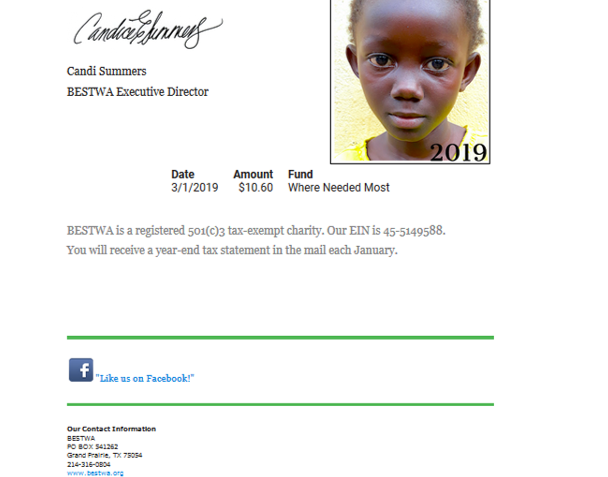 Notice the difference?
A well-done receipt will meet the donor's need for documenting their donation and also make them feel good about giving, which is CRITICAL in building the all-important donor relationship.
Other reasons why you need a flawless donation receipt because:
First impressions are everything. For first-time donors, this is their first interaction with you and will have a huge impact on whether or not they decide to give again. If they perceive your nonprofit as organized and friendly, they may want to be involved again. A dull, boring receipt may make them shy away.
Donor knows their gift went through. Everyone who purchases someone or donates online has one question after they click the ultimate button – Did it go through? Did it process correctly? Your receipt lets your donors know that you received their donation and all is well.
Make it easy for the donor at tax time. For donors, receipts really serve several purposes including financial record keeping and tax preparation. By providing a well-done receipt with easy-to-find info, you make their life easier as they gather their records for tax time.
Formula for a flawless online donation receipt
Here in the U.S., the IRS requires some specific information in gift receipts. Don't mess around with these – failure to provide proper documentation to a donor can result in fines up to $5,000 per incident, though receipts for in-kind donations are trickier than receipts for money. For our purposes here, let's focus on receipts for donations of money.
Your flawless online donation receipt should include any government-required pieces you are required to provide. On top of that, add in other pieces that are considered best practice if you want your donors to give again.
Here's what you should include in your online donation receipt:
Valid "from" email. If your email arrives and the "from" email looks like some code, that doesn't make me feel nearly as warm and fuzzy as the email where the "from" address has a person's name. Your organization is not a robot – use a real person's name and make the address appear as normal as possible.

Interesting or fun subject line. Nothing says "don't read this email" quite like a boring subject line.

Personalized salutation. There's no excuse for sending a "Dear friend" receipt. Your software should be able to include a salutation or first name field in the email receipt. "Dear friend" says to me that you're either too lazy to figure it out or don't care about me as a donor. In real life, you wouldn't greet someone with "hello friend," would you?

Hooky first sentence. Make your first sentence short, interesting, and unexpected. This sentence has one job – to get people reading and move them to the next paragraph. If you use "On behalf of the Board and staff of …" you just lost them. Check out this week's video for suggestions for wording this critical sentence. https://youtu.be/amYMzm8_EdI

Warm and sincere tone. Your receipt, like your newsletter and other communications, should be conversational and sound natural if read aloud. The more authentic the text, the more real it feels to the donor and the more connected they feel to your nonprofit. This is a good thing if you want them to give again!

Hero language. Your nonprofit wouldn't exist without the support of your donors, so tell them so! Use phrases like "we couldn't do this without you" and "because of you, xxx is possible." When you make the donor the hero, they feel great about giving to your organization and that's exactly the experience you want them to have. When they feel satisfied that they made a good decision to give to you, they're more likely to do it again.

Relevant photo/video of how the donation will help. Nothing brings the reason for the donation into focus like a photo or video of how the donor's money will be used. A well-chosen photo or excellent short video can hit the donor right in the feelz.

Contact info for questions. Offering the phone number and/or email of someone the donor can contact with questions is good customer service and shows how open you are to receiving input from them. Remember that communication is a two-way process and if you aren't offering opportunities for donors to respond to you, you're basically telling them you aren't interested in hearing from them. The good news is that you probably won't get that many calls or emails, but it does wonders for the way a donor perceives your nonprofit.

Photo and digital signature of the signer. Put a personality to the name of the person sending the receipt by including a photo and a digital signature. Both elements will help break up all the text and give the reader's eye something interesting to look at. Plus, it makes the receipt more real when an actual person signs the letter instead of "the XYZ nonprofit." The nonprofit can't sign a letter – only a person can, so include the name of the top-ranking person in the organization.

Receipt info. For the donor's reference, convenience, and tax purposes, include the donation date, donation amount, and what the donation was for (specific campaign, appeal, etc.).

Tax language. If the donation was truly a donation, you can use the standard "no goods or services were received in exchange for this donation." If the donor received something (dinner, auction item, raffle ticket, etc.), you'll need to modify this language. Check with your Accountant/Attorney for language specific to your situation.
Here's another good example of a well-done receipt from Best Friends Animal Society: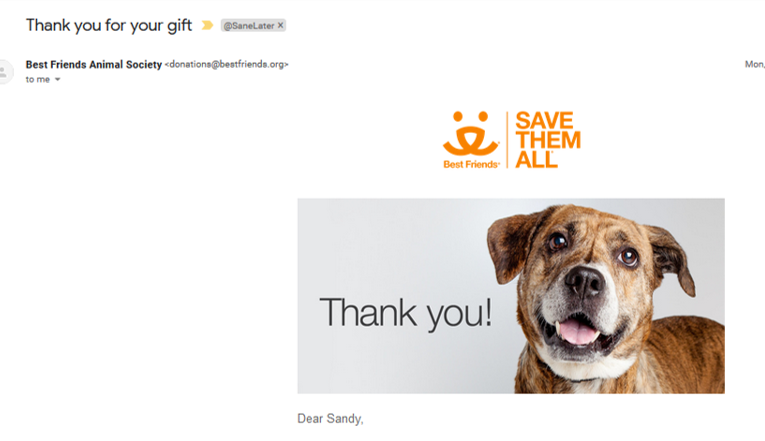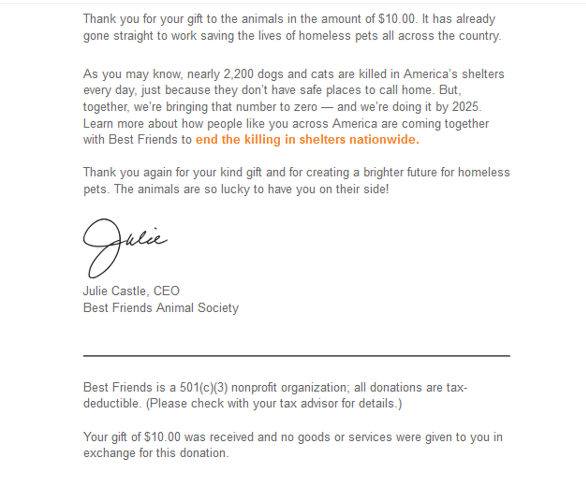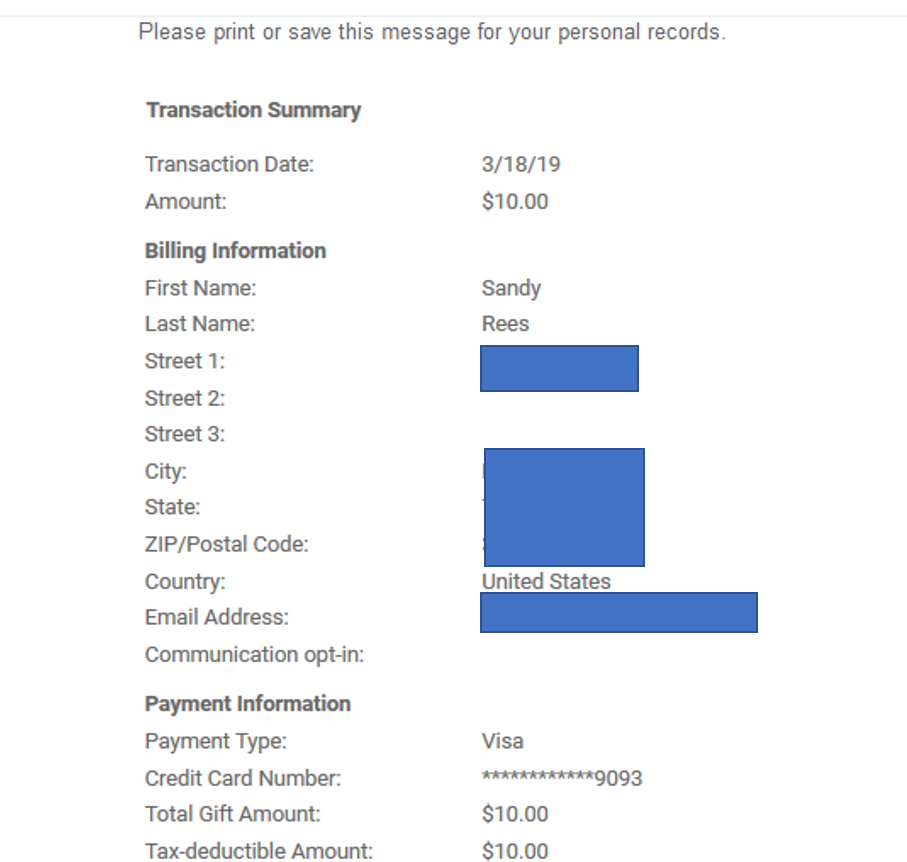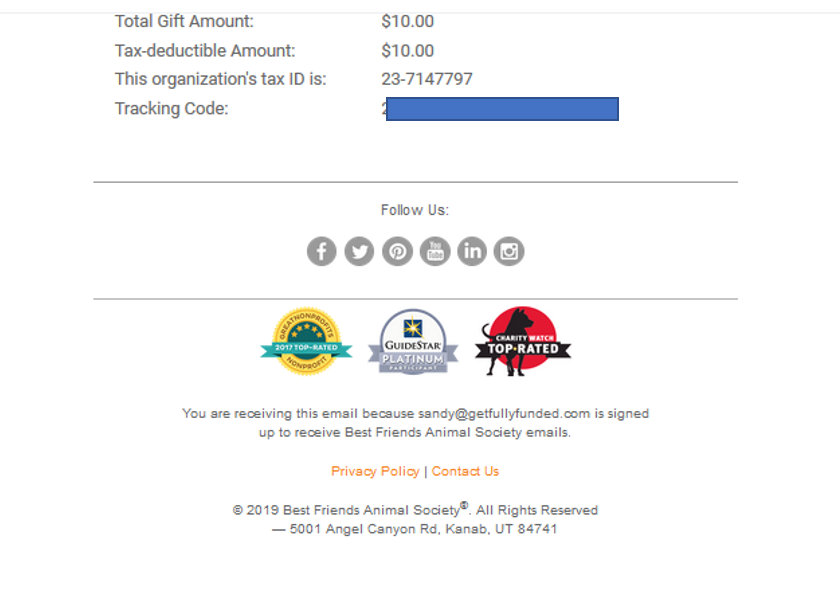 Now that you've seen some really good ones, here are some tips for creating your own flawless online donation receipt:
Don't send a thank you message and receipt separately. It's confusing to the donor and they may not understand that you have 2 separate systems. Remember, the donor's interaction with your nonprofit is about how they feel, not about your convenience.
Provide receipts for every donation. Receipts are required for donations over $250 but providing one every time is what you want to do. You should be able to automate this process so it doesn't require any additional time from you to create and send email receipts.
Provide an annual summary. In addition to providing a receipt for every donation, send the donor a summary of their giving each January. This is not a requirement, but it sure makes the donor's life easier as they gather up their tax information. Plus they'll be super grateful to you for giving them a list of their donations for the year.
The Bottom Line
A donation receipt is proof that a donor made a charitable contribution to your nonprofit. It's your responsibility to properly thank the donor and provide an accurate receipt, AND make them feel good about giving — all at the same time.
If you want your donor to fall in love with your nonprofit and give more frequent and larger gifts, give them a good experience and get the receipt right.
Other resources