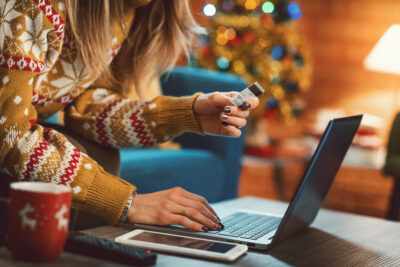 With Giving Tuesday in the rear view, it's tempting to forgo a year-end giving campaign and coast to the end of the year, catching up on work and enjoying the holidays.
But don't!
This is NOT the time to take your foot off the gas!
A year-end giving campaign is your chance to win over donors when they are in a giving frame of mind.
Almost one-third of total giving to nonprofits happens in December, and 12% happens in the LAST THREE DAYS of December, according to Network for Good.
Why leave it to chance, wondering if your nonprofit will get its share?
The most tried-and-true strategies for a year-end giving campaign aren't hard. You don't have to create glossy print collateral or produce a mini-documentary.
Just speak from the heart: "There are people (or animals) who need your help. Time is almost up to make a final donation to XYZ organization for 20201 and change their lives."
Don't talk about your year-end fundraising goal. No one cares.
Don't talk about tax deductions. Boring. Here in the US, tax deductions are only important to people who itemize and most of your donors don't.
Don't beg. When you beg, you make people feel bad. It's better to inspire people and make them feel good about giving!
Look, offering people a way to change lives makes them feel amazing, especially during the holiday season.
You may think it's too late to put together a plan and a year-end giving campaign, but there are many strategies you can use in the last two weeks of the year that don't require a lot of planning.
Top 10 strategies for a successful year-end giving campaign: 
1. Create a feel-good blitz. Collect all the good-news/feel-good stories that you did not use during Giving Tuesday and send them out one at a time over the last few days of the year using both email and social media.
Your message during your year-end giving campaign should let donors know your organization makes lives better. That's the message, right there. Your organization has the inside track on how to help people or animals in a meaningful way.
Texts from people thanking your organization for support make wonderful end-of-year posts. You can also capture positive reviews on Facebook, emails, and holiday cards from people thanking your organization for changing lives. Don't overdo it, but a couple of these testimonials can inspire others to give, too.
For donors who want their money to be used in ways that change lives, a gift to your organization is the right year-end move.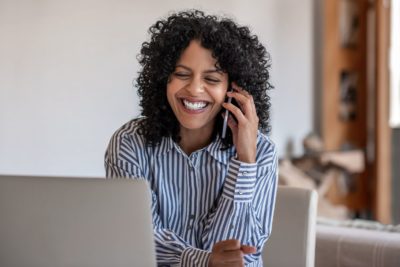 2. Dial for dollars. Enlist a few Board members who are willing to make calls and give them a list of people who have given in the past but have not given this year. Start with your biggest donors and work your way down the list with the goal to connect with as many as possible.
Work from a script so everyone is comfortable making these calls, asking for donations.
Thank the donor for their past support. Briefly describe the most current, pressing need, and ask for their support.
Ask for the amount they gave last year. Or, see if you can convince them to bump up a bit: "Since you gave $250 last year, I was hoping you might be able to give $300 this year."
You'll be delighted at how many people will say "Yes!"
3. Enlist your ambassadors. Make a list of your social media stars – those supporters who spend a lot of time on social media and always like and share your posts. Contact them and let them know you need to raise a specific dollar amount by the end of the year to fund a specific, urgent need.
Social media stars are usually eager to help as long as you can provide them with compelling content. Also look for local social media bloggers and celebrities who might be happy to lend their name to your year-end giving campaign.
You can make it fun by offering a t-shirt or some other swag for ambassadors who agree to participate. You can offer an ambassador the chance to be Executive-Director-for-a-Day and post a Facebook Live from your office or at the site of one of your programs.
Encourage them to speak from the heart about why they support your program. What moves them to like and share your posts? Ask them to invite their followers to join the cause by donating where funds are needed most.
If you have 10 ambassadors posting about your organization on their social media channels over the course of one week in December, you will get a great result. Even if you only have three or four ambassadors, you will get some donations from new donors and raise awareness.
4. Secure a last-minute matching gift. Nothing revs up an Ask like a matching gift! If there is a donor you expect to make an end-of-the year gift, catch them before you receive their gift and ask them if you can use it as a matching gift.
Explain how matching gifts work. Let them know that by framing their gift as a match, their gift will have twice the value!
Announce the matching gift on December 26, letting supporters know you need to make the match by midnight on December 31. Keep posting until you make them match, and then share several celebratory posts. What an amazing way to end the year!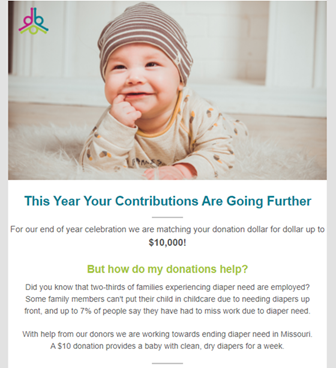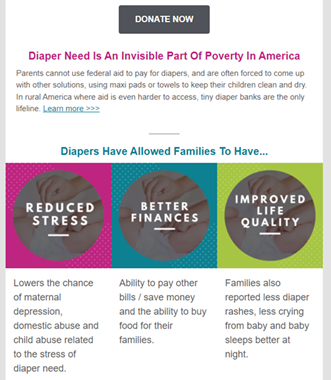 5. Focus on Facebook Live. Go live on your nonprofit's Facebook page and let people know how their donation will make a difference with a specific need you are trying to meet and how much more you need to meet that need.
Think about a Hallmark Channel holiday movie and how they give people the warm feels about the holidays, even though they are corny and predictable. Then think about how you can frame your Ask in a way that will tap into your supporters' holiday spirit.
During the holidays, everyone is looking for an opportunity to capture the holiday spirit!
For example, you could describe the challenges that families in your program face during the holidays and let the donor know how their gift will support a family in becoming financially stable so they can enjoy a nice Christmas with their children.
"There is no better time than Christmas for a family to get the news that they can move out of the shelter and into an apartment!" 
Then tell in general terms about a family who is celebrating Christmas in an apartment your organization helped them secure.
Don't forget to drop the link to donate in the comments.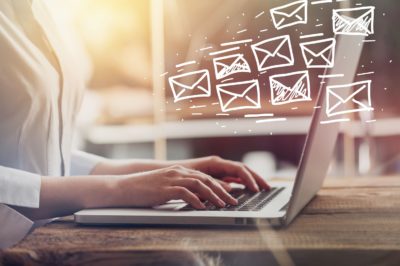 6. Send segmented emails based on Giving Tuesday. See who opened your Giving Tuesday emails but did not give. Try contacting them with a fresh message. Don't repeat what didn't work before. Instead, try a fresh, new approach.
Then see who did not open your Giving Tuesday emails and send them an email with a different subject line, one more likely to yield a higher open rate.
For people who gave on Giving Tuesday, simply send them a note of thanks. Let them know what you were able to do with their gift.
7. Send a dedicated email to volunteers. These are supporters who care deeply about your work. First thank them for volunteering and let them know how important they are to the organization's success.
Then, ask for an end-of-year gift.
8. Text Board members who have not given yet. You shouldn't have to remind Board members to give, but they are human and may need a reminder. And you still have time to make sure you have 100% Board giving before the year is over.
Thank them profusely for their service during the year then, ask for a gift.
9. Remind, remind, remind. As the year draws to a close, contact everyone on your email list that did not give this year and remind them that there is still time to do so.
Emphasize a specific need, amount needed, and midnight on December 31 as the deadline.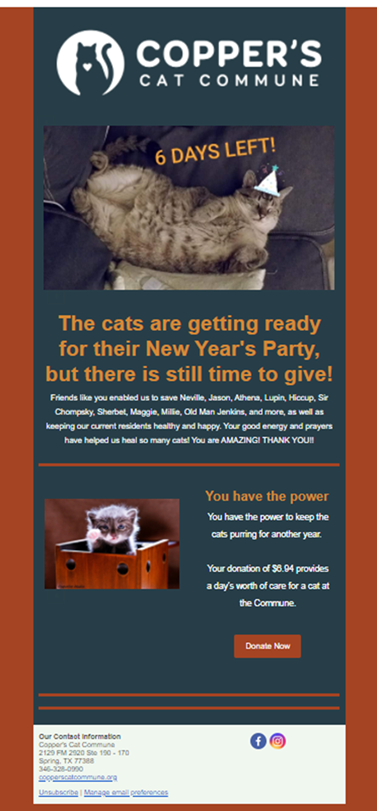 10. Give it all you've got in those last three days! Be a constant presence on social media during the last three days of the year. These are the days when you do not want to be forgotten!
If you plan to take those days off, use your social media schedule to plan posts and set up your emails to go out exactly when you want them to. Share a short story then ask for a last chance donation for 2021.
The Bottom Line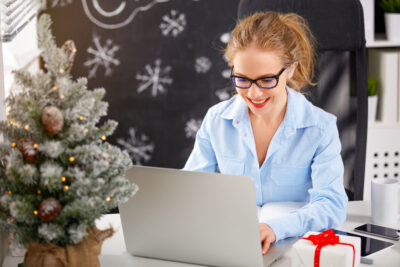 Don't be afraid to make your presence known in late December! Other organizations are sending emails, making calls, texting, and posting all over social media.
If you decide to remain seated and silent, you risk being forgotten.
People want to give in December, especially as the new year approaches. They want to be generous. But there are so many organizations competing for their generosity.
Be the organization that grabs their heart and doesn't let go! Make December the amazing month for fundraising that it is for so many nonprofits.
Raising more money in December will give you momentum going into the new year, momentum to raise more money and change more lives. And that's what it's all about!