It's likely that your nonprofit already accepts online donations. After all, who wouldn't want to reach wider audiences of potential donors and provide them with the opportunity to contribute to your cause in just moments of their day?
However, if you haven't recently revised your organization's online donation page, you may not be getting the most out of online giving.Your donors want a page that's quick and easy to use, accessible across devices and platforms, and capable of providing a personalized experience.
In this post, we'll help you create that amazing online donation page by showing you how to:
Customize your online donation page for your organization.
Make it easy for supporters to complete their donations.
Allow donors to access your page on the go.
Connect online giving to social media.
Personalize the experience with a custom thank-you receipt.
Join us as we consider several of the ways that you can transform your online donation page into the most effective one around, benefiting both your organization and your donors. We'll start with the first step in building a trustworthy donation page: customizing it with your nonprofit's brand.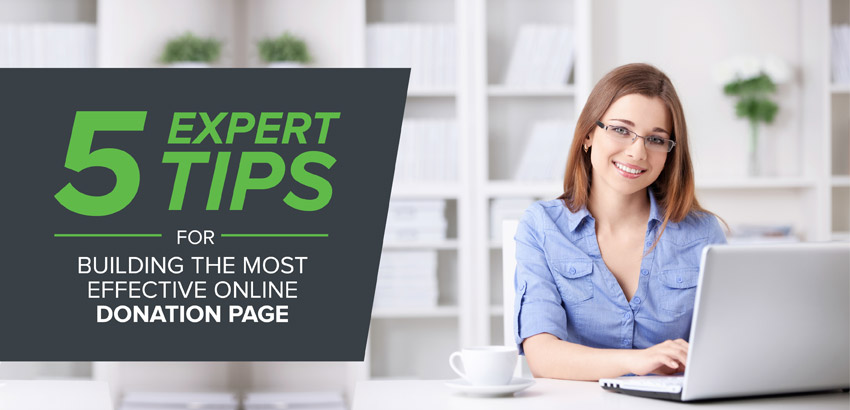 1. Customize your online donation page to your organization.
Your current donors already know and love your organization, and newer visitors to your website are curious about learning more about your work. In order to build and maintain familiarity and trust among your supporters, it's important that your donation page is branded for  your organization.
Consistent branding is important for more than just aesthetic reasons. It's a powerful way to reassure your donors that their online contributions really are going toward the cause they care about. As you're choosing the online fundraising platform that you'll use to create your donation page, determine whether you'll be able to customize:
The color scheme and logo. Your donation page should appear consistent with the rest of your website and any additional materials your organization distributes. Online donors will be reassured by seeing your colors and logo on the form before they make their contributions.
The donation buttons. Building preset donation amounts are a convenient way to make giving easier and ensure that your supporters complete their online donations. Customize them with donation amounts that make sense for your organization and donors and use descriptions that help donors visualize their gift's impact.
A tip for donation buttons: When designing buttons that have text, choose language specific to giving ("submit my donation" or "submit my gift") over more general terms ("submit") where applicable.
The information the page asks for. Make sure that the software you purchase lets you customize the information your supporters need to provide when they donate online. While you should limit the number of required fields to keep the donation process simple, you may want to give donors the option of providing more information about  themselves. You can use these responses to reach out to your supporters more effectively.
Additional content. Use your donation page to remind your supporters that they're contributing to a wonderful cause. You may want to include a few images to reinforce connections between your organization and the good work it does.
With a customized online donation page, your supporters will be confident that their contributions are going to a great cause and excited to start making donations online. Your organization owes it to your donors to make it as easy as possible for them to complete their donations online.
2. Make it easy for supporters to complete their donations.
While offering the option to donate online should make supporting your organization easier and more accessible to a larger number of donors, many online donations aren't actually completed. One of your primary goals in designing your online donation page is to ensure that supporters follow through on making their donations.
Not sure how to do this? The key is to make the form as straightforward to use and understand as possible. Donors want to be able to give quickly and easily. Make it happen for them by building a donation page that features:
Clear instructions and simple language. Share your organization's goals and let your donors know how they can help you reach them without using confusing or misleading jargon. Visitors to your donation page should understand immediately what the page is for and how they can contribute.
All the information they need on one page.Your supporters aren't likely to complete their donations if they're constantly redirected from page to page throughout the process. Keep everything they need to read and do on a single page.
Donation amount buttons. Preset donation buttons accelerate the giving process by helping your supporters understand how your organization can use each gift, helping them decide how much to give. Remember to include a custom donation amount option for those donors who have already made up their minds.
A recurring gift option.Give your supporters the opportunity to make their donation a recurring gift and automate the process so they don't have to worry about remembering to donate over and over again. Recurring gifts add up for your organization and are great for building stronger connections to your donors!
You can look over Double the Donation's top online donation tools to choose the right online fundraising software for your organization and build a donation page that will make things easy for your donors and your organization.
To be most effective, remember that your page will have to be equally accessible across all of the devices and platforms your donors may be using! That includes different Internet browsers and mobile devices in addition to full-size computers.

3. Allow donors to access your page on the go.
The best online donation pages allow your supporters to give at any time, wherever they are. Once you've built a page that's engaging and easy to use, it's time to focus on making sure that it looks and works its best no matter how your donors access it.
For online donations, providing multiple options is key. Ensure that your donation page is responsive, meaning that it will display clearly and function well whether it's accessed on a computer, a tablet, or a smartphone screen.
Want to go beyond your website's donation page and provide your supporters with even more ways to donate? The fundraising software that you use to create your donation page may also feature text-to-give capabilities. Check out Qgiv's text giving guide for an overview of this convenient strategy, which follows these basic steps:
A donor texts your nonprofit. Your organization will have a number where they'll send a keyword to a shortcode to start their donation.
The donor receives an automated link to your donation form. They're one click away from an easy-to-use online donation page.
The donor completes the form and receives a receipt. Don't forget that the receipt is your first opportunity to thank your supporters for their contributions!
Mobile-responsive donation pages and text-to-give capabilities are central to online giving today when nearly everyone spends time on their smartphones.
But regular smartphone use isn't confined texting or checking email (which, by the way, is another great medium to use for your fundraising). Your potential donors are spending their time on social media, and you'll benefit from meeting them there!

4. Connect online giving to social media.
Social media platforms amplify your efforts to share your cause and your successes with the world beyond your nonprofit, and it can connect you with new donors who share your mission. If your online donation page is easy to access from your organization's social media profiles, you'll be able to reach new and returning donors quickly and easily.
If you're ready to start leading supporters from social media to your online donation page, you'll first need to make sure that your social media presence is engaging your followers. Make sure that you're:
Reaching your supporters on multiple platforms. Every social media site excels at a different form of communication, so your organization's best bet is to reach followers on all of the most-used platforms.
Using different kinds of media. Photos and videos are powerful motivators for many potential donors who encounter your nonprofit on social media. They captivate and move audiences at least as effectively as do written posts.
Personalizing your approach. Do you want to thank donors who have made online contributions after interacting with your nonprofit on social media? Thanking posts that use their names and tell them where their donations are headed will make them feel great about their contributions.
Telling your organization's story. Whether through pictures, text posts, videos, or some combination of these and other elements, use social media to share the story of your mission and the work you do with your supporters. It's important to illustrate the connection between their donations and overall progress and success.
Placing your online donation page close by. As you develop and refine your organization's social media strategy, where does your donation page come in? As close to your posts as possible, of course! Consider an online donation tool that lets you embed a donation form into Facebook. If you're using other social media platforms, remember that your donation form should never be more than a click away!
Once you've provided your donors with an easy-to-use and easily accessible donation form that they can access through your website, text, email, or their favorite social media sites, they'll be ready to support all of the great work that your organization does.

5. Personalize the experience with a custom thank-you receipt.
Just as customization is central to designing a great online donation page, personalization is the key component in crafting your thank-yous to online donors.Your supporters want to know that their individual contributions have been recognized, and they want you to let them know where those contributions are headed!
Don't let online donations become impersonal just because donors can complete them quickly and remotely. In return for their support, make sure that you're giving your online donors:
Personalized thanks. As a start, you'll want to use your donors' preferred names when you thank them on their receipts. All individual donors should recognize their importance to your organization. Look for an online donation tool

that allows you to customize your receipts.
Clear language and information. After a supporter makes a contribution through your online donation page, to what project is that money headed? How close are you to reaching a goal or milestone? A brief explanation after the donor clicks "submit gift" can provide them with the information they're looking for.
A usable receipt. Be sure that your thank-you receipt is identified as such, so that donors seeking this official confirmation for tax purposes will have exactly what they're looking for.
Providing each of your donors with a thank-you receipt creates a stronger sense of involvement in your project and lets them know how much they mean to you. Thank-yous make the online donation process more personal and will encourage your donors to give online again!
With these tips to guide you, you'll be ready to create (or revamp) your donation form from the placement of your logo down to the wording on your thank-you receipt. A recognizable and easy-to-use page will assure your supporters that donating online is convenient and trustworthy, making them eager to give!
About the author:
Abby Jarvis is a blogger, marketer, and communications coordinator for Qgiv, an online fundraising service provider. Qgiv offers industry-leading online giving and peer to peer fundraising tools for nonprofit, faith-based, and political organizations of all sizes. When she's not working at Qgiv, Abby can usually be found writing for local magazines, catching up on her favorite blogs, or binge-watching sci-fi shows on Netflix.