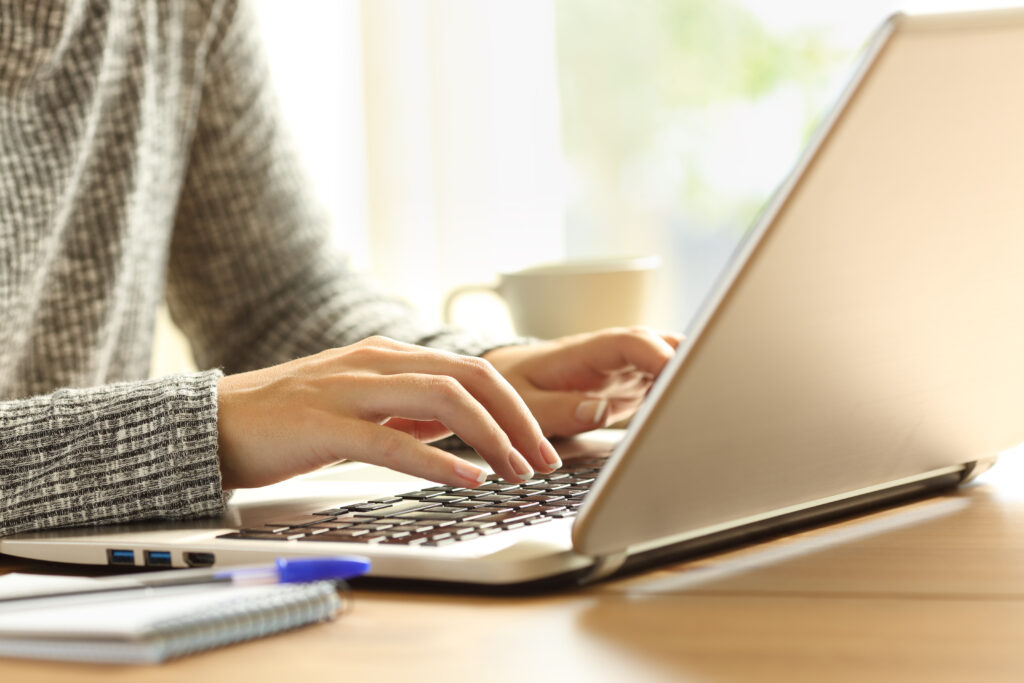 Email is a powerful marketing tool, but to get results you need to learn how to write fundraising emails that connect emotionally and inspire people to give.
That means you can't throw just anything in an email, push "send," and expect thousands of dollars to pour in.
It takes careful strategy and deep knowledge of your donor to get the results you're looking for.
Nothing about your fundraising email should be left to chance.
Not the subject line (which is critical in getting the email opened).
Not the content (which most people skim in about 13 seconds or less).
Not the call to action (which needs to be clear and motivational).
So, let's look at the key pieces in detail so you know how to write fundraising emails that get results.
The Strategy Behind Successful Fundraising Emails
If you want to raise money by sending fundraising emails, you need to plan it carefully.
How will you grab the attention of your donors when their inbox is already full and they barely have time to read what's already there?
How will you convey your message in as few words as possible so you make the most of every second you have their attention?
Start by being very clear what you want people to do after they read your email. Then build the email so that every word, every image, every bit of formatting supports them to take that action.
That means you may need to leave out a few things.
A fundraising email is not the right place to thank Board members, reflect on events that already happened, spotlight a wonderful volunteer, or highlight a major donor. Those can go in a newsletter.
Your fundraising emails have ONE JOB: get people to take action.
So, as you write, get to the heart of it: "Here are people or animals who need support. You can be their hero and change their life."
Simply put, focus on the people whose lives are made better by your organization. Or, if you are an animal rescue, keep the spotlight on the animals who are vulnerable and in need of care. Then state the action the supporter can take and let them know what the result of their action will be.
For example:
"Many teen girls struggle with their self-esteem thanks to Instagram and Snapchat. That insecurity can lead to a variety of problems as these vulnerable girls make decisions that will impact the rest of their lives. Please help us open the door for a teen to attend our personal development conference, benefit from having a mentor, and get on a path to college and a career." 
Once you identify the message of your fundraising email, you can add the stories, photos, and videos that drive the message home.
Writing fundraising emails is not hard, it just takes time and attention to detail.
Just remember, your job is to write a fundraising email that will get opened, get read, and get the action you are seeking: a donation. 
Get Ready to Write a Stellar Fundraising Email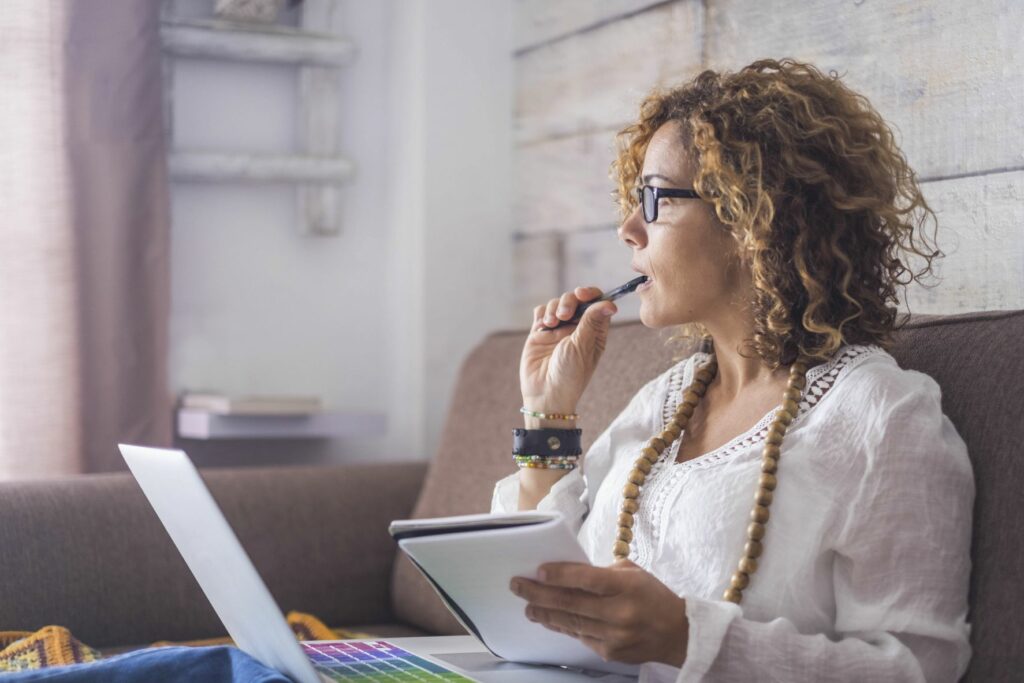 Before you write your fundraising emails, stop and think.
What part(s) of your program does your donor care about?
What makes your program unique?
Why should someone give now?
Jot down everything you might want to say to a donor. Just write, unfiltered. You can edit later.
Think about having a conversation with a person who has made a donation in the past and might make another donation.
What would you say?
Maybe something like this:
"Remember when you gave to our organization last year on Giving Tuesday, when we were raising money to give more families a place to stay at our transitional shelter? Well, one of the families we were able to work with as a result of your gift just moved into their own apartment! We are so excited for them! 
The mom has a job at a museum cafe, the older kids are in school, and the youngest attends a wonderful daycare center we are so fortunate to partner with. We are hopeful that this mom is on the path to being able to take care of her family without the constant fear of losing her housing and her kids. 
Thank you so much for supporting us and believing in our work! 
I now have another opportunity for you to get involved. We are starting a career center! I am so excited about it, and would love to tell you a little bit about it. We will provide career services right on site, including career classes, résumé support, and access to a jobs database. The thing I am most excited about is we are partnering with some local companies to offer our moms priority for jobs. These jobs can be accessed via public transportation. I believe so strongly that this approach will give our moms access to good jobs they can keep for a long time, jobs that offer advancement. 
If you want to get involved with this program on the ground floor, here's the link. We hope to start our pilot program next month with six moms. We hope to have all six moms in the workforce and thriving within three months! "
When you are brainstorming, your words might not sound so polished, which is fine. This is just brainstorming and anything goes! Use bullet points if you need to. Your list might look something like this:
Andrea's success story
Jamie's success story
How badly we need to upgrade all units w/new carpet and paint
Washing machines are very old and will need to be replaced soon
#1 goal – get the career center off the ground! 
New business partnerships
Importance of jobs being on bus line 
Yea us we got the $150,000 HUD grant! 
You know you won't be able to fit all this into a fundraising email, but the goal is to write everything down so you can make good choices about what to include. 
Anything you brainstorm that doesn't fit in your fundraising email can be added to a list of content ideas for social media or a newsletter.
Identify Your Key Message
Take a hard look at your brainstormed notes.
What should the one main message be for this fundraising email?
It's important to identify your key message for the email so you can stay on track. Otherwise, the temptation is great to include too many details and bore your reader. Remember, you've only got a few seconds of their attention!
A key message for a food pantry might be "No one should go hungry and you can help us make sure that our neighbors have a nice dinner for Thanksgiving."
A key message for an animal shelter might be "Every animal deserves a loving home and you can help care for those in our shelter until they're adopted."
See how that works?
Your key message is sort of a shortened version of your overall vision, but right-sized for the need you're addressing.
You may need to jot down several iterations of your key message until you get it just right (it usually takes me several tries to nail it).
Once you have your key message, then you can weave it into your fundraising email by picking the right story and the right call to action.
Time to Write! 4 Parts of a Fundraising Email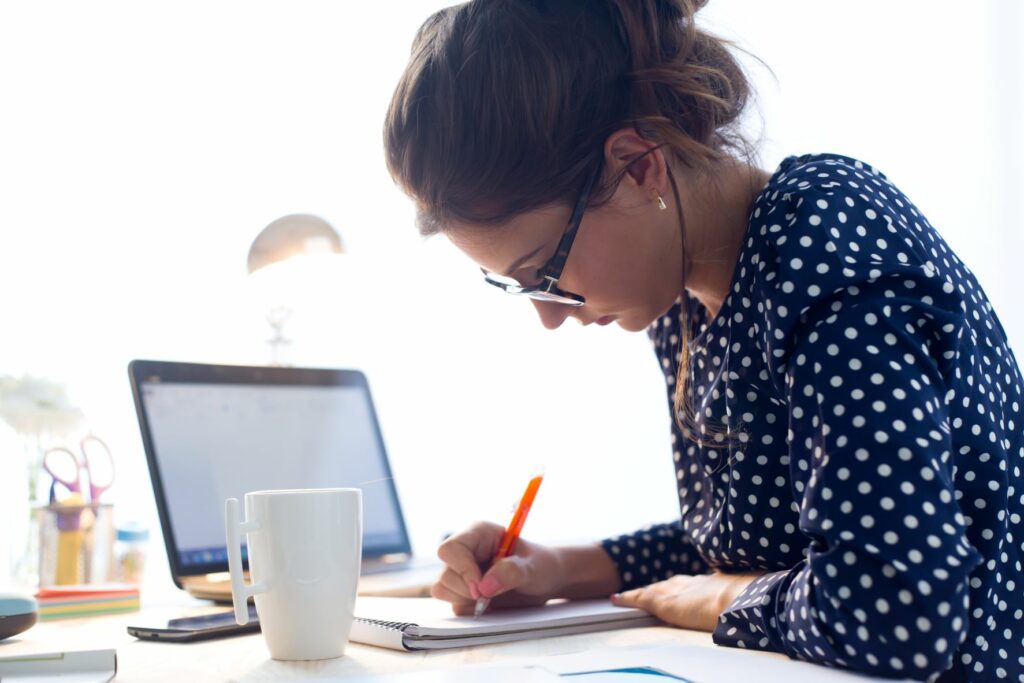 A fundraising email message generally has four components:
What recent success story can we share? Be brief, personal, and pack an emotional punch.
What is the current, urgent need? Again, be brief and tap into the donor's compassion.
How is our organization responding to this need? Be specific. What are you going to do? Are you going to expand services? Add a new service? Expand your building? Purchase needed items?
What gift do we want the donor to make? How much will we ask for and how will that money make a difference?
Go back to your brainstorming notes and highlight these 4 components. Flesh out the details you need to cover each section.
Note: You probably want to raise money for general operations and direct the money where you need it most. Most nonprofit leaders would prefer this. But your fundraising email will get better results if you ask for help meeting a specific, urgent need.
Now, there may be a way to do both, depending on what you need. For example if you need help caring for animals in your shelter until they're adopted, you can say "Please help provide food and shelter for the 26 animals in our care until they're adopted. On average, they stay 14 days with us and it costs $6.52 per day to care for an animal. Your gift ensures that an animal has a warm bed and a full belly until they find their forever home."
This Ask uses a Core Number to identify what it costs to provide one unit of service. Donors respond well to Asks like these because they can see immediately how their donation will make a difference.
Okay, using these 4 parts of a fundraising email, your brainstormed notes, your rough draft, and your key message, write your email.
Part 1: Start your email with a success story. 
"Martin and Jasmine were coming up significantly short when we met them in July of 2020. 
Both of their jobs were on hold because of the pandemic. They were behind on their rent and struggling to pay their bills. It was a bleak situation and they were days away from being homeless.
We connected with them just in time and got them caught up on back rent plus paid all of this month's rent. Martin went back to work just last week and Jasmine starts a new job soon. They should be back on their feet in no time!
Because of supporters like you, we were able to provide a stable home for them and their three children during a financially difficult time. "We have never been so scared of sliding into homelessness," Jasmine said. "We cannot thank you enough." 
Keep the story short and to the point. Protect the privacy of the people involved while including enough details to make the story feel honest and relatable. A photo or a video goes a long way in bringing a story to life.
One easy way of illustrating a story while protecting confidentiality is to ask a child to draw a picture of their family.
Parts 2 and 3: Introduce the urgent need and Show how your organization is responding.  
Now that you have spun a story that shows the need your nonprofit addresses along with your ability to get a happy ending, it's time to let the donor know what you need support for today.
"While we are still providing rent assistance to families in need, we see an urgent need to get families who are living in motels into apartments. Many need help with the first and last month's rent required to move in. Saving up this money while paying weekly for a motel is impossible for many families, no matter how frugally they live or how many hours they work. 
We receive more than 50 calls a week from parents desperate to move their families from a motel into an apartment, and it's worse now that school is back in session." 
Do not over-explain the need. If you work with people in a financial crisis, you do not need to provide a backgrounder on systemic poverty. If you work with abandoned dogs, you do not need to go into detail about the many reasons owners abandon their pets. Your fundraising emails go to people who have already engaged with your organization, so you can speak to them with the assumption that they already have some knowledge of your organization's cause area.
If you have a relevant statistic, use it here. People respond to statistics that are clear and do not require a lot of explanation. Make sure your statistic is accurate, relevant, and that it makes a strong case for the need. If you only have data that is tangentially related to your issue or requires context, leave it out.
Part 4: Make the ask. 
This is the most important sentence of your email. Make the Ask using as specific language as possible. If you have a Core Number, here's where you use it. If you aren't sure what your Core Number is, use our free Core Number Calculator.
"Your gift of $29.88 will provide one day of housing and support for a family living on the edge. If we can get 90 donors to give just $29.88, we can cover the $2,689 needed to move a family from a motel into an apartment. 
School is starting in just a few weeks, and children will be more successful in school if they are in stable housing!" 
End on a personal note. 
Close your fundraising email with another emotional tug. Remember, you're writing from one person to another person, so this is your chance to connect.
"We recently worked with a family that had been living in motels for four months. The mother's two children were doing terribly in school and fighting with each other constantly. Just two weeks after we moved them into an apartment, the mom texted us this message: I just wanted to let you know how great things are going over here. The kids love their new school and with more space we are all getting along so much better! I swear I am determined to never end up living in a motel with my children again!" 
With the person's permission, you can tell the story with a screenshot of the text. This is very powerful.
Emphasize your donor's compassion when signing off.
"Thank you for caring about the families in our community facing housing hardship during this difficult time. 
Sincerely, 
Mary Davis
Executive Director 
P.S. Please consider a gift right now so more families can escape the dangerous conditions of motel living!" 
Make your donate button huge!  Choose the biggest option your email provider offers. Scream: DONATE HERE! 
Review your email carefully and trim any unnecessary words.
No one gets a writing task perfect the first time. Revise your email with a critical eye at least twice before sending it to a colleague for feedback.
Here's your email editing checklist:
Revisit your subject line. Is it the best you can come up with? Are there stronger words you can use? Can you flip your statement into a question to make your donor curious enough to open the email?

Read your introductory story. Can you tell the story in a way that will pack more of an emotional punch? Are there punchier adjectives you can use to help the reader feel what you want them to feel? Do you have a photo, short video, or illustration to help tell this story? Does the story make it clear that this success would not have happened without donors?

Review your current, urgent need. Do you describe the problem you are addressing in a way that the reader will understand the urgency? Do you make the strongest possible case?

Take a hard look at your Ask. Would you give if you received this Ask from an organization you had donated to before? Is there a way you can ask that will resonate more with your audience? Sometimes asking for a $25 gift yields far better results than asking for a larger gift. It depends on your audience. Asking for more than $50 is risky, but, again, know your audience.

Revisit your closing story. Does this one close the deal? Does it put a human face on the issue and make a convincing case that your organization's approach is the right one? Can you make the story more succinct? Do you have a photo, short video, or some other type of illustration?

Does your sign-off thank the donor? True, they have not given yet. But go ahead and say thank you.

Do you take advantage of the P.S. to reiterate the ask? Don't miss this opportunity!
I recommend writing your email then let it sit for a couple of days before you review it. Then send it to a knowledgeable colleague, mentor, or coach for feedback.
Just be careful – don't send it to your Board and ask for them to review it. You'll find yourself in a losing game of wordsmithing which will be a huge waste of time.
Finally, Write the Subject Line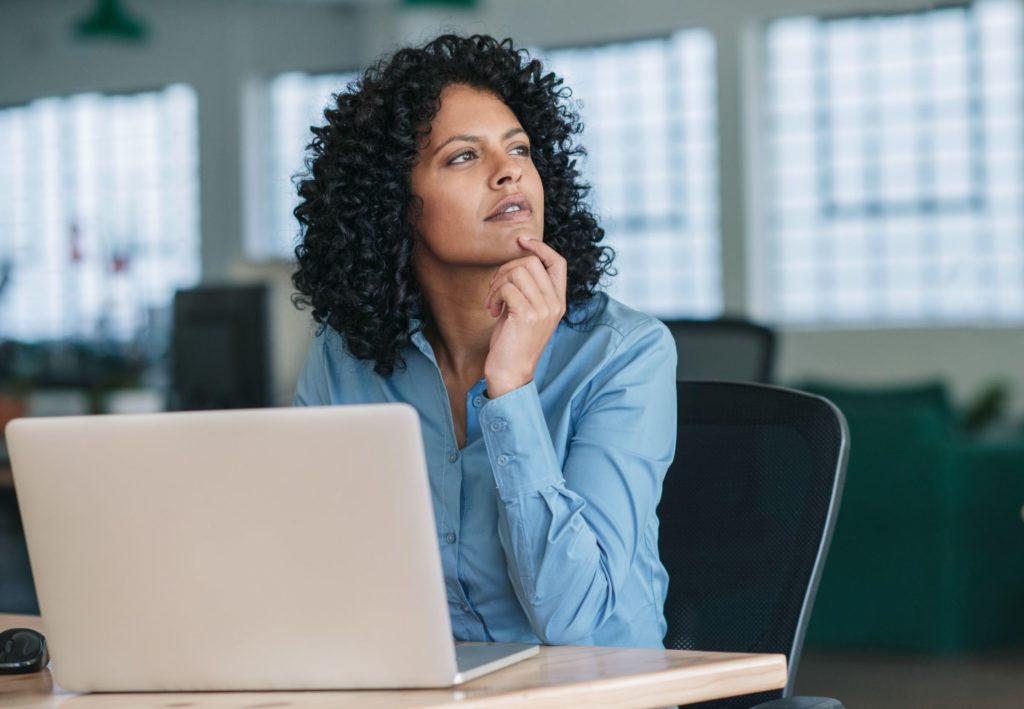 Write the subject line after you write your fundraising email.
That way, you're clear about the content of your email and your key message is top of mind.
Now, as you write your subject line, remember that it has one job: to get the email opened.
If the recipient of your email doesn't open it, then all this time strategizing and writing was wasted.
There is a lot of research about what makes a good subject line. For example, seven word subject lines have the highest open rates.
The most successful subject lines do one (or more) of these things:
Identify the problem: We cannot provide enough safe housing without you!
Emphasize urgency: 24 hours left to support unhoused families!
Focus on how easy it is to help: One simple way to make a difference
Make the donor a hero: Here's how you can be a hero!
Give the donor a deadline: Donate by midnight to support our families! 
Make the donor feel needed: We couldn't do this without your support!
Mention the donor by name: Nancy, will you help abandoned kittens today? 
Ask a question: Will you help us solve the #1 problem facing homeless families? 
I recommend you write about 10 different subject lines so you can find a good one. I guarantee you it won't be the first one!
You might want to review some past emails to see what fundraising email subject lines have gotten the most opens and use that info as a guide for going forward. Your email system should be able to help you do that.
The Bottom Line
You don't have to be an expert writer to learn how to write fundraising emails. A successful fundraising email is about asking for the right type of support at the right time using the right stories.
The closer you are to your programs, the better chance you will have of getting the right stories. The closer you are to your donors, the better chance you will have of asking for support in just the right way.
Keep writing. Keep sending. Keep asking.
Over time, you will get the results you want. You'll bring in more money and be able to change more lives!