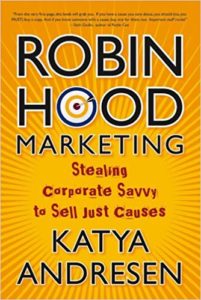 Marketing is something that many people think they understand, yet few really do.
In nonprofit fundraising, marketing is key to success.
Fundraising marketing at its simplest is about finding the those people who are likely to care about your cause and giving them the chance to support you. It's not necessarily about sales, although that's one part. And it's not just about advertising.
Marketing can be complicated for the nonprofit.
I just finished reading Robin Hood Marketing by Katya Andresen and I recommend it for every nonprofit.
Katya has a gift for making marketing concepts easily understandable. In this book, she identifies the basic marketing principles used by many corporations and shows nonprofits how to use them.
Here's one of my favorite lines from the book:
"The key to marketing is to focus on our audience and not ourselves."
If you simply focused on that and applied it to everything you do, you'd be well on your way to raising awareness and money for your organization.
Another of my favorites is
"Go beyond the big-picture mission and focus on getting people to take specific action."
Everything you do should have a call to action. Otherwise it's a waste of time. And don't assume that people will know what to do. Spell it out for them. Make it easy for them to know exactly what you want them to do like sign up to volunteer, make a gift, come for a visit, etc.
Robin Hood Marketing is easy to read, with case studies and interviews sprinkled in.
One interviewee says "Know your audience and how they experience life. Then ask them to do something small."
Great advice! Small steps are easier to understand and easier to take than big ones.
You'll find great information about creating partnerships, telling stories, crafting a message, working with the media, and more.
Already read it? I'd love to hear what you think!