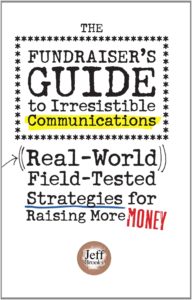 Jeff Brook's new book is a must-read for everyone who is serious about raising money.
In "The Fundraiser's Guide to Irresistible Communications," you'll find dozens of simple, practical ideas that you can easily implement for big results.  (Many of his key points are things I've been teaching my clients for years, except he expresses them far more beautifully than I do!) 
Jeff is a direct mail writer, and most of what he shares is drawn from his experience in writing letters.  But, as he points out, it's all applicable to email appeals and other communications. 
I went after this book with a pen and highlighter (as I do every book), anticipating some golden nuggets.  What I didn't expect was hitting the mother lode!  My copy of the book is now marked up and dog-eared for future reference.
Here are just a few of the things I highlighted, starred, and flagged:
You'll only secure a gift if you help the donor move from a state of inaction to a state of action.  In other words, it's your job to inspire them to pull out their checkbook.  The burden of responsibility is on you to write your letters so that your reader is moved to action.  People won't give just because yours is a good cause.
If the donor doesn't think their gift makes a difference, it's our fault. We aren't communicating enough urgency.  We've failed to show that each gift – even if the donor thinks it's small – is critical, is needed right away, and makes a difference.  'Nuff said.
If readers have to labor to read your fundraising message, they usually won't bother.  They'll stop reading.  If they don't read, they aren't likely to respond.  Jeff gives lots of ways you can make your materials easy to read, like keeping sentences short, using simple words, and keeping the readability level low.
If you want people to give, you have to touch them deeply.  And to do that, you must tell stories.  Not only does Jeff talk about the details of a good story, he demonstrates it by sharing several vivid, compelling stories from his own experience.
You're not raising money to fund your organization.  You're enabling your donors to make the world a better place – through your organization.  In other words, fundraising is NOT about you.  It's not about your organization's need to keep the lights on or pay the staff.  It's about giving the donor the chance to participate in the work your organization is doing to change lives.
 You are not your donors.I love this one because it's so true! Way too many fundraisers cater to their own preferences.  They write what they're interested in.  The mail with the frequency they'd like.  And this is a HUGE mistake!  Instead, folks need to write what their donors are interested in, design pieces that move their donors (not matter how ugly they might be) and overall, do what is proven and what works.

This short book is an easy read and should be in your fundraising library if you want to raise big money.
Do yourself a HUGE favor – buy and read this book!