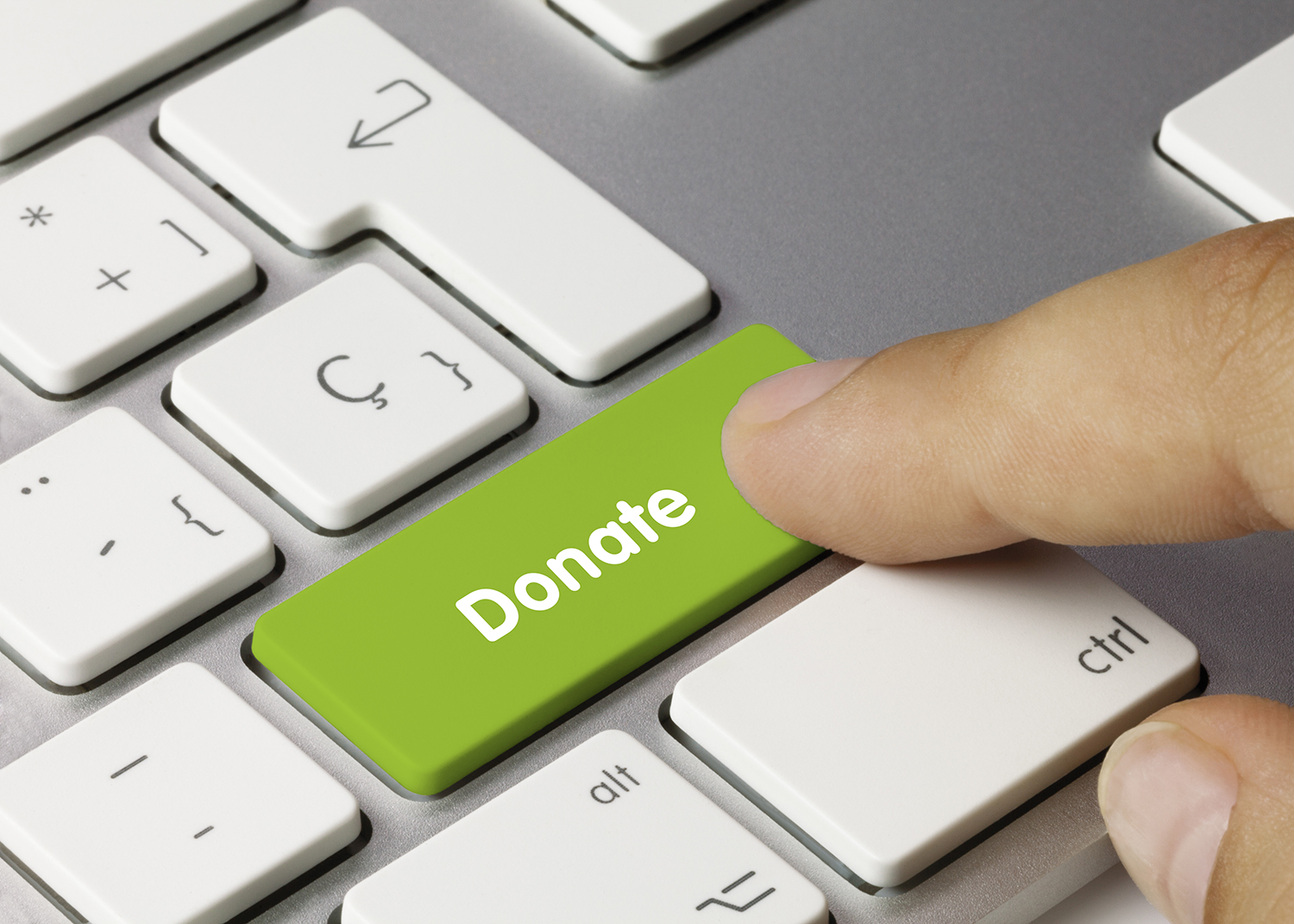 Online giving is a great way to raise money.
It's free (or seems to be at first glance) and easy – you set up a campaign and people come find you to give, right?
Not really.
Online fundraising CAN be effective, but it's a lot more complicated than it appears.
It's more than just posting a page then waiting for people to show up and click the "Donate Now" button.
To successfully raise money online, you need a compelling reason for someone to give, a tool to raise money, and a plan for driving traffic to your site.
Probably the most confusing part is choosing the tool.
It's like walking into Home Depot to buy a hammer. Who knew there's a whole aisle of hammers?
To make it simpler, I'm sharing some of the tools that I and some of my clients have used (and liked).
Let's start with online donation processing.
Online donation processing
Before you can raise money online, you need a mechanism to accept the donation and deposit the money into your bank account.
None are 100% free – they all cost something, though that amount varies. Don't try to avoid the fees – it's just part of doing business. Most people are used to using their credit card to pay for things online and they'll want to use their card to give you a donation. In order to do that, you'll need some kind of merchant account and that comes with fees. Definitely shop around to get the best rate, but don't expect zero.
Paypal is probably the most common online donation processor and it works, though it may not have all the bells and whistles of some other tools. It's easy to get started with and you can customize to a point (this is where I'm not a fan). My complaint about Paypal is that you cannot customize the thank you page or the automatic email to give donors a wonderful donation experience. Technically, it does send them a "receipt," but it's sterile and trust me, you want donors to have something much warmer than that.
Bloomerang is a powerful donor-tracking software and offers an online giving option, too. I love that it puts everything in ONE place, all fully integrated. It lets you choose from Stripe or Moolah to facilitate online transactions, monthly gifts, or EFT donations.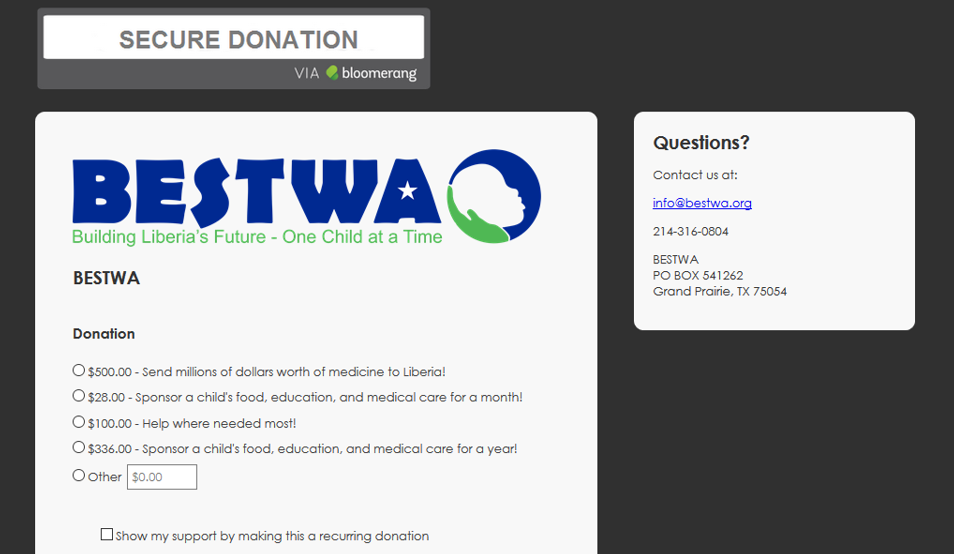 Kindful is another powerful donor-tracking software that facilitates online giving as a built-in feature. You can customize your donation pages so they look like part of your website (makes the donor experience smooth!) and there's a peer-to-peer fundraising tool, too.

Qgiv provides non-profits with branded donation pages, mobile and text giving capabilities, plus options for on-site donation at events or other activities. Donors can make donations, set up recurring payments, register for events or make tribute gifts for loves ones. Non-profits can create and customize branded donation and event registration pages.
DonorsChoose is a cool platform for classrooms where teachers post a project and people commit to giving. When a project reaches its funding goal, the company purchases all related classroom materials and ships the items to the school. They close the loop by providing photos of each project taking place with a cost report showing how donations were spent. Donors can donate to the classroom project of their choice and then invite social network friends, fans and followers to join their efforts. Projects less than $400 have the best chance of being funded.
Of course, Facebook is also a great tool for online giving but it also has its drawbacks. The biggest problem with Facebook is that you can't thank people properly and you don't get donor information unless the donor agrees to it.
Crowdfunding platforms
Raising money through crowdfunding has become popular and it can work if you have lots of connections to leverage. It's definitely not a "build it and they will come" model.
Technically, crowdfunding is raising money in small amounts from lots of people to fund your project.
You've probably heard of companies or bands raising funds for a project on Kickstarter or Indiegogo, but those aren't really meant for nonprofit fundraising.
There are lots of crowdfunding platforms out there to choose from. Here are some of our favorites.
GiveGab. Our client Draft Gratitude has consistently used GiveGab to raise money for their projects. The giving pages are easy to set up and look good. The tool is robust and has lots of features to help make fundraising easier. The fee is $59/month plus a 4% processing fee.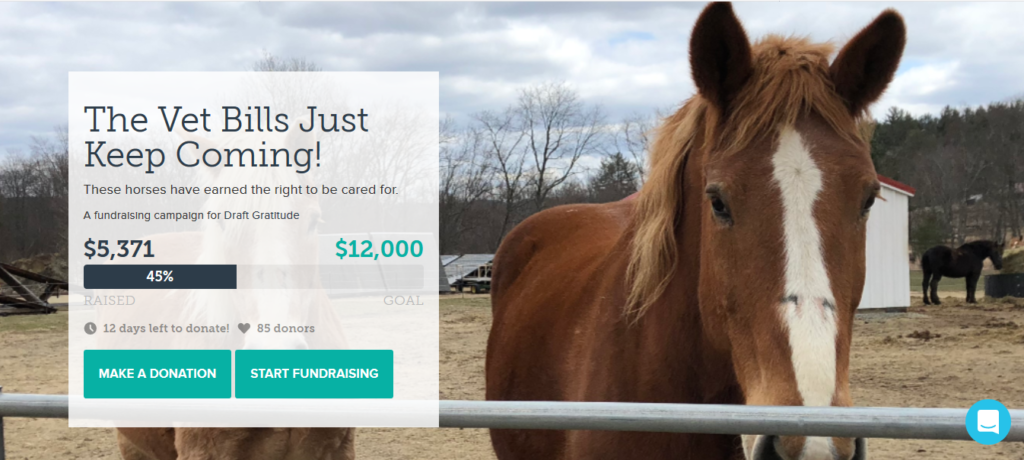 GivingGrid. One of our favorites, particularly for animal rescue, is GivingGrid. The tool is easy to use (I've set up a campaign myself), free to the nonprofit, and fun for the user because when they give, they get to upload a photo into a box on the grid. Here's a sample GivingGrid from the Humane Society of Southeast Missouri: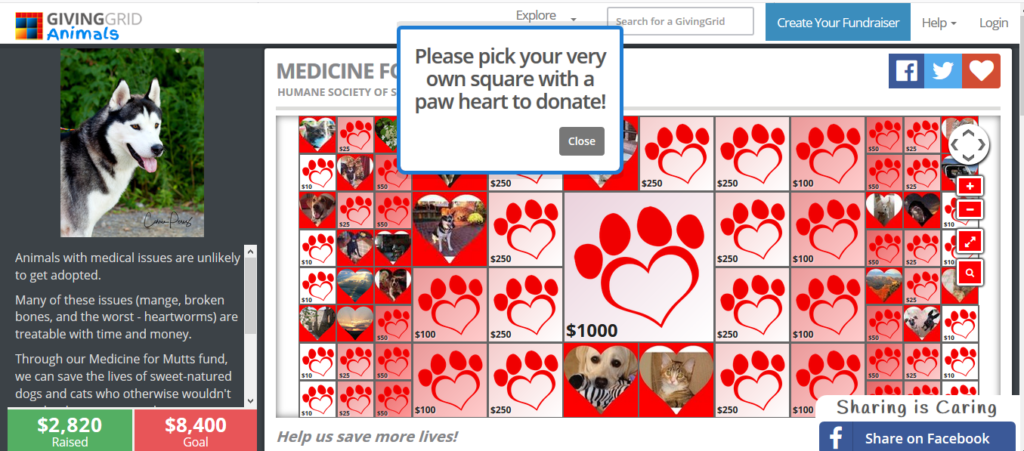 Tips for Best Practice
Of course, online fundraising is still donor-based fundraising.
You need a message that resonates with people and touches their hearts (not just "please give").
A thank-you page is an awesome idea and gives the donor immediate gratitude for their donation. Adding a warm thank-you video on this page will make the donor feel really good about giving, and that's what this is all about.
Maybe most importantly, make sure the thank-you email/receipt is warm and personalized (and you can include a video there, too). Your donor will be super clear that their gift was received and that you appreciate it.
Integrate online donations with your donor-tracking software so you can keep up with donation history (this will make your life EASIER later!). And this integration needs to be automatic. In other words, once someone gives, the information needs to flow directly to your software, with NO manual data entry.
Be sure that the tool you choose is mobile friendly since many people are online via their phone.
The biggest thing you need to know about online fundraising campaigns is that they're like a party and you're the host. It's up to you to keep the snacks and entertainment coming so that people don't get bored and leave. That means you have to update people, tell more stories, and give them a reason to care & share.
Remember that no matter which tool you choose, taking donations online isn't about what's cheapest or easiest for you. It's about creating a hassle-free, user-friendly experience for your donors.
Follow these tips and you'll be on your way to strong donor relationships and more future online giving!