Wouldn't life be easier if people actually opened and read the fundraising emails you send?
You already know most of your list isn't engaging with you through email. And it's frustrating.
According to Mail Chimp, the average open rate for emails sent from nonprofits is about 26%.
That means ¾ of your email audience isn't paying attention to you.
I have a theory about that.
I think we've trained people to ignore us.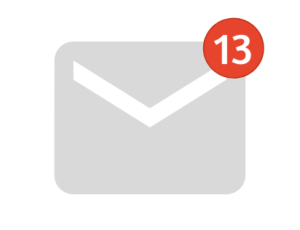 We send boring email after boring email and our readers decide there can't possibly be anything worth reading in the next message, so they don't bother.
We've conditioned our readers to expect junk from us by sending junk over and over.
Think about it: if you receive 3 or 4 emails in a row from an organization (a nonprofit you like, a blogger you follow, your favorite store, etc.) and the content is boring or useless to you, how long before you stop opening them?
If you're using email as a fundraising and donor communications tool, you can't afford to send anything dull or dreary. You need that open rate to be as high as possible in your fundraising emails.
So, how do you show up as interesting and relevant in their inbox time after time so that your donors open and read your emails?
It's tricky business. Most of it has to do with your copywriting skills and that you can learn.
The rest has to do with you taking the time to get it right and not being in a hurry to just check the task off your list.
I wasn't always a good writer.
When I first started in fundraising, I didn't know anything about stringing words together to motivate someone to give.
You know how I got to be a better writer?
By writing.
The more I did, the better I got. And now, years later, I can usually get the results I'm looking for with an appeal or a newsletter.
I took a couple of copywriting classes which really helped. I learned to develop my own "voice" for writing. And I studied appeals that I thought were really good.
Over the years, I learned some ninja tricks that made my copy really good and very effective.
And that's what I'm sharing with you today.
5 tricks for better fundraising emails
Here are 5 tricks for writing better fundraising emails so people read and respond the way you want them to.
Better Email Trick #1. Write to a single person.
People will read your email individually, so write to them individually. If you write to the whole audience and use phrases like "as you all know" and "I hope everyone understands" it makes the reader feel like one among many, which isn't very motivational.
Want your donor to feel like you're writing JUST to them? Use my kitchen table exercise.
Imagine your donor sitting across your kitchen table from you. You're having a cup of coffee talking about the lives your nonprofit changes. What would you say to her as you're giving her an update? How would you ask for a donation?
Write THAT. Write like you'd talk to one person.
Your fundraising emails will be much personable and connecting.
Better Email Trick #2. Keep it conversational.
In addition to writing like you talk, keep your language conversational. Ditch the jargon. Hold the acronyms.
Don't worry about trying to sound smart – you don't need to sound smart. You need to sound real.
So, write like you're having a conversation.
Your reader will be more likely to listen.
Better Email Trick #3. Write in small bites.
No one wants to read long paragraphs full of dense text. These days, our attention spans just don't allow it. Plus, we don't want to work that hard. Instead of trying to share everything you can about a topic and cram it all into a paragraph, condense it and break it up. People are more likely to read a short paragraph with short, simple sentences. Don't be afraid to hit that 'return' key and break your paragraphs up.
Was that paragraph as hard for you to read as it was for me to write?
But you get the point, right?
Thought so.
Better Email Trick #4. Be picky about your subject line.
People will open your fundraising email based on your subject line and who the email is from. So, plan to spend some time here.
Many people throw their email together and slap on a subject line without much thought. Is it any wonder that no one wants to read it?
Try this: write your email, then work on the subject line. Write 10 possible subject lines and pick the best one.
I guarantee it will be better than most of what your reader gets in their inbox.

What works in a subject line? Ask a question. Challenge their thinking. State something controversial.
Try using the reader's name in the subject line (with a merge field).
Make your subject line long enough to peak their interest and short enough to read on a mobile device.
Here are some good examples I've seen lately:
Want the escape the cold? Our new volunteers just did

Need a dose of happy and inspiring? Read on
Better Email Trick #5. Focus on ONE thing.
Write about one thing.
Don't include 3 or 4 different calls to action. Keep it simple and you'll be more likely to get the response you're looking for.
If you send an email appeal and in it you ask people to click the Donate Now button, buy a ticket to your upcoming event, and sign up for volunteer orientation, you're going to be disappointed in the results you get.
When faced with a choice, people "shop." They'll likely choose the option that requires the least amount of time/energy/money. So don't let them do that.
Focus on ONE topic and have ONE call to action in your email.
Sample email
Let's look at an example of a fundraising email done well.
It's a short, sweet email that's engaging. It gets right to the point, includes personalization and a heart-warming photo.
This kind of email will have readers looking forward to the next one.
The Bottom Line
Remember that everything you send – EVERYTHING – needs to be interesting and engaging.
Whether it's a newsletter, appeal, event invitation, or something else, every email is either teaching your reader to keep reading or to stop.
Take the time to learn to write well so your reader keeps reading. That's what it takes to keep them giving and engaged with your mission.