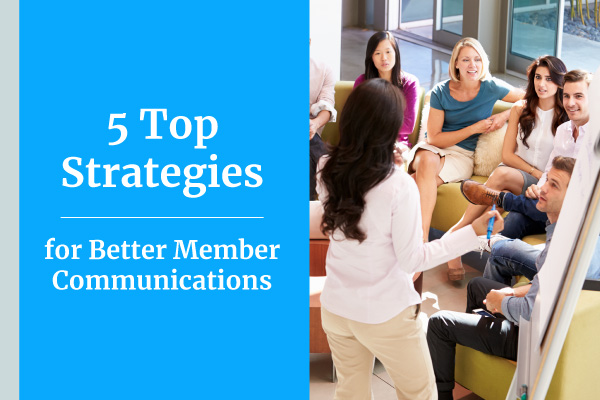 When nonprofits think about improving member communications, they often think of it as a separate task from the rest of their operation. However, the most effective communication is directly informed by and integrated into all of your functions and the nonprofit tools you use. 
Your member relations shouldn't be an afterthought. Rather, they should be a vital part of the overall strategy for your nonprofit. Here are our  five strategies for improving member communication and fostering a stronger connection with supporters: 
Utilize storytelling in your member communications

Craft compelling messages

Optimize member communications with software

Always show appreciation 

Create community on social media
If you're ready to improve your member relations and show your supporters how much they mean to you, our strategies will get you on the right path. Let's dive in!
1. Utilize storytelling in your communications
You have probably heard this advice before but it's not always clear exactly how you actually achieve it.  Storytelling is important because it helps your audience better understand and connect with the work you're doing. In fact, people are much more likely to remember a story (63%) than a statistic (5%) according to research from Stanford University.
Getting Attention's guide on nonprofit storytelling recommends including the following elements in your stories: 
Face, name, and voice

— People care about other people, so putting a face and name to this individual is critical if you want to connect with supporters. 

Relatable to the general audience

— If your supporters are mostly working-class people, having your main character be a college student might not be the right course.

Impacted by your organization

— The main resolution for this story should be impacted by your nonprofit and the help it's gotten from donors and supporters.
Storytelling can be used in your email newsletters, social media posts, speeches at events, on your website and more. While we tend to think of formal and structured stories, many of these elements can be included in any donor interaction —  even a casual conversation — to help strengthen their commitment to your organization.
2. Craft compelling messages
Once you start incorporating storytelling into your communications, your messages will already be much more compelling. But, there's still more you can do to incentivize your supporters to read every one of your messages. 
Edit!

The last thing you want is for your messages to be rambling, grammatically incorrect, or riddled with typos. Edit rigorously both for errors and for clarity. 

Keep it to the point.

Similarly, you should avoid wasting your donors' time with unnecessarily long communications. Be concise about what you want to say and your donors will appreciate your clear communication.

Hook your audience

. This can be in the first line of a social media caption or an article, or it can be in the

subject line of your email

. Whatever it is you're writing, you want to get your supporter's attention right away and make them want to keep reading.
Regardless of what kind of communication you're sending, capturing your reader's attention right away is crucial for getting them to read your message.
3. Optimize member communications with software
Donor management software is a game-changer, especially as your organization grows. Even for smaller organizations, keeping donor data organized and crafting communication strategies using that data can make a big difference to your donors' experience. With robust donor software you'll be able to: 
Store donor data.

Information like names, contact information, what previous communications they've received, when they last donated or volunteered, and more will be at your fingertips. 

Segment donors.

Based on the robust donor data in your system, you can segment your donors into groups based on their support history, their demographics, and their support preferences.

Send personalized communications.

Not only can you send communications with your donors' names and donation amounts, but you can target different kinds of communications to the segments of your donor base that they are most relevant to.
Your donors will be impressed by your thoughtfulness when they open emails that are both personally addressed to them and relevant and interesting.
4. Always show appreciation
While you're hopefully already saying thank you to your supporters on a regular basis, it's always a good idea to consider how you can really drive home your appreciation. Especially towards the end of the year, your supporters will love receiving an extra token of your appreciation. 
Here are a few different donor acknowledgment ideas: 
Thank you emails
A donor appreciation event 
A donor recognition wall
Recognizing your supporters, in big or small ways, goes a long way to improve your relationship and keep those channels of communication open. A forgotten donor is not likely to want to donate again or even open your email! Make sure none of your valuable supporters are left behind this year.
5. Create community on social media
Social media is a great place to get the word out about your initiatives, but it's an even better place to build community and a loyal following. In recent years, brands have built cult-like followings on social media by simply creating relatable content and engaging with their audiences in a meaningful way.
A few ways you can build a community on social media include: 
Creating a Facebook group community

Starting a Facebook Challenge 

Utilizing stories on Instagram for a more personal experience 

Asking your followers questions in your captions

Responding to DM's, comments, and tags from followers
Bonus tip: Facebook groups can be used for supporters to communicate but it can also be a great place for volunteers to connect with each other. Creating a sense of community for your volunteers is one of NonProfitEasy's top volunteer retention tips. Improving member communication should be an organization-wide effort —  not just one focused externally on donors. 
There's no shortage of ways to show your supporters how much they mean to you. Effective member communication is just one of the ways that you can build a meaningful relationship that helps turn them into loyal, life-long supporters. Especially around the holidays, saying thank you and going the extra mile to communicate with your supporters is crucial.
About the Author
Mike Barros is the President and CEO of Lumaverse Technologies. Before joining the Lumaverse, Mike was the President of Education Brands at Community Brands, the CEO of Diamond Mind, and the Chief Revenue Officer at JackBe. He resides in the DC-Metro area.