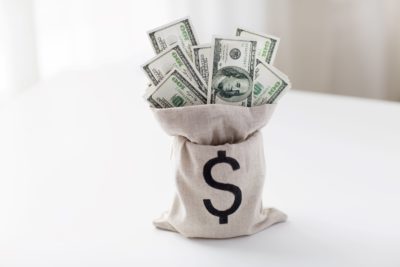 When you're planning a nonprofit fundraising event, ticket sales probably aren't enough to bring in the total revenue you need.
You'll need additional revenue streams to boost your event's bottom line, whether your event is in-person or virtual.
Think about it. Your walk registrations or gala ticket sales might be just enough to cover your costs.
You'll need additional sources of revenue to increase the total gross revenue for the event so your net income is enough to justify holding the event.
Below are 8 of our favorite ways to make money at your next nonprofit fundraising event, no matter what kind of fundraising event it is.
Some of these ideas will not only pad your take-home, but also add interest and FUN to the event (and that's a good thing!).
#1: Sponsors
Recruiting sponsors for your event is almost a necessity if you want a healthy bottom line for your nonprofit fundraising event.
Sponsors are people or businesses who help pay for the event in exchange for publicity.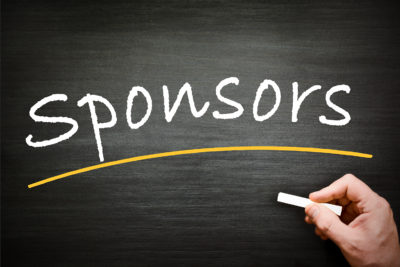 You can create different levels of sponsorship, with the sponsor benefits increasing at each level. For example:
$250: Name in the program, dinner and wine for 2 people
$500: Name and logo in the program and on the event page of your website, dinner and wine for 4 people
$750: Name and logo in the program and on the event page of your website, dinner and wine for 8 people
$1,000 or more: Large logo and ad in program and also on the event page of your website, dinner and wine for 10 people (If in person, a dedicated table for the large sponsors)
It's not always easy to find corporate sponsors. The easiest place to start is by asking friends, family, Board members, and volunteers who they know that might be interested in sponsoring your event.
Once you get sponsors, take good care of them so they'll want to sponsor again next year.


#2: Live Auction
Live auctions are a high-energy, fun, interactive way to get your attendees moving and engaged AND generate thousands of dollars for your nonprofit at the same time.
If possible, get a professional auctioneer who has experience with charity auctions and knows how to work your particular kind of audience.
A good auctioneer will drive up the bids and keep things FUN!
This is not the time to get your brother-in-law who auctions off cattle at the local stock barn just because he'll do it for free. Studies show that professional auctioneers raise up to 30% more than non-professional auctions!
Items that tend to go well on live auctions include:
Experiences (sailing, horseback riding, a night at the theater)
Travel, especially to desirable locations
High-end artwork or jewelry
Sports memorabilia

When choosing items for your live auction, consider your audience. If you have the right people in the room, they won't think twice about bidding thousands for a trip for their whole family to Disney World. The wrong audience won't bid anything, even if it's a great deal.
So carefully choose both your audience and the items for your auction.


#3: Silent Auction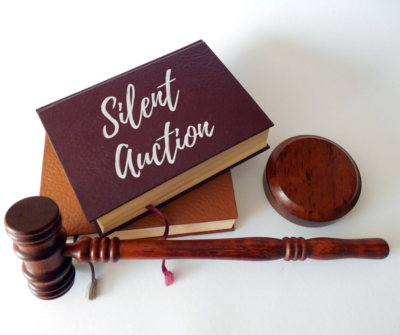 Silent auctions are fun and can raise quite a bit of money, but they do take planning and logistic work to collect, photograph or display items, and distribute them if the winner isn't there in person.
Collect lots of donated items from supporters, local businesses, local artists, and whoever else is willing to donate something your audience will be interested in.
If your event is in-person, display your items with an item number and a description. If your event is virtual, photograph them and post them on your auction site.
The great benefit to silent auctions is that you can start the bidding several days before your actual event and that can lead to higher bids!
There are lots of great auction software options that will text your participants when they are overbid, extend the auction time if multiple bidders are still competing, and collect the funds right from your attendee's smartphone.
Items that tend to do well in silent auctions include:
Themed gift baskets
Wine, beer, or liquor experiences or baskets
Pet related items, like invisible fences or training sessions
Photography sessions for your family or pets
Sports items signed by hometown heroes or local sports figures
Gift cards to the movies, local attractions, or popular stores or restaurants
Paintings and artwork
Jewelry

Quality is more important than quantity, so be sure you get things your audience will want — not a bunch of junk that just fills up space on your auction.


#4: Raffles
Raffles are easy, and the right item can easily sell a lot of tickets.
Typically, pricier items like cars or expensive jewelry are ideal for raffles. As long as it's something that most people want, you'll have no problem selling raffle tickets.
Use the more common items in your auction, and save the big ticket items for raffles. The reason? Many people may not have hundreds of dollars to bid on a big ticket item, but lots of people have a few dollars to spend towards the chance of winning something valuable.
Think about it! Would you be able to bid $400 on a big screen TV? Or would you prefer to purchase raffle tickets for $5 each for a chance to win it?
Sell raffle tickets for a certain window of time. Announce when your attendees have 15 minutes left to purchase tickets, and again announce when there are 5 minutes left. Once you have closed the purchase window, do a live drawing of tickets and announce your winner!!
Ideas for raffle items that have been quite popular with some of our clients:
Car
Weekend getaway
Television/electronics
Barbeque grills, outdoor equipment and accessories
Tools

One final note about raffles: PLEASE CHECK with your state to see if you need a permit or license before you hold a raffle! Depending on your state and the laws in your state, you may have paperwork to complete, fees to pay, and other hoops to jump through. Or there may be nothing. Just find out before you start planning your raffle.


#5: Fund-a-Need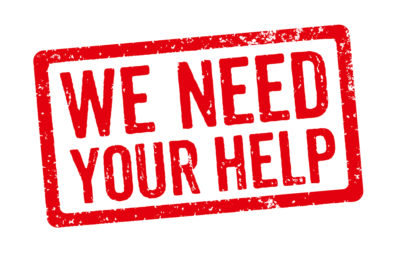 Fund-a-Need is similar to a live auction, except you ask for donations for a specific purpose and the bidder doesn't receive anything in return.
Think of it as auctioning for donations. Your auctioneer states the need. For this example, let's say you are running an animal rescue and you want to raise money for spay/neuter surgeries. And let's say each surgery costs $50. You would ask your audience "Who can donate $50 to spay or neuter one animal?". Hopefully at that time, lots of people will raise their hands or their paddles. You'll note all of their bids and add them to their total at the end of the evening.
If your Fund-a-Need is a simple and affordable item, it may be your largest income earner for the night. These are especially effective because your attendees feel a little bit of peer pressure to donate, and this also drives up the donation amounts.
The nice thing about Fund-a-Need is that you're actually getting donations and can probably keep these people giving throughout the year with a little stewardship.


#6: Get Out of the Clinker
This event begins with the founder or director in a "jail cell" (this could simply be a screen that looks like bars – very easy to make with PVC pipes!).
Announce that they are in the clinker and announce their bail amount. Then, people donate an amount to "post bail." When the total reaches the bail amount, your criminal is set free!
You can keep it very simple by just accepting donations until you reach your goal amount, or you can add to the fun by having increments that provide the prisoner with more privileges along the way. For example, let's say your bail amount is $1,000:
Once you reach $250, your prisoner gets a chair to sit in.
Once you reach $500, they get a glass of wine.
Once you reach $750, they get a meal.
Once you reach $1000, your prisoner is free!
It's a fun and easy way to generate funds during your event.


#7: Heads or Tails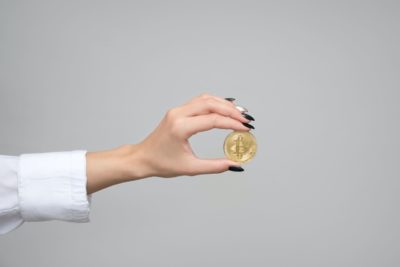 This is a fun and interactive game that raises funds!
Start with a desirable prize of mid-range value. It can be a gift card, something electronic, or anything that most of your audience will want.
In order to participate, people pay a fee — commonly $25-$50.
The game starts with everyone standing. Participants will either have a card that says "Heads" on one side and "Tail"s on the other…OR they can stand and put their hand on their heads or their behinds. A coin is flipped and the announcer calls whether it is Heads or Tails! All those who guessed right remain standing, while those who guessed incorrectly take their seats.
This game continues until there is one last person standing, and that is your winner!
I once attended an event where you could buy 3 glow-in-the-dark necklaces for $50 and each necklace gave you a chance to play the game. You put all 3 on at the beginning of the game and when you guessed wrong, you simply took off one of the necklaces. That made it really easy to see who was still in and how many chances they had left.
In a room of 150 people, if 50 of them choose to play and pay $50 each, you can see how fast that will add additional revenue to your nonprofit fundraising event bottom line!


#8: Giving Tree (Wish List)
A Giving Tree (in-person) or a Wish List (virtual) is a great way to raise some funds for specific needs inside your nonprofit.
On the tree or the wishlist, list specific things your organization needs and how much they cost. Each item has its own tag on the tree or line on the list.
Your attendees can select one of the items and donate the corresponding amount, fulfilling that wish.
For example, if you are running a homeless shelter, maybe you need sheets or kitchen supplies. List each item and what it costs, and people have the opportunity to pay for them!
You get things you really need and your attendees feel great helping you get those things.


Pro Tips
If your event is virtual, make sure that attendees receive any items they will need to participate in your activities. Those items might include bidding paddles, keys, raffle tickets, etc.
If you're offering these things last minute, you should have a digital version that you can email to your recipients and they can either show their phone screens or print out anything they need.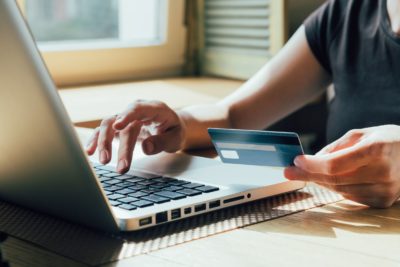 Find an easy way to collect credit card information from every attendee who plans to bid in the auction. They shouldn't receive bidding paddles until you get their information. Most auction software programs, like Auctria, can handle all of that for you, and collect the payment when your event is over. The important point here is to make auction checkout quick and easy at the end of the evening so no one has to wait in a line to pay for the items they won!
If your event is virtual, keep the activities and games moving along with only short lulls in between. Keep it exciting and fun with lots of interaction and people will come back next time!
The Bottom Line – Make it Fun
Put yourself in the shoes of your event attendees: What will make the event successful? And what will make the event fun?
People having a good time are people who will spend more money and that means a bigger payoff on your nonprofit fundraising event.