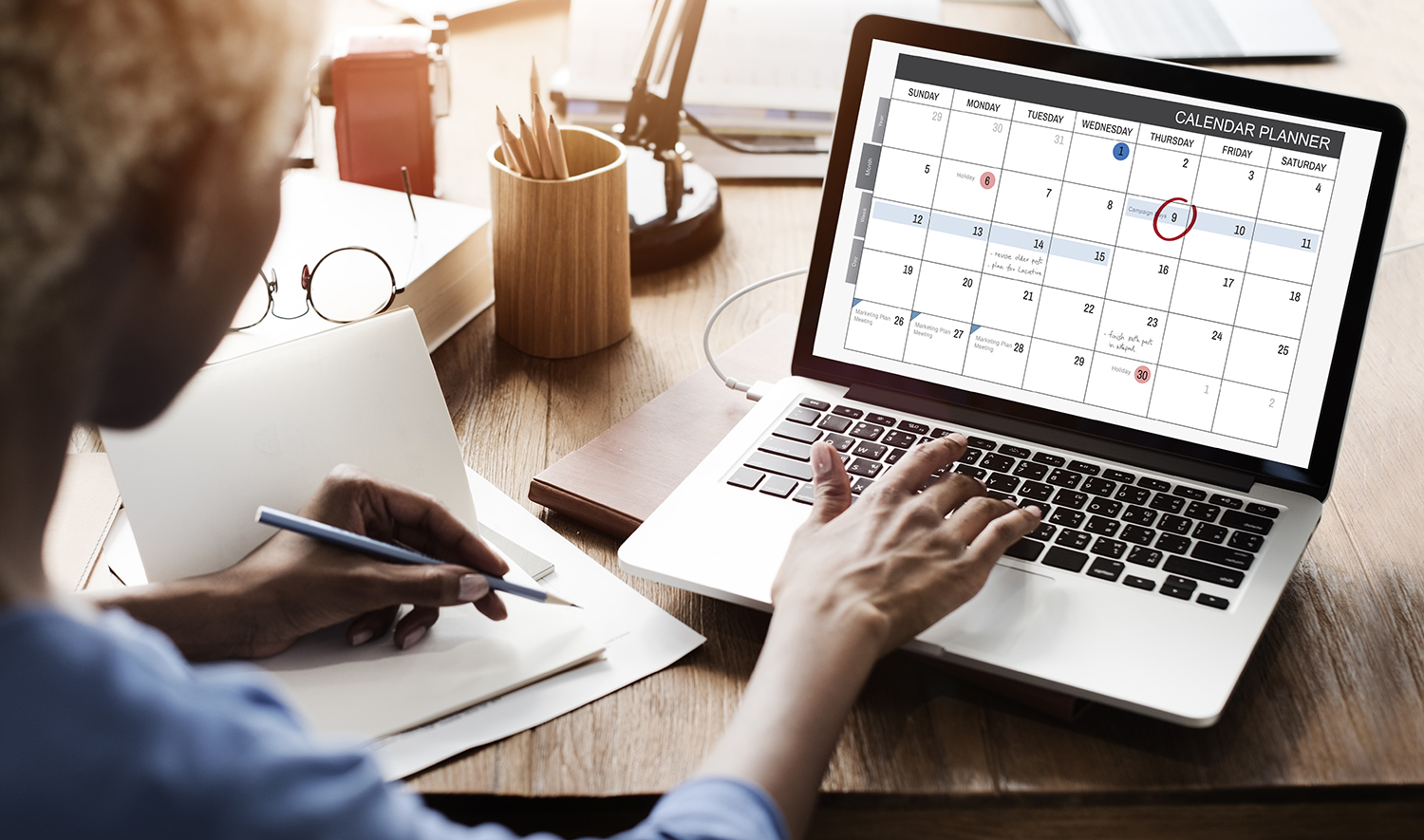 A very common "go-to" funding idea for small nonprofits is fundraising events.
Events are a great way to bring like-minded people together and have a good time in the name of your cause.
Some fundraising events are huge, drawing attendees and sponsors like moths to a flame. Other events are smaller, more intimate gatherings where guests are directly asked for money.
Both have their place and can be highly profitable.
You can raise money with all kinds of fundraising events like parties, galas, sporting events, concerts… and the list goes on and on.
With so many options, it can be hard to pick the right event for your situation.
So, how do you know which one will be THE ONE that raises big bucks for you? Or the one that's easiest to organize and promote, practically selling itself?
Here are three kinds of fundraising events that work for most nonprofits and how to choose the right one for you.
Evaluating Ideas for Fundraising Events
When you're evaluating a potential fundraising event, don't just look at the potential revenue. Consider how much time and energy it will take to make your event successful.
Pay attention to the donor/attendee experience, then weigh out the potential cost and get ready to PLAN, PLAN, PLAN!
You already know that every dollar counts in your nonprofit. That means that spending money on an event can be a little scary.
You don't want to spend more than you raise, and poor planning can turn an event into a budget buster that wastes your most precious resource – time and volunteers.
BUT the flip side?
Tupperware parties, garage sales, and candle fundraisers will not sustain your budget.
They don't establish any future relationships or revenue streams. They don't do anything to promote your brand, your cause, or your mission. Yes, your org will get a handful of dollars for doing basically nothing. But is it really worth that $100 to promote and attach your name to Suzie's multilevel marketing opportunity? (Probably not!)
Fundraisers are basically just sales anyway. They're transactional by nature and not a good long-term solution for funding.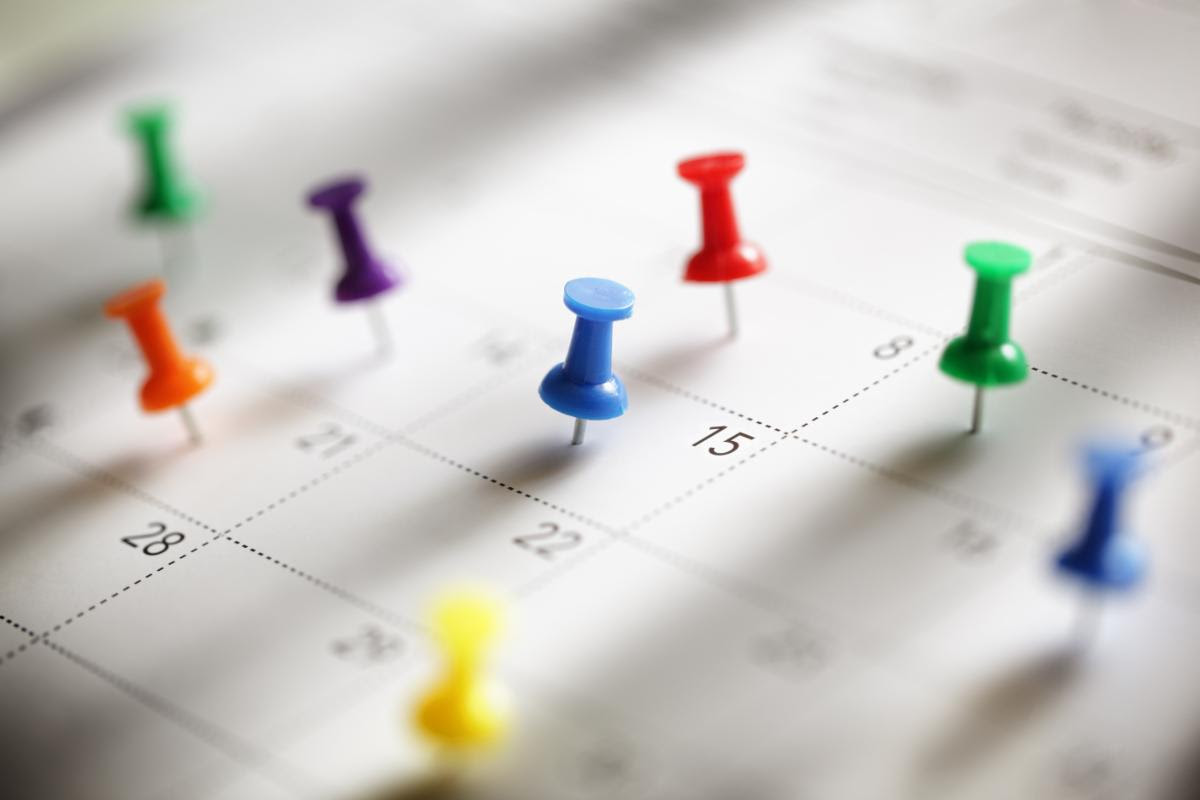 When choosing events and fundraisers, it's important that you look at the long game. Affiliating your organization with every random fundraiser will dilute your message, annoy your followers, and cheapen your brand.
I know sometimes it's hard to say "no" to a fundraiser idea your volunteers or Board come up with. When you're desperate for money, that $200 from Buffalo Wild Wings night looks good!
But if you're surviving on little fundraisers, you've got a bigger problem. Your revenue isn't sustainable, and you will find yourself living from one fundraiser to the next and one event to the next.
It's a hamster wheel you don't want to be on.
That's why it's important to do ONE fundraising event each year, do it well, give it everything you've got, then move on to other kinds of fundraising. Diverse funding streams are the key to success.
And that's where the RIGHT event comes in.
A well-run event can build MANY relationships within your community that will serve you well for years to come!  It can attract potential new donors and partners, keep your current donors close, sustain excitement about your cause, and build awareness in the community.
So, what's the RIGHT event for your nonprofit?
The RIGHT event:
Raises 10-20% of your annual budget.
Generates at least 4-5 times what you spend to host it.
Brings in dozens of new donors (or renews existing ones).
Deepens relationships and draws supporters closer to your mission.
Attracts corporate sponsors.
Draws volunteers easily.
Sells out every year.
Ok, got it?
There are many KINDS of events, but they fall into two basic categories: The Community/Fun Event and the Heartstrings Event.
Community/Fun Events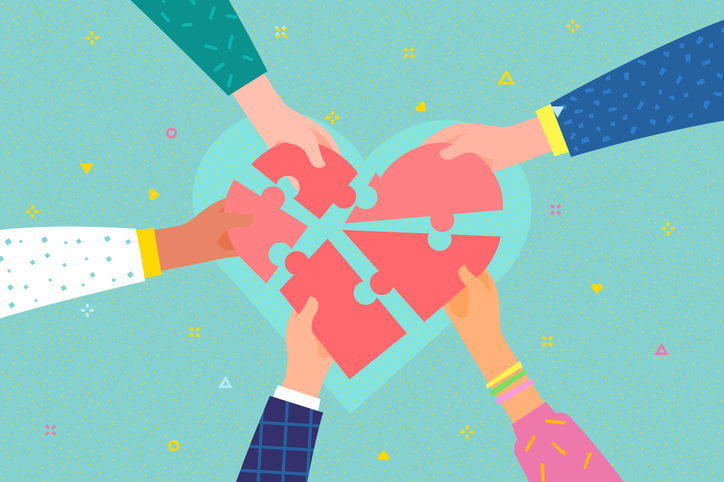 Community/Fun Events are widely promoted events that encourage people to do something active or fun while supporting your cause.
A Community/Fun Event can help you build community relationships. Participants usually pay upfront to take part, in one way or another. So you're not asking them for a straight-up donation, even though you should educate them about your organization in some way and hopefully add them to your list of supporters.
People leave Community/Fun Events feeling good. And that's good for you because they'll likely talk about their experience for several days afterward, telling friends and co-workers what a blast they had!
Community/Fun Events are great for corporate sponsors, too. A sponsor who provides monetary donations or in-kind donations like services or a venue can be listed on all the marketing materials…banners…bookmarks…t-shirts and so on.  Because these events often attract the community at large, the right sponsors are usually happy to participate.
The downside of Community/Fun Events is that they may attract lots of people who are there for the experience and don't necessarily care about your cause. But if the event meets your goals for revenue and awareness, it might be ok.
Examples of Community/Fun fundraising events include:
Fun runs/walks. A fun run/walk can be a good fundraising option for small nonprofits due to the low upfront costs. A fun walk typically does not require road closures or special permits. These events do not require an expensive meal, elegant venue, or elaborate decorations. You can appeal to a wide range of people and, depending on your route and theme, your event can include kids and pets.

5K runs are similar but may require a little more planning and money upfront since you may need permits, road closures, and official certification of distances, but the principles are the same as a fun walk.

The cost for these types of events is low so you spend less money to bring in donations. You can maximize your donations by finding corporate sponsors. And these events can be really successful!

The Humane Society of Greater Dayton hosts their annual Furry Scurry that generates close to 6 figures for their animal shelter. I'd call that a successful fundraising event!

A-thon events. Walk-a-thons, bike-a-thons, golf-a-thons, dance-a-thons, etc., are another type of fundraising event that can be executed for a minimal cost. Participants become your fundraisers by asking for pledges and raising money from their friends and family to sponsor them in the event. This harnesses the power of friendly competition amongst the participants, which usually results in more donations. These events can be quite powerful if they are advertised on social media since connections from all over the world can donate.

To hold this type of fundraising event, you'll need a strong team of organized volunteers to register participants, track results, provide support and encouragement for the participants, and gathering sponsors. You'll also want to organize prizes (if any), trophies, or an after-event celebrations.

Competitions. Eating, singing, dancing, pet tricks, or other competitions can make good fundraising events. Members of the public pay to participate in voting and/or to participate in the competition. These competitions can be a lot of fun for both the audience and the competitors and can bring lots of new people into your sphere.

I volunteered with a horse rescue that did a "Dancing for the Horses" event (think Dancing With the Stars) that was extremely successful, raising over $100,000 for horse care. It took several months to plan but was a fun event that raised a lot of awareness for the mission. You can read the whole story here.

Keynote speaker events. While famous celebrities may be reserved for large nonprofits, there are plenty of speakers, authors, and local celebrities (think politicians, athletes, newcasters) who are within reach for small nonprofits. Some of them may even volunteer their time to speak at your dinner. Local celebrities can be a big draw to encourage attendance. A good speaker with an emotionally powerful story can engage donors and sway them to help fund your mission.

Auctions. Silent, live, and online auctions can be very successful fundraisers and can be incorporated into any other event or held as a stand-alone event. The labor and time investment vary dramatically, but one universal truth applies to auctions: you need someone with a GREAT mind for organization behind the scenes.

For online-only auctions, there are lots of websites out there that can host your auction and automatically update bids, notify bidders if they've been outbid, and even notifying the winners for you. Most of these sites charge a percentage of gross bids. Shop around and look for the best value.

Other fun ideas. Photo shoots, concerts, markets, performances, street fairs, and movie viewings can all be great fundraising events. Be creative and think outside the box! Make sure your ideas are relevant to the community and the people you want to attract. The main point is that they're fun for attendees.
Heartstrings Events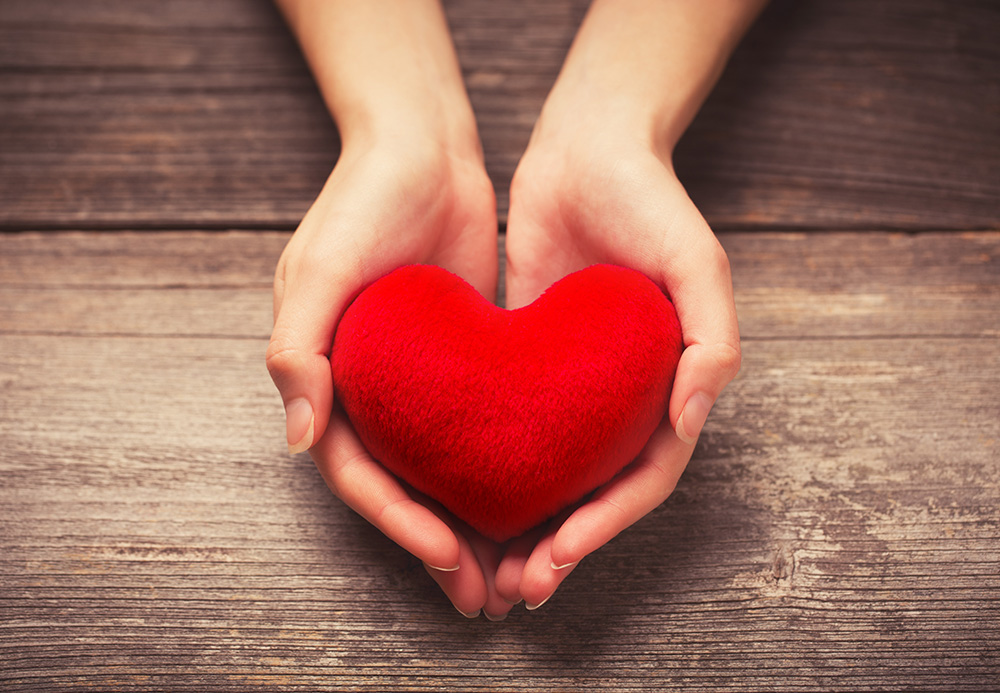 Heartstrings Events are more specific to your cause and are designed to attract those people who already care about your cause and your mission.
Typically, a Heartstrings Event has one main goal – to ask people for support. Point blank.
Attendees have either been invited by you or someone else representing your organization, or they have purchased tickets – which means they already care.
These attendees know they will be asked to donate, as it's very clear that fundraising is the sole purpose for the event.
Heartstrings Events can range from small gatherings of potential donors to large gatherings in ballrooms, restaurants, or other venues.
A well run and enjoyable Heartstrings Event can pave the way for faithful donors who will support your vision long term.
A few events that fall into this category, listed in order of ease of planning and preparation:
Open house. Host an open house at your facility or offices to give people a personal experience with your nonprofit's mission. Provide tours either one-on-one or in small groups, or show a video on a big screen that explains what your nonprofit does. Be sure to include basic information about who your nonprofit serves and how lives are being changed.

And make sure there's a way for people to give, whether that's Gift/Pledge cards on the table by the door as they leave or their tour guide asks for their support at the end of the tour.

This type of event is a good way to keep current donors updated and meet and educate potential donors.

Cocktail party. A small gathering for drinks is a great way to host current and potential donors, especially major donors, to give them an update and ask for their support for a particular project or program. If you host these in a desirable location (exclusive club or the home of a prestigious community member), you won't have any trouble with attendance. This type of event will not be expensive if you're careful about keeping the guest list limited.

Keep the program short and moving, inserting messages of your impact every chance you get. Allow time either before or after the program for your team (you, key staff/volunteers, and Board members) to connect with potential donors in an informal, approachable atmosphere. These events should include a brief and powerful presentation (less than 5 minutes) to lay your message out there.

NOTE: PLEASE check into the legalities of offering alcohol. You may want to host an event like this at a local restaurant that has a liquor license and general liability insurance.

Galas. A well-done gala will take some time, money, and manpower to produce, and can boost your budget dramatically. A gala requires renting a venue, planning a menu, preparing presentations, and maybe even providing entertainment. In almost every case, a gala will require SPENDING money up front to make money, so crafting a budget for this event is a good idea so you know what expenses to expect and when.

Galas are typically marketed and presented as an upscale evening that includes a nice meal, short program, and entertainment. Because you will be hosting a larger number of people and you will need to fill the seats to cover costs, you should not count on word of mouth for advertising. Create a marketing plan that includes social media, press releases, and other advertising, like your local public radio station or other local press.

One of our clients does their version of a gala as a luncheon, inviting loyal supporters and their friends to hear about the work the organization does. After a brief presentation from the Executive Director, the audience gets to hear from a few program participants then is asked to donate to support the work. This year they raised over $250,000 in just over an hour! Clearly, this approach works!
Signature Event
Whichever event you choose, work to make it a Signature Event.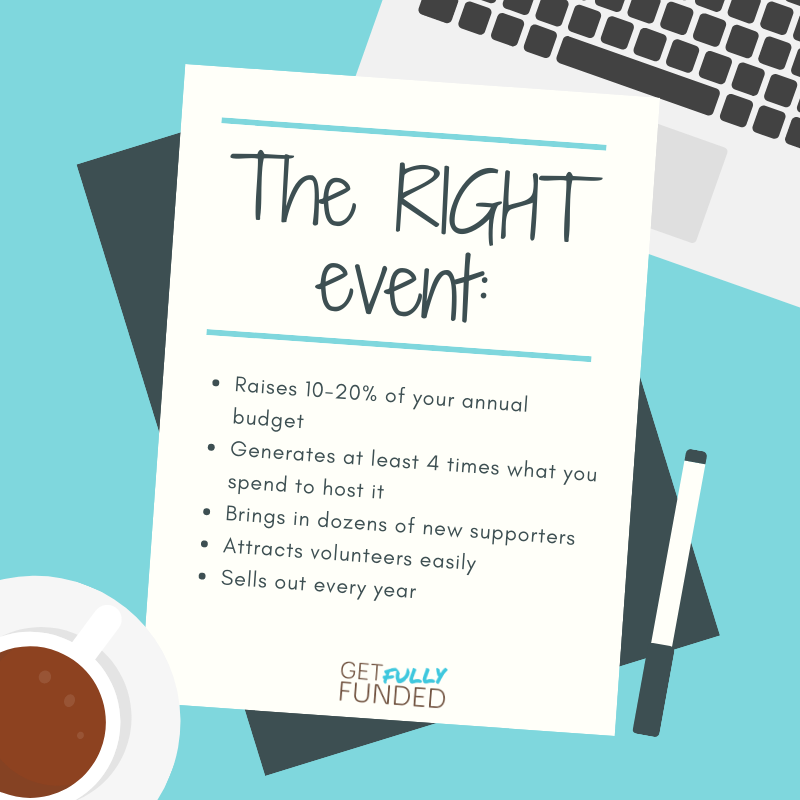 A Signature Event is a fundraising event that everyone in your community automatically associates with your organization.
This can be any type of event (golf tournament, gala, walk, etc.). As long as it generates lots of buzz in the community both before and afterward, and brings in the results you want, it's a Signature Event.
Over time, it should become something that donors, volunteers, and community look forward to. This is the fundraising event that people anticipate! It's easy to promote and easy to sell out.
So, once you decide on the right event for your nonprofit, start working to make it a Signature Event. Create a committee of movers and shakers from the community to work on the event. Cast a vision for the event. Set goals. Go after sponsors.
The more clear you are about the event and the more planning you do, the more likely you'll be to hit your revenue goals with your Signature Event.
And when you focus on ONE Signature Event, you can stop doing all those other little fundraising events, freeing up time and energy to focus on other areas of fundraising.
The Bottom Line
There are LOTS of ways to raise money, including fundraising events. Choose an event that maximizes the skills and talents of your volunteers. Pick one that sounds like fun to you, because the planning and execution will be easier if you're enjoying the work.
Don't fall into the trap of quick-fixes – you can hold online fundraisers periodically to fund urgent needs, but don't rely on them for a long-term solution.
Choose the right fundraising events for your small nonprofit and get ready to put your organization's face out there in the community, attract new donors, and raise lots of money!
Other resources