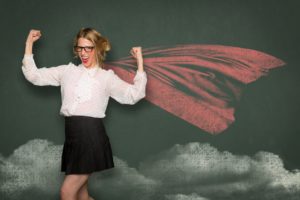 Your fundraising plan should play to your fundraising strengths.
In a lot of ways, it's like cooking.
Unless you're an experienced cook, you wouldn't wander into the kitchen and start haphazardly throwing food into a pot.
You'd start by choosing the dish you want to eat. The one that makes your mouth water just thinking about it.
Then you'd organize your ingredients and work through the process of chopping, mixing, and heating.
Oooookay, I'm hungry now.
My Mom likes to improvise in the kitchen. If she's out of an ingredient, she finds something to substitute. It always seems to work out okay, but when I try that, it's disaster.
You know why? It's because cooking is a strength for her. It's not one for me.
It's important to play to your strengths. In fundraising, it'll make your plan stronger and your results bigger.
I see lots of people trying the "latest thing" looking for a quick win. And it doesn't work.
The nonprofits I see that are successful, raising all the money they need to fully fund their budget, are the ones that put some thought into what they're going to do. In a nutshell, they plan.
They don't just throw something on a piece of paper and call it a plan. They choose fundraising strategies because they know they'll work. They choose strategies that play to their strengths. Then they execute those strategies well and watch the money roll in.


Play to your personal fundraising strengths
So, what are YOU good at? Are you a great writer? Excellent communicator? Something else?
You may want to sit down and list out the things you personally are great at.
Why?
Because you need to be leveraging them in your plan. If you don't, you'll spend a lot of time doing things you don't like doing, which will suck your energy and leave you frustrated (I bet you know what I'm talking about!).
Here's a quick exercise that can help you identify your strengths:
It's all about working ABOVE the line. Many of my clients now use this language internally with other staff to make sure everyone is working in the areas they are best at. When that happens, productivity goes up and frustration goes down. Doesn't THAT sound good!
Once you know your personal fundraising strengths, it's time to look at what your nonprofit has going for it.
Play to your organizational fundraising strengths
Organizational strengths or assets are things that make your organization stand out from the crowd and make fundraising easier.
Here are some examples of nonprofit organizational assets:
Compelling mission (like feeding the hungry or housing the homeless)
Large public base of support
Incredible organization name recognition (like Habitat for Humanity or YMCA)
Well-known staff or Board members
Facility that lends itself well to a tour (like a shelter or food pantry)
Organizational vehicles that are driven around town regularly
Website with LOTS of daily visitors
Opportunity for earned income (like a thrift store or gift shop)
Well-known local, regional, or national celebrity who supports your organization
I had a client a few years ago that was struggling to raise money. One of the first things I did was to assess their organizational assets. After asking a few questions, I learned that they had an email list of over 10,000 people. That's definitely an asset!
They had been sending a monthly email newsletter for over a year just to keep these people up-to-date on their activities. Somehow, it had never occurred to them to ask these folks for a donation. So, we crafted a warm, heart-tugging appeal and sent it out. They raised over $10,000 in about a week. Yay, right? We created a plan to continue nurturing those folks and ask a couple more times throughout the year. Problem solved.


Personal strengths + organizational assets = basis for fundraising planning
When you create your fundraising plan based on your personal fundraising strengths and your organization's fundraising assets, you'll have a good combination to create a successful fundraising plan.
You'll be working in areas that feel comfortable and that you're good at, which will move you faster toward your goal.
For example, if you're an introvert and you're good at writing, these should be in your plan:
Grant writing
Donor-focused newsletters
Blogging
If you're more of an extrovert and love talking with and being with people, these should be in your plan:
Friendraising events
Update and thank-you calls
Personal asks
That doesn't mean you get to exclude the things you aren't good at. You might need to develop a skill or stretch just a little to cover a much-needed strategy. Or maybe you should hire someone who has the skills you don't have. It's a decision you'll need to make based on your individual situation.
The real trick is to carve out the time to figure out what you have to work with and create your fundraising plan based on that. Once you do that, you'll know exactly what you should be doing to raise money and you can let go of the pressure of trying to do everything.