These days, crowdfunding is one of the most popular methods that individuals, nonprofits, universities, and other organizations use to quickly meet their fundraising goals.

With crowdfunding, a person or organization can set up a donation page that anyone with an internet connection may give to. These pages are usually dedicated to a short-term fundraising goal and are designed with social sharing in mind.
Is your team considering launching a crowdfunding page to jump start your online fundraising efforts? Before you begin, let's go over some of the essential crowdfunding concepts that your nonprofit should be familiar with:
Steps of a crowdfunding campaign.
Why your nonprofit should love crowdfunding.
Tips to make your crowdfunding campaign stand out.
Crowdfunding best practices.
What to look for in crowdfunding software.
Ready to become a crowdfunding expert? Let's dive into these concepts in some more detail!
1. Steps of a crowdfunding campaign.
While it's true that crowdfunding is one of the most direct fundraising strategies you can choose from, that doesn't mean that crowdfunding is as simple as creating a page and waiting for the donations to come pouring in.
In fact, to make your crowdfunding campaign a success, you need to take the time to carefully execute your fundraiser. Be sure to follow these important steps over the course of your campaign:
Pick a goal. When crowdfunding, you shouldn't just tell the public you're "raising money." Identify a specific project or cause you'd like to fund, settle on a particular dollar amount, and be sure to clearly define for donors why your campaign deserves their support. Picking a goal should be the first thing you do before your campaign launches!
Start your quiet phase. A quiet phase refers to the time before a fundraiser officially begins when your team accepts donations from core supporters, board members, corporate partners, and other important donors. Aim to raise at least 30% of your overall fundraising goal during this period.
Launch your crowdfunding page. After the quiet phase, open up your crowdfunding campaign to the public by launching your page. If you want to learn more about making your page stand out and how to use your platform optimally, check out the following sections!
Promote your campaign. While your campaign is going on, be sure you have a strong promotion strategy in place. Direct supporters to your campaign across your social media pages, your website, any direct mail communications, and in person at fundraising events. Crowdfunding campaigns don't go viral on their own!
Acknowledge your donors. As the campaign continues and comes to a close, thank your supporters frequently. Send them follow-up thank-you emails after they give and consider sharing public messages of thanks on your crowdfunding page and social media profiles. When the campaign ends, send additional thank-you messages or letters to your donors for a job well done.
Crowdfunding takes a lot of work, and to make sure this powerful fundraising strategy works well for your nonprofit, your team should be sure to implement these steps as your campaign progresses.
2. Why your nonprofit should love crowdfunding.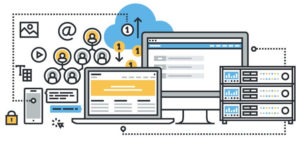 If your nonprofit hasn't decided yet whether or not crowdfunding is right for your next fundraiser, you're likely already aware that this fundraising style is one of the most popular among individuals and organizations to efficiently meet fundraising goals online and retain new donors in the process.
So what makes crowdfunding so sought after? For one thing, crowdfunding is an incredibly flexible and convenient fundraising method. Among its many attributes, you can expect your crowdfunding campaign to:
Require minimal investment. With crowdfunding, your team can expect much lower overhead than with traditional fundraising methods. While you'll need to account for a platform fee from your crowdfunding page's host and a payment processing fee for your donations, because crowdfunding occurs online the cost of fundraising is significantly lowered.
Have quick fundraising turnaround. Since all donations are virtual, your nonprofit will likely see a much quicker turnaround from the launch of your campaign to when donations are ready to be used to further your cause. Additionally, if your campaign goes viral, you may see your earnings multiply exponentially!
Boost awareness of your cause. Your crowdfunding page itself can act as a gateway for new supporters to connect with your organization. Because crowdfunding pages are shared across social networks, your nonprofit will likely reach individuals over the internet who you've never had the chance to interact with before.
Bonus tip! Crowdfunding is especially effective for reaching specific, one-time fundraising goals. For this reason, consider using crowdfunding as part of your next capital campaign to help your team build up public support for your goal.
3. Tips to make your crowdfunding campaign stand out.
Because crowdfunding is such a popular fundraising style, one of its major drawbacks is that it can sometimes be difficult to make your campaign stand out from the crowd. As your team plans ahead for your crowdfunding campaign, be sure to implement a thoughtful marketing strategy to show supporters why your campaign is worthy of their support.
Consider these strategies as you market your campaign to distinguish your nonprofit's fundraiser among your nonprofit peers:
Tell a compelling story. Supporters respond well to narratives that pull at their heartstrings. Your donation page should feature testimonials of supporters and the community your organization serves, as well as impactful videos and high quality photography to build empathy between visitors and your cause.
Incentivize donors. When possible, consider offering prizes to donors as your campaign progresses. These can be donated by corporate sponsors as a way to strengthen your partnership, or they might be simple, low or no-cost incentives like a shoutout on social media.
Update your page regularly. Crowdfunding campaigns really take off when supporters feel connected to your cause on a regular basis. The more they see your campaign in their social media feeds or in their inbox, the more likely they are to share your posts. Set a regular posting schedule for your social media pages to maintain online engagement.
The bottom line? When crowdfunding, it isn't enough to just set a page up with a worthy goal. Your supporters are more likely to give (and more likely to call on their friends to give) when your crowdfunding page is used as a platform to actively engage with visitors.
4. Crowdfunding best practices.
Making your crowdfunding campaign a success isn't just limited to your online marketing strategies. The best way to ensure your campaign helps your nonprofit reach its fundraising goals quickly? Your team should implement a diverse range of strategies to strengthen your crowdfunding approach.
Your team should start bolstering your fundraising strategy by engaging in some of these crowdfunding best practices:
Be mindful of the fundraising season. Unfortunately, there are many times during the year that fundraising campaigns of all styles see slower growth and less success at reaching their goals. Pay attention to fundraising trends among other nonprofits and in your organization's personal experience, and try to hold your crowdfunding campaign during a favorable time of the year.
Bookend your campaign with a fundraising event. Although crowdfunding takes place online, one way to galvanize your supporters is to tie-in your crowdfunding campaign with a fundraising event like a walkathon or charity auction. This way, you get the best of both worlds by engaging with supporters online and in person.
Enlist a corporate sponsor. Corporate partners are an excellent resource for nonprofits during any fundraiser, but especially during crowdfunding campaigns. Since crowdfunding leverages social networks to help you reach your goals, you can lean on the existing web presence of your partner to help boost your fundraising efforts.
5. What to look for in crowdfunding software.
Choosing the right crowdfunding software is one of the most integral parts of ensuring your campaign's success. If your organization invests in software that can't keep up with the scope of your nonprofit's needs, then your team won't be able to reach your crowdfunding potential.
When investing in crowdfunding software, your nonprofit should look for a solution that can handle the following tasks:
Enable mobile giving. Mobile giving tools such as text donation and mobile-optimized donation forms are key to making your crowdfunding campaign convenient to give to for a wide range of supporters. Most supporters will access your campaign on a mobile device, so you want to make giving as seamless as possible for these donors.
Team crowdfunding. With team crowdfunding, your supporters can work together toward a common crowdfunding goal and watch their progress on a shared campaign page. As part of a team, supporters will feel more accountable to your campaign, and team crowdfunders are more successful on average than individual fundraisers.
Social media integration. Your crowdfunding platform should easily merge with your social media presence. Choose a platform that allows you to embed your donation pages in social media profiles, share campaigns easily across platforms, and allow donors to quickly share with friends that they've donated once they send their gift.
Looking for more information on all the fundraising software solutions out there? MobileCause's fundraising software buyer's guide has all the information you need to determine the type of software your team should invest in.
Crowdfunding can be a tricky subject. Now that you've brushed up on this impactful fundraising strategy, your team is ready to use this strategy to take your fundraising efforts to the next level!
Want to learn more about another powerful social fundraising method, peer-to-peer fundraising? Visit Double the Donation's guide to peer-to-peer fundraising to get a better grasp over this related strategy.
Bonus tip! Enacting a matching gift strategy should be part of any fundraising campaign. However, you can boost crowdfunding participation by showing donors how to see if their employer matches donations using a matching gift tool on your donation pages and website.
About the author:
Steve Page is a blogger, marketer, and webmaster for MobileCause, the world's leading mobile and online fundraising platform. MobileCause helps organizations reach their goals with a full suite of mobile-friendly solutions that allow donors to connect and give to your cause from any device. When he's not working at MobileCause, Steve can usually be found helping organizations with their websites, learning the latest marketing trends or working on his golf game.