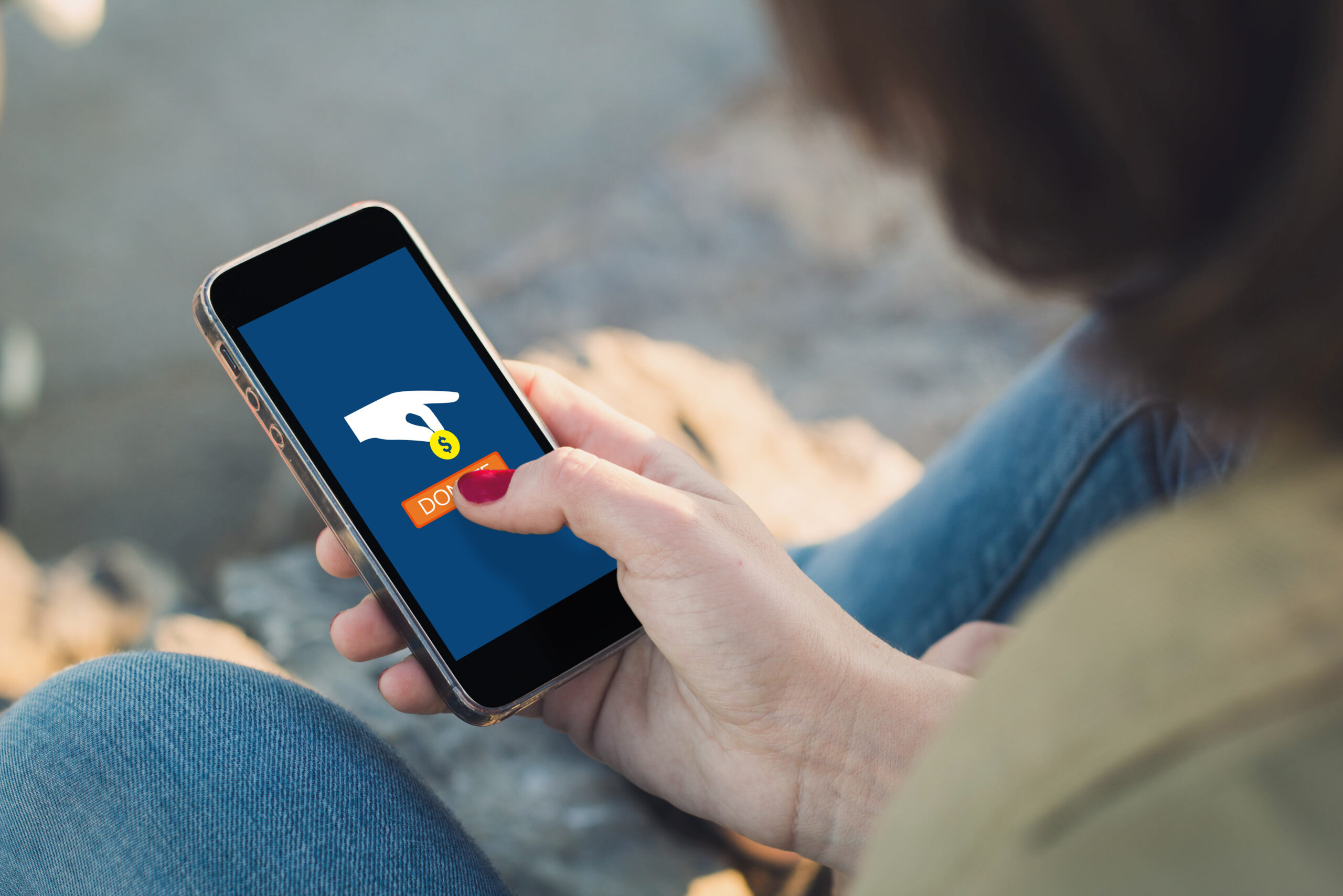 Facebook fundraising makes it easy for supporters to show their support of your mission with a quick donation.
It is easy to post a link to a crowdfunding platform or to your website's donation page, but letting supporters give directly through Facebook makes it even easier to capture impulse donors.
And they're scrolling through Facebook every day anyway.
Facebook fundraising tools are designed to keep people on the site rather than send them to a crowdfunding platform or other website.
To sweeten the incentive, Facebook charges no fees. Your organization gets the full donation.
So what's the catch?
For starters, you don't get contact information for all your donors, only those who choose to share. This means you can't thank the donor properly, you can't follow up with them to share updates, and you can't build the all-important donor relationship.
For longterm fundraising success, you need to capture donors' contact information so you can nurture them into becoming loyal, repeat donors.
Also, with Facebook fundraising you give up the opportunity to bring donors to your website, where they will have other ways to engage with your work, such as signing up for your newsletter, reading a compelling story, and browsing through volunteer opportunities.
Again, not ideal.
And then there is the nature of Facebook. It's always changing, and it's not like anyone is asking you for your feedback before making changes. You have zero control over Facebook and its ever-changing policies. Also frustrating.
Despite the downsides, Facebook can be a powerful fundraising tool. If you choose not to pursue fundraising on Facebook, you are probably leaving money on the table.
So, if Facebook fundraising is a big game, how do you win?
Leveraging Facebook Fundraising
There are several ways to leverage Facebook that we've used and I want to be sure you're using them, too.
Set up a Facebook fundraiser yourself, either a full-on campaign or a mini-fundraiser like a $5 Friday.
Encourage supporters to set up "birthday" fundraisers on their pages, with your organization receiving the proceeds.
Put a donate button on your organization's Facebook page as a permanent feature.

Facebook fundraising tools provide opportunities for bringing in donations from people who are interested enough in your work to follow you on Facebook, but not yet donating through your website.
For most organizations, this represents a significant number of prospects, especially organizations that invest time creating and sharing compelling Facebook content, building a large following.
Facebook fundraising isn't a replacement strategy – it's simply another piece of your fundraising pie.
However, if you do it right, it can turn into a significant slice of pie for your organization!
Setting Up a Facebook Fundraiser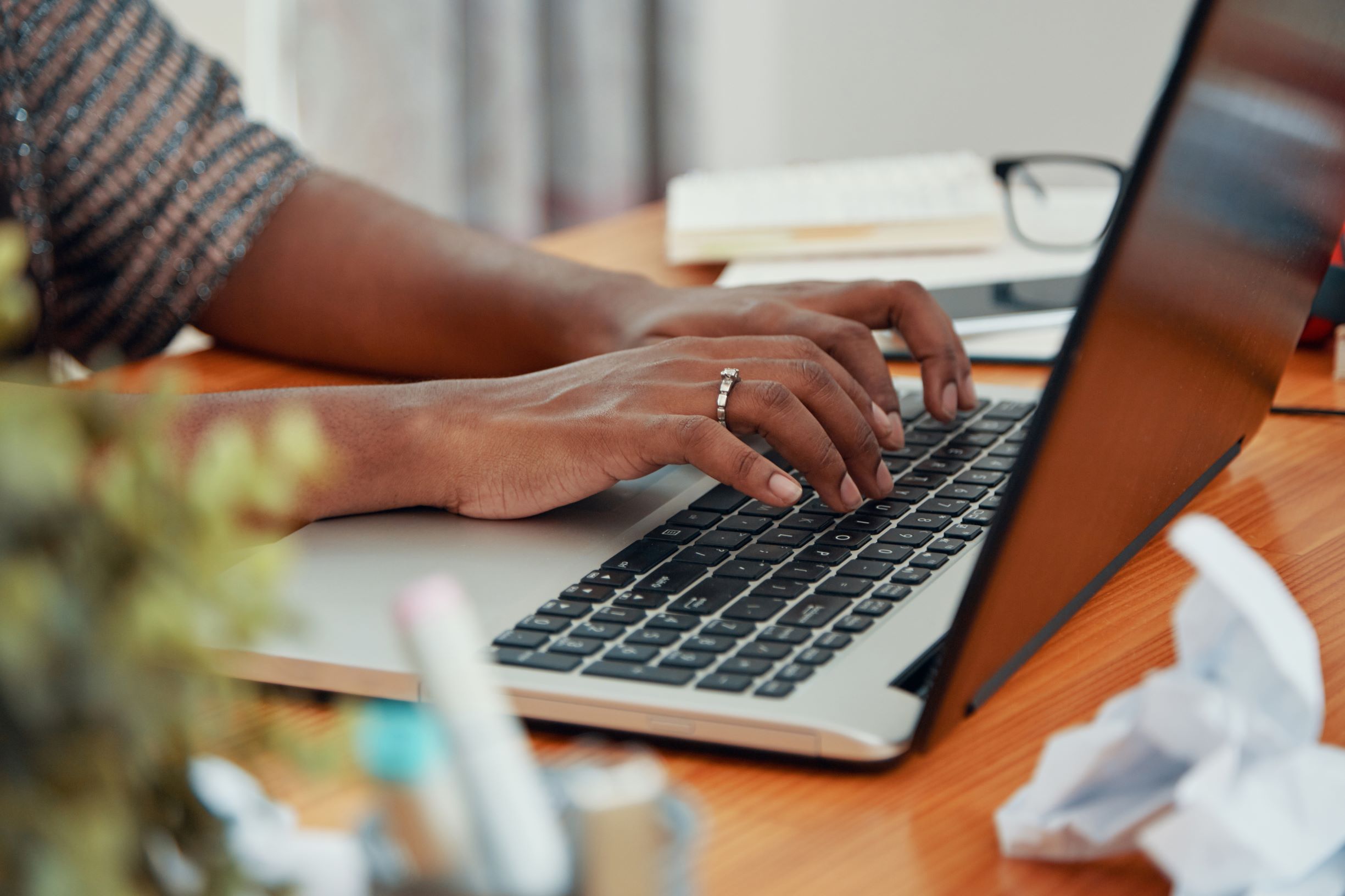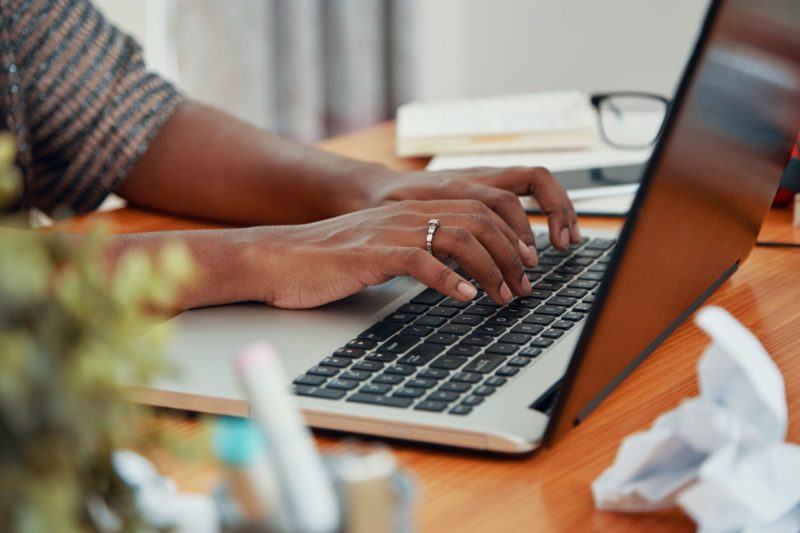 First, let's look at the Facebook fundraiser, one where you set up the campaign yourself.
This strategy is similar to any crowdfunding strategy, but instead of using a separate platform like GoFundMe, you use Facebook.
As a first step, you need to sign your organization up for Facebook fundraising tools. For an organization based in the United States to qualify for Facebook's fundraising tools, you must be a 501(c)3.
If your organization has a fiscal sponsor, you are not eligible for Facebook Payments, which is necessary to receive your donations as a direct deposit.
You must provide a copy of your 501c3 letter, a letter from your organization's bank along with account information, and you must provide your Executive Director's full name, address, and date of birth.
Some organizations are not comfortable providing such detailed information to a company that has come under fire for privacy concerns. I get that.
If your board does not want to provide this information to Facebook, this fundraising strategy is not right for your organization. But you can still ask your supporters to set up fundraisers on their pages. Those donations will come via a third party, most likely Network for Good. More about this strategy later.
If your organization is based outside the United States, check to see if you are eligible for Facebook's fundraising tools.
If you are eligible and willing to provide the required information, start your application here. It can take a few weeks to get approved and heads up – the name of your nonprofit on all documents you submit must match. If you use a slightly different name on your bank account, Facebook will kick your application out. (Ask me how I know!)
While waiting for approval, go ahead and work on building up your Facebook audience. Post engaging content every day. Encourage sharing. Ask your Board members and loyal supporters to make a special effort to like and share your content and to encourage their Facebook friends to like your page.
Once you are approved, you'll be ready to launch your campaign.
Planning Your Facebook Fundraiser 
Only a page administrator can set up a Facebook fundraiser, and you must do so through your desktop. Go here to set up your campaign.
A Facebook campaign isn't all that different from any other campaign. There are definitely things that will make it more successful, like:
Consider a matching gift. If you have a donor willing to match every gift dollar-for-dollar up to $1,000, $5,000, or some other amount, you will get more donations. Fact.

State the need. Be clear about the reason for the campaign and tell prospective donors where their money will go.

Provide inspiration. Put yourself in the shoes of a prospective donor, someone who likes your Facebook page and sometimes likes and shares your content, but has not yet donated. What type of giving opportunity can you offer this donor? What will motivate them to give? The more personal, the better.

Think about a specific need you can invite donors to fund, something that can be funded with a modest goal of, say, $2,000. Would this cover a month's worth of cat spay surgeries? Tuition for ten students in an after-school program? College preparation for five high school seniors with big dreams? Tuition for three tweens with a chronic illness to attend a camp tailored to their needs? Rent money for three families at risk of being evicted?

Right-size your campaign. Choose the amount for your fundraiser that makes sense given the size of your Facebook audience, and then choose a compelling need that fits that amount. In other words, if this is your first campaign and you have less than 1,000 followers, don't start with a goal of $10,000. It's too big. Start small – we recommend $500 or less for your first campaign. It's better to get the win so that everyone feels good about reaching the goal. Successful campaigns make your followers feel good and trust you, even if they don't give. Small, solvable problems make excellent campaigns for Facebook fundraising!

Choose the right message. When choosing the words to tell the story and make the Ask, give your donor the opportunity to be a hero. Your gift will give a child the opportunity to enroll in school for the first time. With your support, a child will get the call they have been waiting for, the call that they can come off the waiting list and finally be part of our program.

Keep your words brief and to the point. You don't need to over-explain the project you are looking to fund. Be direct and specific, and focus on how the donor's gift will impact a life.

Tell the story with photos or a video. Facebook is a visual platform, so take advantage of that. Photos do not need to be professionally shot and the video does not need to be professionally filmed and edited. You just need to tug at the heartstrings of your Facebook followers so they will want to give.

Shorter is better. A week-long campaign works well for Facebook. It gives your audience time to see the content, but it doesn't go on for so long that they grow weary of the Ask. Long campaigns can start to feel like a drag to your audience and may make them question why you aren't being successful. Do what works best for your audience, but shorter is better.

Pick the right launch day. Tuesday is a good day to launch a campaign. They don't call it Giving Tuesday for nothing! Other days can work well, too, depending on your audience. Check your insights to see which days you have the most people on Facebook.

Market your campaign like you would any crowdfunding campaign. Enlist your Board and core supporters to post a link to the campaign on their Facebook pages with a personal note about why they support your organization.

Seed the campaign. Ask Board members to make a donation before your campaign launches to create momentum and show others that it's already underway.

To make a bigger splash, send an email to your list letting them know about the Facebook fundraiser and encouraging them to not just give but post the link on their Facebook page and Instagram bio. Include an Instagram graphic if a lot of your donors are on Instagram.

Post often about your campaign on your nonprofit's Facebook page, thanking everyone who gave and encouraging everyone to share the fundraiser with their network.

When the campaign ends, post a celebratory message on Facebook, thanking everyone and reminding everyone how the money will be spent.

Send thank-you emails to donors who provide their email address.

Import Facebook donations to your donor database, noting that they gave to your Facebook fundraiser campaign. Even if you only have the donor's name and not their email address, you should track them in your database in case they make another donation through another channel.
The success of Facebook fundraising, like any crowdfunding campaign, depends on the strength of your network. If you already have a large number of Facebook followers, you can maximize this strategy to deliver big. If you are in the early stages of building your Facebook presence, incorporating the platform's fundraising tools will enable you to center your strategy on converting followers to donors.
$5 Friday Fundraiser
Anyone who knows me knows how much I love the $5 Friday fundraiser!
This strategy focuses on a small solvable problem that's well defined and invites people to make an impact by giving just five dollars. It's a great way to raise money, raise awareness, and gain new supporters. And it lends itself beautifully to Facebook fundraising.
Here's what you do:
Focus on a need that can be addressed with just $1,000 or less. Maybe your organization's vehicle needs new tires, or maybe your students need headphones for school. Maybe you need to replenish your food pantry's supply of toiletries, or maybe you need to buy subscriptions to an online math program for students in your after-school program. Maybe you need hay for the winter for rescued horses.
Set up the campaign describing the need with a heart-tugging paragraph and illustrating the need with a compelling photo or video. Post the campaign first thing on Friday on Facebook and any other social media channels you have, linking back to the fundraiser page.
Share the campaign to your personal Facebook profile and tag a few friends to make sure they see the posts.
Challenge your Board members and a few key donors to ask five or ten friends to chip in just $5.
Promote the campaign throughout the day until you reach the goal. If you don't make it, it's ok to extend the campaign through the weekend.
Celebrate the campaign's success, emphasizing that even small gifts can add up.
Send thank-you messages and emails to donors with the same enthusiasm as you would for major donors.  A gift of $5 today could lead to a gift of $100 or $1,000 next time.


Here's a first-time $5 Friday from Roanchar Ranch. Notice the low goal and the small, solvable problem: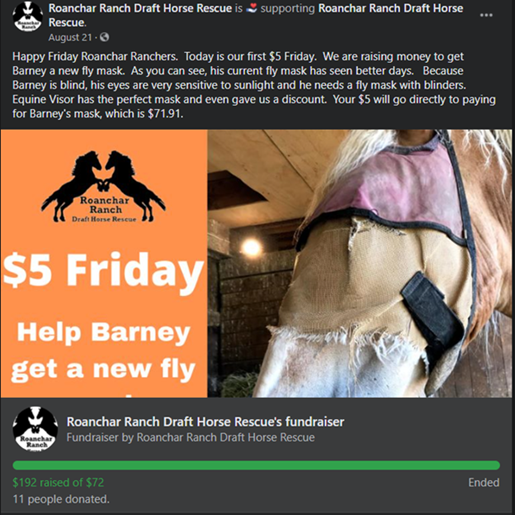 Here's another sample $5 Friday from Beautiful Feet Ministries of Tanzania. Notice the impact of the story and photo, and the much larger goal: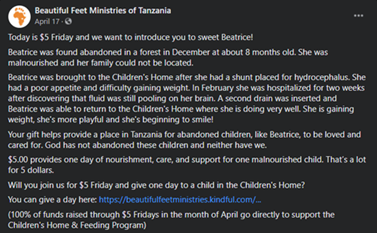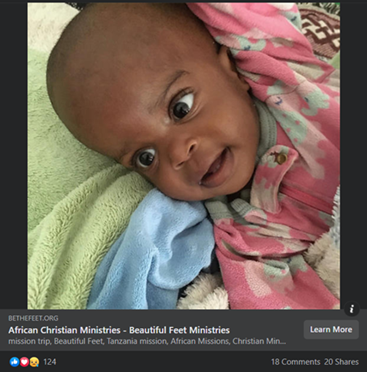 Another Type of Facebook Fundraiser: the Birthday Fundraiser 
Another popular way to raise money on Facebook is for supporters to raise money on their page on behalf of your organization. This is commonly known as a birthday fundraiser, but a supporter can set up a fundraiser anytime, not just on their birthday.
The beauty of a birthday fundraiser is that the audience is the friends and family members of the person hosting the Facebook fundraiser. This gives you a chance to get donations from beyond your usual network.
Most of the people who donate through a birthday fundraiser are doing so to support the person asking, not to support your organization. These donors are unlikely to become repeat donors.
Still, some birthday fundraisers bring in significant funds and that's worth the effort. If everyone on your Board commits to a birthday fundraiser over the course of a year, the combined gifts will add up to a lot!
Another positive with birthday fundraisers is you can benefit from them even if your organization chooses not to sign up for Facebook's fundraising tools and payment program. Your organization will get a check in the mail from Network for Good, a third-party that serves as Facebook's partner.
It could take a few months to receive the funds, and you won't get any donor information.
Another quirk with receiving funds through Network for Good is you will not know who hosted the fundraiser! If someone tells you they did a birthday fundraiser in your organization's honor, make note of the donor, the date, and the total amount, so when you get the check two months down the road, you will know where the funds came from.
Be sure to thank the donor profusely for hosting a Facebook fundraiser. Consider making a graphic for them to post on their Facebook page thanking everyone who contributed. Also mention the birthday fundraiser on your organization's page, and let supporters know how much your organization benefits from birthday fundraisers.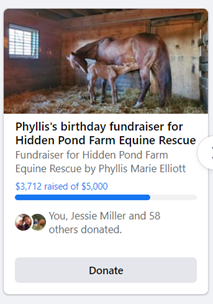 Add a Donate Button to Your Facebook Page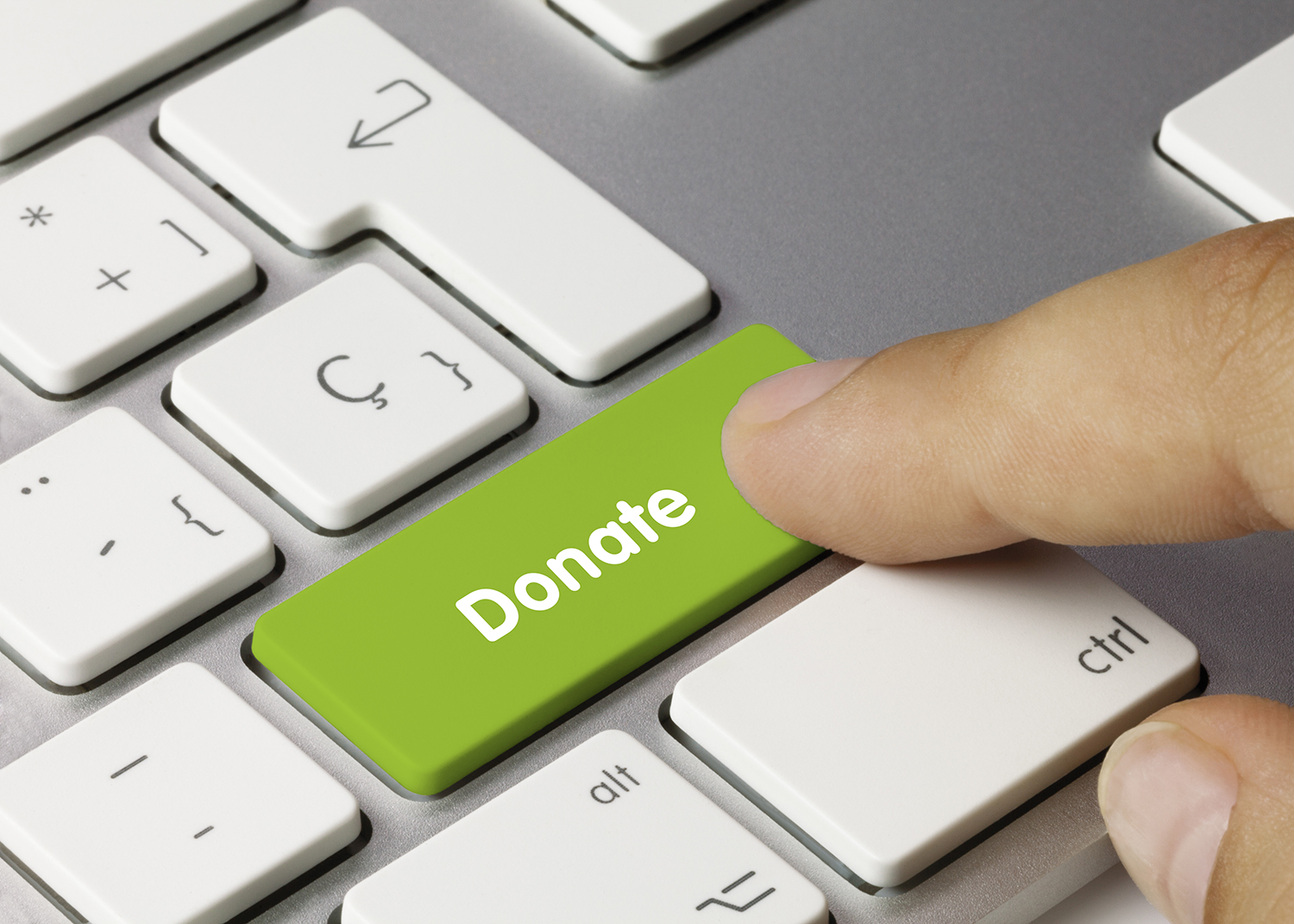 Finally, you can give your supporters the convenient option of donating right on your Facebook page every day by adding a donate button.
The best way for donors to give is through your organization's website, so you can collect their contact information, but a donate button on your Facebook page gives supporters a quick and convenient way to give. Some organizations with large Facebook followings report significant revenue boosts after setting up a Facebook donate button.
To make the most of your Facebook donate button, commit to posting quality content consistently on your Facebook page. Host polls and contests to engage your audience. Incorporate videos and Facebook Live events into your content. Consider Facebook Ads to expose your content to a wider audience.
Track your analytics so you can spot trends and see the types of posts that get the most engagement. The more people you attract to your page and engage with quality content, the more opportunities you will have for donations through your donate button.
Don't expect a donate button to work miracles on its own. But with a consistent, effective Facebook strategy, a donate button can become another good tool in your fundraising toolbox,  yielding donations from people who otherwise would not give.
The Bottom Line
Facebook is a terrific marketing platform, and Facebook fundraising can generate a nice revenue stream for your nonprofit, becoming an important part of your annual fundraising plan.
But you have to work for it. Like all fundraising strategies, a passive approach will not get results.
Daily tending of your Facebook garden and a consistent stream of quality content for your followers to enjoy will bring in donations from people who love the work your organization does.