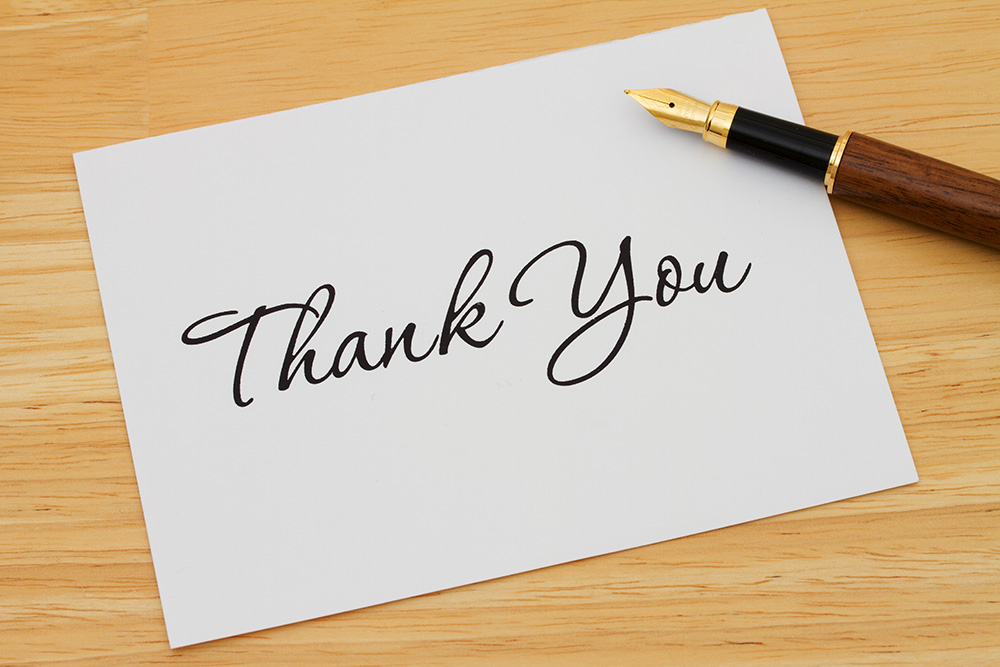 One of the most powerful ways you can boost your fundraising results is by thanking donors with a hand-written thank-you note.
Almost no one does this anymore and it will really set your organization apart.
Plus, it will make your donors feel really great!
A note written for thanking donors is a great part of a Donor Acknowledgement Plan  too, giving you a great way to show your appreciation to your best donors.
Jerry Panas wrote recently
"Think back to when you were a kid. Remember how excited you were to receive a handwritten note or a letter from relatives and friends. Most of us have saved special ones over the years.

There was something about the pen strokes, the crossed-out mistakes, smiley faces, and knowing that time was taken to write especially to you. It meant you were important to the writer.

Although many think we're too busy to read (and certainly write) hand-written notes, it's no different for us as adults. Everyone likes to feel special."
Just think of how much your thank-you notes will mean to your donors, especially for your best donors.
It's a great way to stand out from other nonprofits they support and to let them know you appreciate them.
So, what does a good handwritten note look like?
A meaningful note to a donor:
Personalized. It addresses the donor specifically and individually, not something generic that could have been written to anyone
Sincere. It expresses authentic appreciation.
Relevant. It mentions something specific the donor gave to or made possible.
A handwritten envelope and a first-class stamp makes the whole thing feel really special.
Remember to keep your handwriting as crisp as possible so it's easy to read. Your older donors studied penmanship in school and will value your carefully written note.
So, get in the habit of thanking donors well, including writing notes to those who need your gratitude.