If you're going to be successful in fundraising, you must learn to master donor cultivation, especially non-ask.
What's a non-ask?
It's an interaction with your donor that doesn't ask for anything.
In the language of Get Fully Funded, we call it a warm touch.
Its sole purpose is to make the donor feel good about supporting you.
Nothing else.
No ask to buy tickets to your event. No invitation for a volunteer orientation.
Nothing.
Just lots of love, stories, and sincere appreciation.
The warm, juicy non-asks balance your fundraising so your requests for money don't overwhelm donors, making them feel taken advantage of.
What's a good donor cultivation non-ask?
Typically, non-asks are communications that are meant to keep the donor in the loop about what's going on with your nonprofit. It's donor cultivation at its best.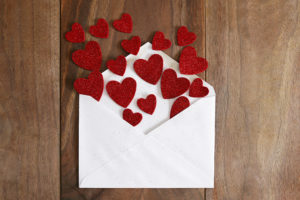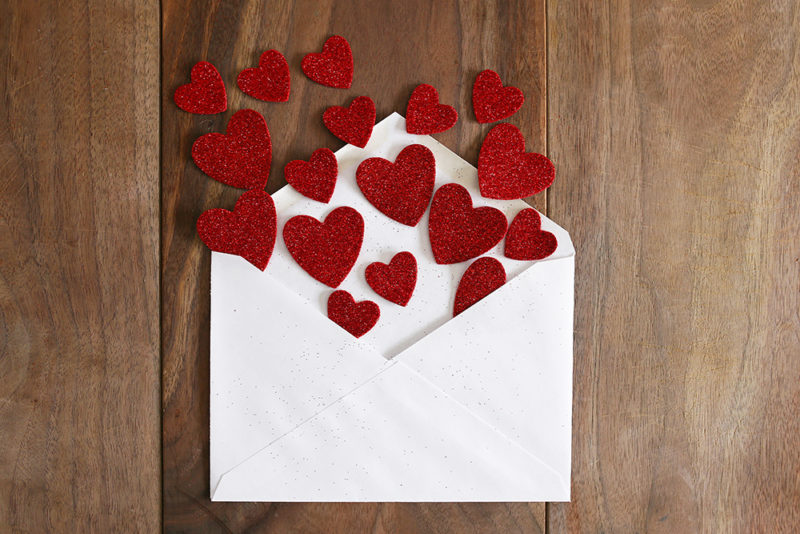 As already stated, there's NO request for anything in them.
Think of a non-ask as a love letter to your donor, to fill their heart with good feelings about the work your nonprofit does – to help them fall in love again with your mission.
Nailing the non-ask isn't easy but a critical piece of donor cultivtion.
For example, most nonprofits send out a monthly e-newsletter. And most of them are crap.
They're full of self-centered language and use a lot of fundraising French ("we, we, we…us, us, us"), none of it interesting to your donor. So she stops reading.
That's why open rates aren't any better than they are – it's because we've trained people to stop reading by boring them to tears. But I digress.
The important thing is that you use non-asks 3 times as often as asks.
And you send the absolute BEST non-ask you can possibly send (KEY to donor cultivation!).
Here are 9 ways to master donor cultivation, nailing the non-ask.
1. Thank-you calls
When was the last time you got a thank-you call?
Most of the time when my phone rings, it's a robot trying to sell me something (I really hate those automated calls!).  I rarely get a thank you call from a nonprofit, but when I do, I really appreciate it. It means a lot to me that they took the time to pick up the phone and give me a ring.
Thanking a donor is not the end of the process – it's the beginning. Get it right and they'll give again. And a call is a very personal way to express your appreciation.
Here's a way to structure your call:
 Identify yourself. "Mrs. Smith? This is Sandy from Save the Snails Foundation."
Thank them. "I just wanted to call and say thanks for your support. It means a lot to us that you care about the snails."
 Listen. The donor will probably tell you why they support you. Listen carefully and take notes for later reference.
 Ask for input. "Is there anything I can pass along to our Board for you?"
 Thank again. "Thanks again for your support."
That's it. Easy peasy and it will resonate with your donors.
2. Hand-written notes
It's rare to get anything in the mail these days that's personal and hand-written. So, you can easily knock a donor's socks off with a personal, warm, hand-written note on a card like this one from BESTWA: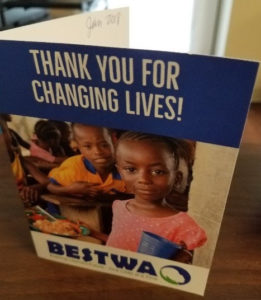 3. Donor-Focused Newsletters
Ok, let's be honest for a minute. Most nonprofit newsletters are crap.
They're boring, self-centered, and poorly written. Email newsletters come with snoozer subject lines, so no wonder open rates are so bad!
Turn that upside down with a newsletter focused on your donor and full of emotion so it becomes a donor cultivation tool.
Share an update on a story or a program, then include just a few other things – maybe a wish list, a 'Save the Date' section and a 'Get Involved' section. The trick to a good newsletter is to keep it short and interesting to the donor.
People love to know the rest of the story. When you tell a story to ask people to give, circle back later with an update so they know what happened. It completes the story in the donor's mind and helps her understand how her gift made a difference. It also closes the giving loop so the donor is complete with the donation and ready to give again.
Here's a great example of a donor-focused newsletter from the Humane Society of Southeast Missouri. Notice there are only a few sections and the longest part is the story about the puppies.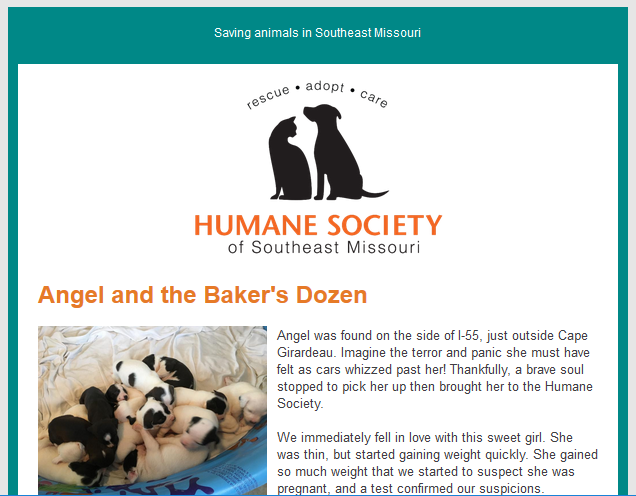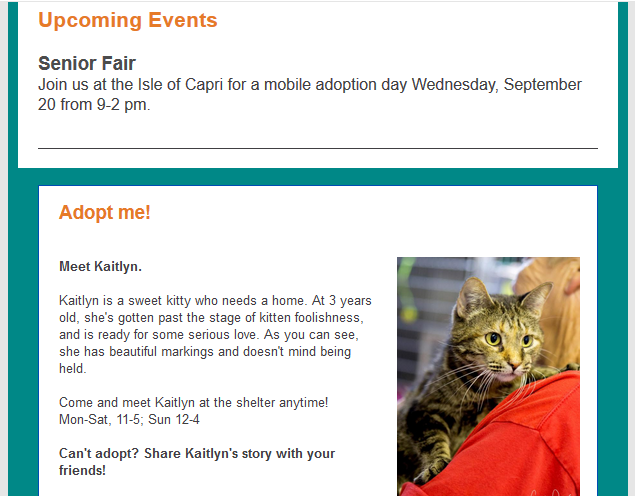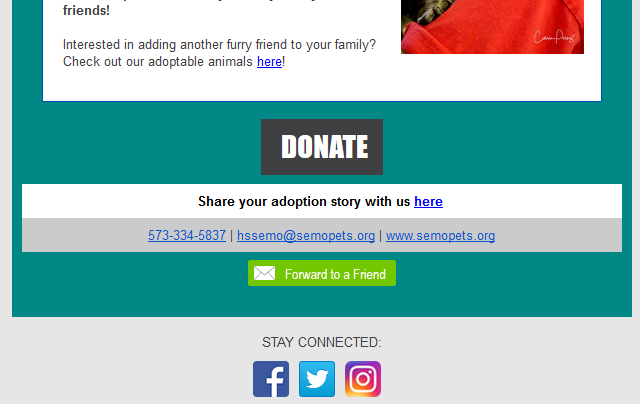 4. Update videos
Video is the next best thing to being there in person and one of the best warm touches you can give a donor. Many of my clients are shooting and sending thank-you videos especially during the holidays and seeing fantastic results (Can you say "stellar donor cultivation?").
One of the nice things about video is that it doesn't have to be professionally done. You can shoot video with your smart phone, upload it to YouTube and off you go. You probably have a video editing tool on your computer to let you add your logo or a link to your website if you want.
Here's a great video from Pet Community Center in Nashville, letting their donors know how their support made a difference.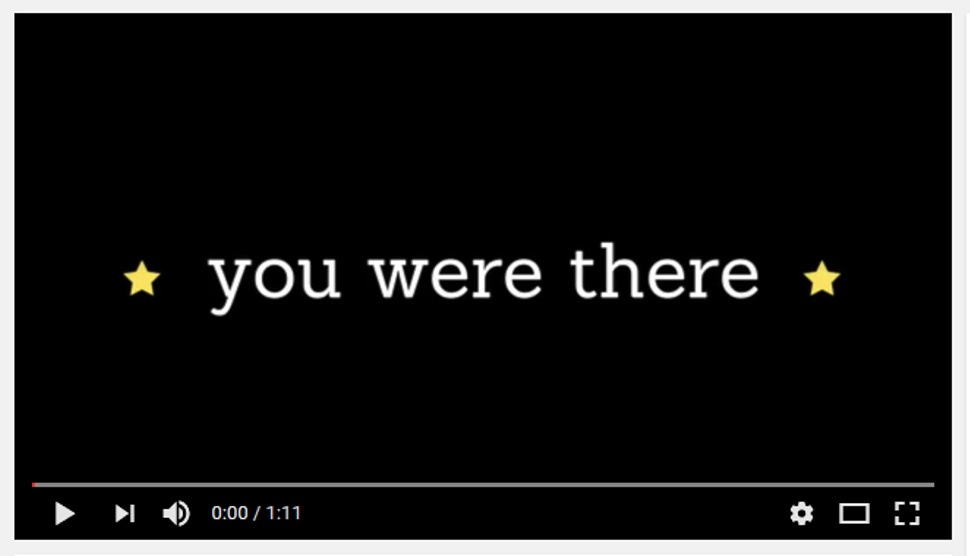 5. Annual reports
More and more, people are dropping their Annual Report in favor of something more interesting and donor focused, which is what ALL your donor cultivation activities should be.
They're calling it a Generosity Report and using it to share what the donor made possible. The old-style format of 12-16 pages of slick, glossy paper full of stiff letters from the Board and mind-numbing numbers just don't work anymore. What does work is a story of a life changed and infographic-style presentation of key numbers.
Here's a great example from Draft Gratitude. It's a 1-page report that quickly summarizes their activities and can easily be shared online or in print.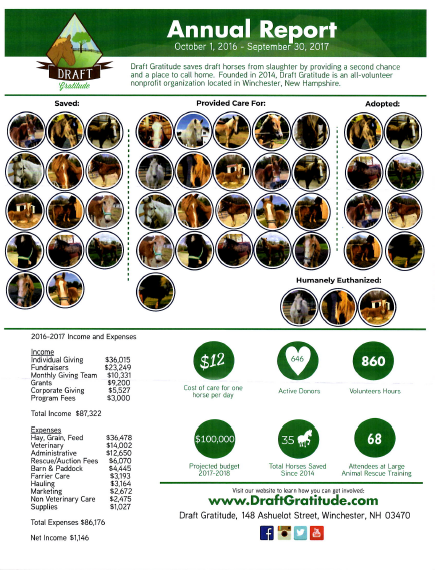 6. Birthdays
Most people like to have their special day recognized, and with Facebook, it's easy to find out when that day is. (Facebook is great for learning all kinds of things about donors!)
You can have a special birthday card printed or grab some at the dollar store. Hand-write the address and add a personal note – that's what makes this a warm touch.
Once you create a system for getting these cards done and in the mail, it's not a big deal on your end and creates goodwill for your donors, not to mention it's a great part of your donor cultivation plan.
7. Anniversaries
Depending on your organization, there may be other special days you can remember.
For our animal welfare clients, we encourage them to remember "Gotcha Day" (the day the donor adopted their pet). Since most people who adopt consider their pets family, a simple card honoring the occasion will score pretty high on the warm touch thermometer.
Get creative about the special days for your donors and celebrate with them.
8. Year-end giving letters
At tax time, you can make a donor's life much easier by providing them with a summary of their giving for the year. It's a great time to remind the donor of the good they helped you do. Note: Don't ask for anything in this letter – simply be helpful and provide information.
Here's a good example from Planned Pethood of Georgia. Not only did they send a good, short letter, but there was a postcard-size piece included with photos of some of the animals they saved (lots of feelz there!).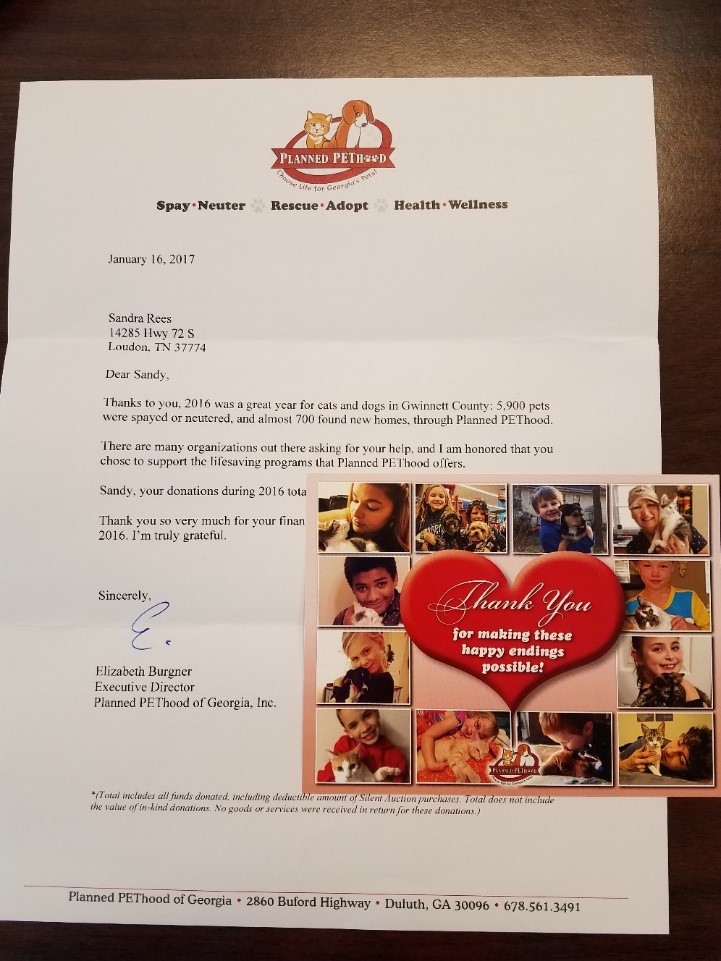 9. Valentine's Day Cards
Valentine's Day is not just for couples. The holiday reminds us that everyone deserves love and attention.
That includes donors, too.
It's one of my favorite holidays to spread a little love to my donors.
As a Development Director, I used to get kids' valentines and send them to my best donors. Many of them were widows and loved the fact that someone was thinking of them.
Showering your donors with love shows them you care and that you're thinking of them. It shows that you care about more than just their wallet.
One of our clients is making it happen for her best donors this year: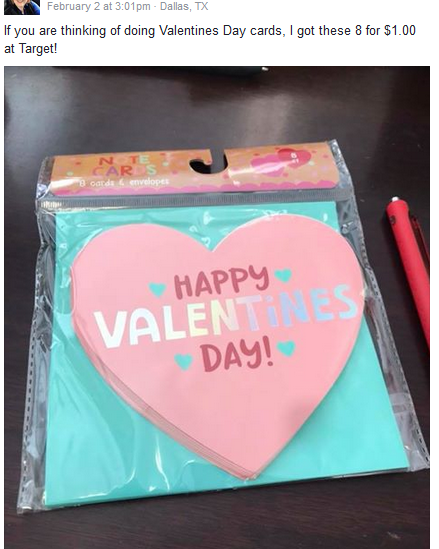 Extra ideas for your best donors…
Your major donors deserve a little extra love. Think about how you can show them some with these extra ideas:
Invitation for a personal tour. Invite them for a private tour of your facility for a 'behind the scenes' look at how your mission works. If you don't have a facility, move on to the next idea.
Private lunch. 1-on-1 lunch with you is the next best thing to a tour. Give your donor a glimpse of the organization's plans for the next year or two and ask for their thoughts. It's a great way to get to know them and give them an inside look at what's going on.
Personalized video. I love this idea so much and I've seen it pay off big for our clients who use it. Shoot a really short video (1 minute or so) and in the video, call the donor by name. They'll quickly realize you shot the video JUST for them and they'll be blown away! You can't do this for all your donors, but you can do it for your top 3.
The Bottom Line
If you don't love on your donors, you run the risk of losing them. That means you must focus on donor cultivation activities.
So take the time to plan and execute these special warm touches to keep your donors engaged.